Amy Grant
Upcoming Live Music
By Paul Moffett
Like it or not, summer has arrived and that means there'll be lots of music outside as well as inside, some free, some for sale. Whatever your choice in music, you'll have lots of options, so maximize those choices and hear some live music.
Acoustic / Americana
Michael Kessler wants to go to Europe and sing for world peace. To that end, he'd like you to come to his show at the Twice Told Coffeehouse on June 7 and give him $4. Oh, yeah, it'd be nice if you'd hang for his performance.
Tix and info: 456-0507
• The Kentucky Folk Festival at the Wickland Estate in Bardstown is coming on June 26-28. Acts scheduled include Emmylou Harris, Kate Campbell, Tanya Savory and Friends, Peter Case, Vance Gilbert, Roger McGuinn, the Kennedys, Alan Rhody, Nickel Creek and more.
Tix and info: 1-800-323-7803
Bluegrass
It's time for the flood of bluegrass festivals in the area. For a music which only gets played occasionally on the radio, bluegrass is amazingly enduring, probably because it can be played by "ordinary" people and doesn't require lots of equipment. Does that make it "folk" music?
• Harold Thom of the Cumberlands has been cranked for a while about getting the original Dillards for the Kentucky Sampler at Churchill Down on June 6. For those of you to young to know what the Dillards are, note that they played the Darlings on the Andy Griffith Show and introduced bluegrass to the boomers.
The Kentucky Sampler will also be happening on June 7.
The Festival of the Bluegrass in Lexington will stage its 25th annual festival on June 11-14 at the Kentucky Horse Park Campground. For information, call 606-846-4995.
Scheduled to perform are Ricky Skaggs, Laurie Lewis, Seldom Scene, IIIrd Time Out, Dry Branch Fire Squad, Doyle Lawson and Quicksilver, The Lewis Family, James King, Kentucky Blue, Special Consensus and more.
• The Bardstown Bluegrass Festival is scheduled for June 18-20 at the White Acres Campground. Acts on the bill include Sand Mountain Boys, Clyde and Marie Denny, Sunnysiders, Bluegrass 101 and Danny Jones and the Salt River Boys.
Tix and info: 502-239-004
• The 3rd Annual Stringbean Memorial Bluegrass Festival is set for June 24-27 in Jackson County, KY, off I-75. For information and directions, call 606-287-0600.
• The Appalachian Family Folk Week will run June 7-13 at Hindman Settlement School in Hindman, KY. For information, contact Mike Mullins at 606-785-5475.
• The Telluride Bluegrass Festival is celebrate its 25th year on June 18-21 in Telluride, Colo. For more information, call 1-800-624-2422.
Blues
• A couple of big festivals dominate the blues scene in June, even in Louisville. The W. C. Handy Blues and Barbeque Festival in Henderson, KY will run from June 14 through June 20, with most the action taking place on Friday and Saturday, June 19 and 20. Big name acts include Chubby Carrier and the Bayou Swamp (June 18). Tinsley Ellis and Bernard Allison (June 19) and Kenny Neal and KoKo Taylor and her Blues Machine (June 20).
Tix and info: 502-827-1852
• The 15th Annual Chicago Blues Festival will run June 4- 7 in Grant Park on the lakefront. They pretty much book everybody of any note in Chicago blues plus. Ray Charles will perform, Steve Cropper and Scotty Moore will back up Joe Louis Walker and it will be a Brown kind of schedule: Charles, Ruth and Texas Johnny. The web site is www.ci.chi.il.us/WM/Special Events.
More info: 312-744-3370
• Of course, there are blues acts playing most nights at Zena's, Stevie Ray's or The Smokehouse on Main St., so you won't really be deprived of da blues if you gotta have 'em.
At Stevie Ray's, Mr. Downchild and the House Rockers cover the last weekend in May. Mike Milligan and Steam Shovel dig in Wednesday, June 3. The next Wednesday, June 10, it'll be Percy Strother, who, if memory serves, was last in town playing at Uncle Pleasants. It's been awhile.
On June 5-6, Lexington guitar wizard surpremo Kelly Richey plays a two-night stand at SR's, while Winston Hardy & the Roadmasters return on June 25.
Tix and info: 582-9945
Christian
• Amy Grant continues to cross over at the Palace Theater on June 9 8 p.m. $42.50 and $34.50
Tix and info 361-3100
Country
• Coyote's pretty much conceded May to his Garthness and they appear to have been right, as Garth sold out four nights. However, come June and Coyote's is back in the country concert business with a vengeance.
On June 4, Mark Wills kicks off the June country run in the big room at 2nd and Liberty. His "Jacob's Ladder" might have been a bit of over-the-top, too-clever country writing but it was a smash and he's followed that with "I Do Cherish You," which will no doubt win him more than a few female fans. David Snowden will open for Wills. Please note that this is not Louisville's David Snowden of Triangle Talent fame, in case anybody was confused.
On June 12, it'll be a honky-tonk-and- hoots twin bill, with Rodney Carrington working for the laughs sans singing and Barry Martin doing the same with a guitar. Both comics get a tad bit off-color occasionally and we're not talking antique off-white, either. Those easily offended might want to stay home and catch the latest "Ozzie and Harriet" episode.
On June 18, Gary Allen will bring his Used Heart for Sale, all the way from the West Coast, bringing some "country" back to country music, according to his publicist. Good idea. It has been getting a little more than maxi-pop in Nashville of late and Appalachian twangs have been harder to find than a country singer without a cowboy hat. Young Country will open the show.
Tix and info: 589-3866
Junior Borwn
• Not to be outdone, the Phoenix is bringing in the simply amazing Junior Brown, a twanger with guitar chops that would be the envy of his Jimi-ness the Hendrix.
Tix and info: 589-4957
• A couple of trips to Lexington might very well be in order for country fans, when the Troubadour Concert Series presents Rosanne Cash and Kathy Mattea. Johnny's daughter will be at the Kentucky Theatre on June 18 for an 8 p.m. show and Mrs. Jon Vezner will be there the next week, June 25, also at 8 p.m.
Tix and info: 606-231-6997
• Down at Renfro Valley, you can catch Jerry Reed ("Spiders and Snakes") on June 6 and Fairdale's favorite daughter Patty Loveless on June 13. Loretta's daughters, The Lynns, will present a pair of shows at Renfro Valley on June 27 at 7 and 9 p.m. The girls are Patsy and Peggy and they are currently nominated for the best new duo or group at the Academy of Country Music Awards.
Tix and info: 1-800-765-7464
Jazz
• The Louisville Jazz Society's "First Monday" series will present the Mike Tracy Quartet on June 1 at the Comedy Club. The quartet is Tracy, Chris Fitzgerald, Sonny Stephens and Darryel Cotton.
Tix and info: 589-5532
• The Instructors' concert at the Bellarmine Jazz Guitar clinic is usually a highlight for jazz fans. This year, Jeff Sherman has brought Jimmy Bruno, Jack Wilkins and Kenny Poole in for the clinic and they'll be playing on Monday night, June 8 at Wyatt Hall on the Bellarmine campus.
Tix and info: 502-452-8182
• Fans of The Java Men will be tickled to know that they will be playing every Wednesday in June at Zena's on Main St. Their other bands must not be touring right now.
Info: 584-3074
Other Festivals
• The Portland Family Reunion Festival, set for June 6, will offer up some interesting music as well as the other festival stuff. Locals Flip Side and Rare Breed will crank you up for the Nashville-based Tabasco Cats, who will play from 7-10 p.m. The event will be held at the Portland Park and Recreation Center at 2700 Montgomery St.
• The Great American Brass Band Festival will blow into Danville on June 13-14 at Centre College. Performers include Saxton's Cornet Band. Canadian Brass, Dejan's Olympia Brass Band of New Orleans, Empire Brass and on and on. This free festival is the main event for brass bands, so if you like Sousa and similar music, scoot on down.
More info: 606-236-7794
• How's your Spanish? You'll need it for the Grand Festival 2 for the Hispanic Community in Okolona Park on June 7, 1-4 p.m. Besides all the Hispanic foods, treats and treasures, you can hear some musicia de Mexico. Plus, you can practice la lengua España.
Rock and Etc.
• Krazy Fest at the end of May at the Brewery is the big event during this particular chunk of time. Our cover band, the Enkindels, play on Friday, May 29.
Tix and info: 589-1003
• Spotlight Productions is bringing Jolene and the Pernice Brothers in the Phoenix Hill on June 4. The Pernice Brothers is a reconstitution of the Scud Mountain Boys alterna-twang band.
Tix and info: 589-4957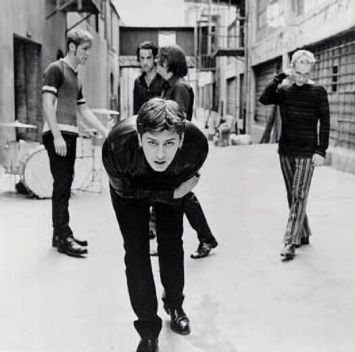 Matchbox 20
• Matchbox 20 will try to find Yourself or Someone Like You at Louisville Gardens on June 5. Opener Rebekah has a new CD, Remember to Breath, to promote, too, so take extra cash as usual.
Tix and info: 361-3100
• .The Bluegrass Brewing Company will set off the Bottle Rockets on June 6. This Missouri band had a bit of a hit on Americana stations a while back with "Radar Gun," and they're touring to promote their new CD.
Tix and info: 899-7070
• Jerry Cantrell, guitarist from Alice In Chains, will rock yer Socks (or your cat of any other name) off with a solo performance at the Toy Tiger on June 16.
Tix and info: 456-1137
• My Own Victim will bring their world-famous Kentucky Hardcore to the Toy Tiger on June 20. No kiddin', kiddies, these guys are huge in Europe, particularly in Britain. So what do the Europeans know that we don't? Cruise the Tiger and find out for yo'self.
Tix and info: 456-1137
• Do ya dig swamp boogie? Iko-Iko returns to the Butchertown Pub on June 20. They're looking to make Louisville a regular stop, so help 'em out by going to the show.
Tix and info: 583-2242
• Also at the BBC on June 13, dig the rockabilly-driven Cigar Store Indians, who put on a ferocious show at RiverPoints last year. Shake that D.A., twang that Fender.
Tix and info: 899-7070
• Limp Bizkit comes back to the Brewery as the headliner this time on June 21. Their first appearance here was as the opener for Insane Clown Posse. Read Sean Norris' review of a cassette they tossed out last time they were here.
• Sister Hazel makes it to the Brewery on June 23. Brownie Mary opens.
Urban & R&B
• Public Announcement will help you bump your body at the Palace on June 5. The brothers are touring behind a hit single, "Body Bumpin" (Yippie-Yi-Yo). Sounds like a whole lotta fun.
Tix and info: 583-4555