His name is Sam Stone. No, not the fictitious character in the sad, hard-hitting, yet beautifully stated John Prine song. I'm speaking of the real Sam Stone. I've had the honor of knowing him for a few years now. We met officially at my songwriting workshop/classes at Kentucky Music Week in Bardstown in 1994.
Sam is a Henryville, Indiana resident who is a joy to talk to and to listen to. He's a dulcimer man and a songwriter. He's not of my generation, which is one reason I always enjoy our conversations. The teacher can sometimes learn from the student, you know.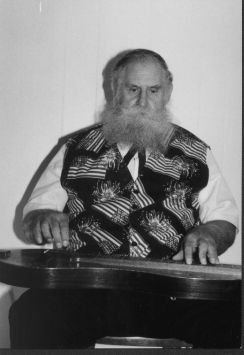 Sam Stone
Sam's original songs are plaintive and immediately keep the listener's attention. He sings of people and places that for the most part really exist or existed at one time. He's a musical storyteller. He is also a teacher of sorts, or maybe I should say a front porch philosopher.
One of his songs on his first release of originals speaks of the darkness and the good and the bad that the darkness hides or holds. Another, "Old Joe Keebler," is a delightful illustration of his storytelling grandfather, who was also a fiddler.
"Old Joe Keebler" obviously inspired his then-young grandson Sam helped on the farm in the summers. That was in Jeffersonville, Indiana, where Sam was born and raised.
Sam studied piano as a youngster but didn't continue his studies after leaving college to join the U.S. Navy. He later returned to school and received his master's degree. It wasn't until twenty-five years and six children later that he resumed his musical interests, after discovering the lap dulcimer, a gift from his wife Daisy. He is now a regular at many festivals around the country.
Sam also hosts his own "invitation only" jam and picnic in Henryville at "Sassafras Hill" each May. He is a member of three different dulcimer societies in Indiana and Kentucky, including the Louisville Dulcimer Society. He's also a past music panel member of the Indiana Arts Commission.
In addition to releasing his first solo recording, titled Dancing the Indiana Waltz, Sam has published a matching book, which has the same title as his song "Indiana Waltz." The song has received a lot of coverage in his home state as well as in others. His tune "Wedding Day" has also enjoyed a lot of exposure at weddings and I highly recommend anyone looking for a song for their upcoming wedding to give this one a listen.
The title song is beautiful and melancholy, as the singer longs for his past waltz partner. "So Many Good People," a song that first caught my attention, tells of folks on Saturday night, Sunday morning, Monday morning and even at the voting polls. They all wish for the same thing: world peace, though in some cases they don't even speak to one another. The production on the CD is simple, which fits the songs perfectly.
the album includes mountain dulcimer work by the folklore historian and most excellent player, Jon Kay, as well as hammered dulcimer, guitar and vocals by Cathy Barton and Dave Para of the well-known folk duo Barton & Para. The other instruments used are bass, autoharp, concertina, guitar, fiddle, banjo and backing vocals. Ace dulcimer player Tull Glazener also makes an appearance.
Known as the Bearded Bard of Henryville, more than likely Sam Stone will be at Kentucky Music Weekend (the last weekend in July), playing and jamming in Iroquois Park. If Nancy Barker is reading this, I hope she officially books Sam this year or in the very near future. Check him out and get his CD and book. You'll be glad you took the time. Here are a few lines from "Walking In Darkness," a song at KMW.
"There's one thing to say for the darkness / It hides both the good and the bad."
"You can worry and fret 'bout the bad that you'll get / Or consider the good to be had."
Copyright 1994 Sam Stone. Used by permission
Sam can be reached for dates, CDs and tapes by writing to 808 Castetter Rd. Henryville, IN 47126
In addition to playing at Picasso's in Elizabethtown, Ky on June 6, hit songwriter and traveling performer Alan Rhody will appear at the Kentucky Folk Festival in Bardstown, Ky. on June 28, along with Emmylou Harris, Roger McGuinn and others. He can be reached at P.O. Box 121231 Nashville, TN 372 or on the web at http://www.songs.com/ar