Atlan Returns
The "high holy days" begin very "large" indeed, with arguabIy the Number One Irish band in the world today. Write it down, peopIe: at the Phoenix Hill Tavern, on Tuesday, March 3, AItan will perform in concert, thanks to my newest favorite music impresarios, Spotlight Productions. The Donegal sound explodes on Phoenix Hill, which was the site of many huge Irish picnics in the Iast century, held by immigrants predominantly from counties Kerry, Limerick, Galway and Sligo. Give a listen to Runaway Sunday, Altan's new CD, in order to be able to fully appreciate and receive what you are likely to hear. I'm giving my employer notice that I'll be in late on Wednesday.
Limerick is the PIace . . .
Saturday, March 14 is the day, 1:30 p. m. is the time. The event is the annual St. Patrick's Day Parade and HooIey. The illne of march forms somewhere near St. Louis Bertrand Church on 6th St., but the best seats to watch will be near the reviewing stand at Spalding University on 4th Street. The Hooley follows after, at the Rudyard Kipling at 4th and Oak Streets. In 1918, the marchers were two thousand strong through the Limerick neighborhood streets. The spirit lives on! At 3:15 p. m., Ten Penny Bit will take the stage at the "Rud," which will be specially decked out for the occasion, including a special Irish menu. The Bluegrass Irish Dancers will perform at 5:30 ("Rivercity Dance?'). The littIe ones are so cute that you would have to be awfully hard not to be utterly delighted. The older ones will set you on fire. To raise the roof even further, you will hear The Louisville Pipe Band concert ensemble perform, beginning at 7 p. m. Then, when you are whipped into a frenzy, 100 Acre Wood will finish you off.
Irish Roots and Rivers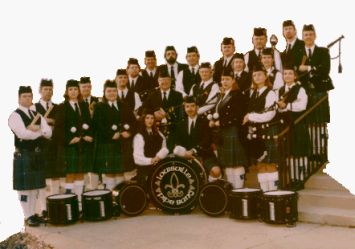 Louisville Pipe Band
A creative collaboration between Locust Grove and the Spirit of Jefferson riverboat will begin March 14 with an 11 a. m. tour of the historic Locust Grove house, featuring Irish poetry with tea and light refreshments. At 1 p. m., patrons will board the Spirit of Jefferson at Cox's Park for a cruise on the Ohio, lunching on potato soup and listening to Celtic music by Busy Fingers. Busy Fingers is Bill Ray and Mark Monfalcone sharing duties on fiddle, guitar, 5-string banjo, mandolin, tin whistle, melodeon and accordion. Reservations are required. Call 8979845.
GIobs of Music at the Irish Rover
The Reidys are sparing no expense to insure that Irish music is heard at the Rover during the "high holy days" of March. Here goes: Friday, 3/13: Rashers 9 p.m.- midnite Saturday, 3/14: Rashers 9 p.m. - midnite Sunday, 3/15: Ten Penny Bit 10 a.m. - 2p.m., Galloglas 7-10 p.m. 3/16: Cloigheann 7 – 10p.m. 3/17: Cloigheann 11 a..m. – 2 p.m. & 3 p.m.- 6 p.m. Galloglas 6-9 p.m. Rashers 9 p.m. Midnight
Ten Penny Bit Makes Us Dance
Ten Penny Bit travels to the Queen City of Cincinnati on 3/ 7 for their Ceili and will be performing similar services on 3/ 27 here in Louisville for another celili at Spalding University. As you know, they will be at the "Rud" on parade day (3/14) and at "The Rover" on 3/15. You can catch them at Thomas Winery in Madison, Indiana on March 14, playing from 7 to 11 p. m. as well. Call Robin at 448-0700 for more details.
O'Shea's TraditionaI Irish Pub
Louisville's trusty troubadour Bob Rosenthal and CIoigheann share the bill on "parade day" and "the feast day" on Baxter Avenue. The schedule: Saturday, 3/ I 4, Bob Rosenthal 6 — 9 p. m.; Cloigheann 9:30 p. m. — 1:30a. m. Tuesday, 3/ 17, Bob Rosenthal, noon — 3p. m., 'Cloigheann, 8 p. m. — midnight
Drowsy Maggie
. . . is wide awake for certain on St. Patrick's Day (3/17) at the Rudyard Kipling. Prom 7 to 10 p. m., an Irish buffet will sustain you through an evening of toe tappin' tunes. Reservations are recommended. Call 636-1311. In case you must get a taste beforehand, watch Drowsy Maggie wow the Hoosiers at the Indianapolis Artsgarden. 475 S. Pennsylvania Avenue on 3/14, from 3 to 5 p. m. Call 897-9050 for more details.
GallogIas
It's getting late and I'm running out of gas, so see the ad this page (or nearby) for all the details on this band. The Wearin' of the Green Banquet and the Spalding Irish Coffee are special events. Call 459-2001 for details. They tell me an album is in the offing.
MedievaI Night Of Mead And Music
The Scottish societies in the region get together annually for a "Spring Fling," which this year is on March 27. It will have a medievaI theme featuring pipers, sword fighters, dancers (belly and Scottish), wenches, monks, beggars, nobles, etc., in costume for a feast at Masterson's on Third Street, beginning at 7p. m. Space is limited, so make your reservations before March 20 by calling 899-1227.
Free Bagpipe Iessons
Louisville Pipe Band will offer free bag pipe lessons beginning on Sunday, March 8 at 5p. m. at St. Andrews EpiscopaI Church on Woodbourne Ave. Call 45902001 for moredetalls.