Cowboy Corner
Justin Tubb: 1935 - 1998
Singer/songwriter Justin Tubb, the eldest son of the legendary "Texas Troubadour," Ernest Tubb, passed away in the early morning hours on Sat., Jan. 24. Justin followed in his famous father's footsteps and became a member of the Grand Ole Opry in 1955. The 62-year-old performer hit the Top 10 on the country charts with "Take A Letter, Miss Gray," "I Gotta Go Get My Baby," and "Looking Back To See," a duet with Goldie Hill. Justin was also the long-time manager of the Ernest Tubb Midnight Jamboree Radio Show, which was recorded at downtown Nashville's Ernest Tubb Record Shop.
Hats Off To WAMZ
Hats off and congratulation's to Louisville's very own Coyote Calhoun and the entire gang at 97.5-FM WAMZ, the "hot country leader." WAMZ once again participated in the annual St. Jude Children's Research Hospital Radiothon the week of Valentine's Day and broke their record of funds raised once again. WAMZ's two-day event raised over $200,000 which will be used to research the cure of childhood cancer. When it comes to lending a helping hand, Louisville's country fans really know how to open up their hearts and wallets.
Congratulations WAMZ and keep up the good work!
Country Winners at the 25th American Music Awards
Country music was well represented as the 25th Annual American Music Awards were handed out on Jan. 27 at the Shrine Auditorium in Los Angeles. During the three-hour live broadcast, Trisha Yearwood performed "How Do I Live," Garth Brooks sang "Rollin' ," and Favorite Country Female Artist Reba McEntire belted out her inspirational"What If." Also included was a look back at 25 years of country performances on the American Music Awards, including Conway Twitty and Loretta Lynn, The Judds, Alan Jackson, Glen Campbell, Mac Davis, Crystal Gayle, The Oak Ridge Boys, Kenny Rogers, Garth Brooks, Travis Tritt, Shania Twain, LeAnn Rimes, Clint Black, Brooks & Dunn, Vince Gill and Reba McEntire, Lorrie Morgan, Randy Travis, and Alabama.
The country winners were: Favorite Country Male Artist - George Strait; Favorite Country Female Artist - Reba McEntire; and Favorite Country Band, Duo, or Group - Alabama.
Favorite Country Album - George Strait's Carrying Your Love With Me; and Favorite New Artist - Lee Ann Womack.
Dwight Yoakam Hits The Silver Screen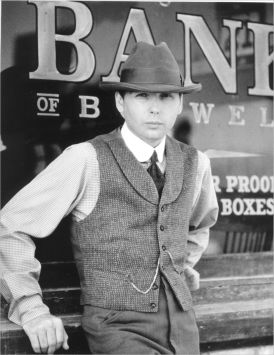 Pikeville's Dwight Yoakam plays an explosives expert in The Newton Boys, scheduled for release in March.
Besides working on a new album, Pikeville, Ky.'s Dwight Yoakam has been busy acting these days. Dwight plays the part of an explosives expert named Brent Glassock in the new 20th Century Fox film The Newton Boys. The film, which also stars Matthew McConaughey and Ethan Hawke, will be released around the country on March 20.
Dwight is also starring in an upcoming HBO movie titled When Trumpets Fade. The made-for-TV drama, which will air in April, tells the story of a group of American soldiers who were ordered to the front lines in World War II. Dwight fills the role of Lieutenant Colonel in this movie which was filmed in Hungary last year.
Country "Family" Updates
6-foot, 6-inch hot country newcomer Trace Adkins and his wife Rhonda have finally welcomed their new baby daughter into the world. MacKenzie Lynn Adkins was born at 3:44 PM on Tues., Jan. 27 and weighed in at 5-pounds, 15 ½-ounces. Mother, father, and baby are all doing fine.
And speaking of babies, country music's hottest couple is expecting again! That's right, Faith Hill and Tim McGraw are expecting their second child in August. The duo will tour with George Strait through June, Faith will tour solo in July, and she will return to the concert trail in October, just two months after baby #2 is born. Faith fans will also be glad to know that her brand new album is scheduled to hit stores in late April.
And on a sadder note, country superstar Alan Jackson and his wife of 18 years, Denise, have decided to go their separate ways. Alan's publicist states that this is a very private matter and asks that fans respect the couple's privacy.
The Nashville Music Awards
The Nashville Music Awards were presented recently in where else but Nashville, Tenn. These awards are slightly different than the rest as the winners are nominated and picked by the musicians' peers. Winners included Kathy Mattea's Love Travels for country album, Trisha Yearwood for female vocalist, Delbert McClinton for male vocalist, Roy Husk for bassist of the year, and Patty Loveless' husband Emery Gordy, Jr. was named best producer.
TNN Music City News Country Award Nominees
TNN and Music City News magazine have announced the final nominees for the 32nd Annual TNN Music City News Country Awards. Twenty years of tradition will be broken this year as the show will move from its original site of the Grand Ole Opry House to the new Nashville Arena. This year's show will be held June 15th, kicking off Fan Fair.
The nominees are: Entertainer of the Year: Garth Brooks, Billy Ray Cyrus, Alan Jackson, Neal McCoy, and George Strait; Female Artist: Patty Loveless, Martina McBride, Lorrie Morgan, LeAnn Rimes, and Trisha Yearwood; and Male Artist: Billy Ray Cyrus, Vince Gill, Alan Jackson, Ricky Van Shelton, and George Strait.
Vocal Duo/Group: Brooks & Dunn, Oak Ridge Boys, The Kinleys, The Lynns, and The Statler Brothers; Vocal Band: Alabama, BlackHawk, Diamond Rio, The Mavericks, and Sawyer Brown; Female Star of Tomorrow: Deana Carter, The Lynns, Lila McCann, Mindy McCready, and Lee Ann Womack; and Male Star of Tomorrow: Trace Adkins, James Bonamy, Paul Brandt, Michael Peterson, and Kevin Sharp.
Vocal Collaboration: Anita Cochran & Steve Wariner's "What If I Said," Tim McGraw & Faith Hill's "It's Your Love," Travis Tritt & Lari White's "Helping Me Get Over You," Patty Loveless & George Jones' "You Don't Seem To Miss Me," and Trisha Yearwood & Garth Brooks' "In Another's Eyes"; Single: Alan Jackson's "Between the Devil and Me," George Strait's"Carrying Your Love With Me," Trisha Yearwood's "How Do I Live," Billy Ray Cyrus' "It's All The Same To Me,"and Tim McGraw & Faith Hill's "It's Your Love"; and Song: George Strait's "Carrying Your Love With Me," Trisha Yearwood's"How Do I Live," Billy Ray Cyrus' "It's All The Same To Me," Tim McGraw & Faith Hill's "It's Your Love," and Alan Jackson's "There Goes."
Video: George Strait's "Carrying Your Love With Me," Tim McGraw & Faith Hill's "It's Your Love," Neal McCoy's "The Shake," Billy Ray Cyrus' "Three Little Words," and Alan Jackson's "Who's Cheatin' Who"; Album: George Strait's Carrying Your Love With Me, Billy Ray Cyrus' Cover to Cover, Alan Jackson's Everything I Love, Ricky Van Shelton's Making Plans, and LeAnn Rimes' You Light Up My Life; and Comedian: Gary Chapman, Bill Engvall, Jeff Foxworthy, Mike Snider, and Ray Stevens.
Bryan White Update
Country heart-throb Bryan White is busier and hotter than every these days. He just recently kicked off an 80-city concert tour with 15-year-old Grammy Award winner LeAnn Rimes. The couple's Something To Talk About Tour has already sold out in its first eight cities. In addition to this tour, Bryan plans to head out on an international tour to stop off in Australia and Japan.
Come Spring, Bryan will be heard more than just on the concert stage. He has lent his singing voice to the character of Garrett on Warner Brothers' very first animated major motion picture, titled The Quest For Camelot. Bryan felt that the most difficult part of the taping was losing his southern Oklahoma accent. His accent would not have been appropriate for the movie setting of King Arthur's Court, as his peers were constantly reminding him of that very fact during recording.
In his spare time, Bryan has just recently moved from his Nashville residence on Lealand Lane to a much larger home. And for that avid fan who enjoys collecting Bryan White memorabilia, the star's former pad, which comes with three bedrooms, two bathrooms, and a soundproof recreation room which served as a recording studio, can be purchased for the low price of $258,000.
Shania Goes Abroad
Shania Twain's new Come On Over disc will soon be released overseas to the European market. Shania's husband/producer Mutt Lange has re-mixed the album to better cater to European fans. The re-mixed version was just released.
Shania is also scheduled to perform on the Juno Awards which will be presented in Vancouver, Canada on March 22nd. Shania will be sure to be on hand for the annual awards show, often compared to the American Grammy Awards, as she is in the running for three awards this year.
The Garth Brooks Special
Garth Brooks fans will be glued to their television sets on Wed. evening, March 4 as NBC will air The Garth Brooks Special, a two-hour concert which was filmed last year in Dublin, Ireland. The special will include 90-minutes of concert footage, as well as a spot where Garth sings "That Ol' Wind" accompanied by fiddler Jimmy Mattingly on the waterfront in the fishing harbor of Howth, Ireland. And as an added bonus, Garth even performs duets with gospel singer Susan Ashton and his pal and recent duet partner, Trisha Yearwood.
Tracy Lawrence Found Guilty
Tracy Lawrence was recently convicted on a misdemeanor battery charge stemming from an argument with his estranged wife at a Las Vegas hotel. The Justice of the Peace ordered Tracy to pay $500 to a women's shelter in Las Vegas. Tracy was charged with battery after his wife, Stacie, complained to police that he had hit her on her head several hours after a Sept. 12 performance at Buffalo Bill's Desert Star Arena. In a short in-court statement, Tracy said a lot of factors had led to the incident, which had been blown out of proportion.
George Strait On Tour
George Strait recently announced his plans for a tour of North American stadiums--a concert which will be more than just a few hours of music. Instead of just a normal show, each stop on the tour will be a day-long celebration. It will feature two stages: the first stage inside the stadium will play host to stars such as George, Tim McGraw, John Michael Montgomery, Faith Hill, Lee Ann Womack, Lila McCann, and Asleep At The Wheel. The second stage, located outside the stadium, will feature some of country music's rising stars. In addition to the two concert stages, there will be a festival area called "Straitland." This area will consist of country lifestyle exhibits, vendors, games, and much more.
Reba Goes In Front Of The Cameras
Country superstar Reba McEntire will soon return to the small screen in a CBS made-for-television movie. Reba will play a woman who wakes up after being in a coma for twenty years. When her character comes out of the coma, she will discover that her baby daughter is now a grown woman. The singer and actress begin filming the movie last month in Los Angeles for her very own Starstruck Films Production company. Fans can expect to see the movie air on CBS as early as May.
Well, that's it for now. Always remember: Keep your boots shined up and your hat on straight, 'cause country music is comin' your way.