Roses While I Live . . . Remembering Jim Rosen
By Jean Metcalfe
We all knew it was imminent. Jim Rosen's cancer would win out; it was just a matter of time. We were astounded at how he rallied after his surgery and came back to entertain us with his bag of harmonicas and his growling of the blues.
"Got a kind-hearted woman . . . ."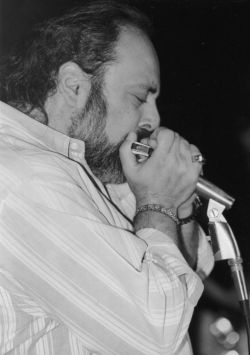 For quite some time I had planned to videotape interviews with musicians who had appeared on the cover of Louisville Music News. I did the first interview with Pee Wee King and it went well. Pee Wee and his wife, Lydia, were wonderfully gracious. I cherish those moments.
Jim Rosen is the only musician who has appeared twice on the cover of LMN — once with Charlie Musselwhite and once with da Mudcats. So Jim would be my second subject. I might even ask him if he would co-write a blues song with me. I already had a great chorus.
Then came the news.
Despite the bleak prognosis, I felt Jim would somehow find a way to stick around on this old planet; it would be hard to imagine the Garvin Gate and Waterside festivals without him. When the Mudcat Blues Band released their album I Wanna Play in Your Big Back Yard, I smiled and shook my head as I listened to Jim's rendition of "Terminal Man." Hope I'll be that cool when my news comes.
I had misgivings about asking Jim for the interview. Would he think I wanted to do it because I feared he would die soon and I'd miss the opportunity? Would he be offended? Would he think I wanted to capitalize on his misfortune. Would he say no?
My husband and I stopped by Zena's one night and videotaped the Mudcat Blues Band's performance. It was a good one and Jim seemed fine. At the end of the set, he came over to our table. A good sign. To my surprise, the small talk turned serious and Jim volunteered details of his hard-living lifestyle. Realizing that he would soon be due back onstage, I asked if he would grant me an interview at a later date. "Sure," he said, and I went home elated.
Probably because I am much in awe of talented musicians, I always had an excuse to delay the interview. I didn't have Jim's phone number (but I had sources). Maybe he would say he had changed his mind. Maybe he would think I planned to put an Enquirer-type spin on his story. He had looked so healthy. I dismissed my earlier sense of urgency.
While Christmas shopping last December I spotted a small, battery-operated bluesman Santa Claus, complete with dark shades, that did a pretty mean blues guitar and vocal version of "Santa Claus Is Coming to Town." I bought it for Jim. Each time I pushed my shopping cart over a rough spot the Santa Claus began his raucous guitar intro.
"Nuh, nuh, nuh, nuh, nuh, 'Twas the night before Chrismus, nuh, nuh, nuh, nuh, nuh, and all through the house . . . ."
Passing shoppers looked puzzled. I chuckled quietly. A few days later I bought a bluesman Santa for myself.
Later I'd phone Jim, arrange for the interview, and when it was finished I'd give him the toy to express my appreciation. Maybe I'd even take my own Santa Claus along — keeping it in the car, of course — and if it seemed right, I'd ask him to autograph it.
The holidays came and went. I told my singer/songwriter friend Bill Ede about the proposed interview. Bill, who always shoots straight with me, urged me to get to work on it right away. I said I would. But the old doubts returned. Would a gruff response come from that gruff bluesman pictured in my mind? But he'd been nice to me every time I'd seen him in the past. And I still fondly recall how several years earlier he had generously — and with colorful language — coaxed applause for the headliner at Jim Porter's when da Mudcats was the backing band.
Give it up for Mister Bo Diddley."
Some weeks ago, I heard that Jim's condition had become very grave. Dialysis several times a week. Possible removal of his remaining kidney, which was useless and painful. More excuses not to call. Would the pain render him unable to do the interview? Was he past caring about an interview? Would he think me insensitive for even asking? What would his family and friends think? Would a man in pain think my gift foolish?
Returning by car from a trip to North Carolina on February 16, I did a lot of thinking. When I got back home I would at least find out if Jim was up to the interview. And if so, would he still be willing to do it? He had every reason to dismiss me. And I was in the early, infectious stages of a head cold . . . .
Thursday morning, February 19, Paul Moffett told me that Jim Rosen had passed away the previous evening. I felt very sad. I would miss him. I had let him down. I had asked for an interview, he had willingly agreed, and I had fumbled the ball. I had let myself down. And besides, wouldn't Jim have been just a tiny bit pleased that someone would buy him a funny little blues-singing Santa Claus?
When Jim Rosen died on February 18 he had just turned 42. When Pee Wee King celebrated his birthday on February 18 he was 84. Thanks for the interview, Pee Wee, you were great. Goodbye, Jim, sorry about that interview. And the bluesman Santa.