Front & Center: Miller Pipe Organ
By Victoria Moon
Photos courtesy of Miller Pipe Organ
People take their pipe organs seriously. I never knew that until I got a chance to spend time with Jim Miller. Miller, a tall, quiet-spoken man, is probably at the top of the list of people who take their pipe organs seriously. His mild obsession with the instruments has taken him from paying his way through school by tuning and repairing pipe organs in his garage to owning the Miller Pipe Organ Company on Bardstown Road, a nationally known company that repairs, restores and tunes over 300 pipe organs in a ten-state area.
How, exactly, did this happen?
"I started when I was in college," Miller remembers. "I worked with an organ company one summer, and my best friend in college was working for a service man, so when we got back together, we started fiddling with organs until we started our own company in Illinois."
That company, the Miller-Skinner Organ Co., continued until Miller came to Louisville in order to work on a graduate degree in Organ and Composition at Southern Baptist Seminary. While in seminary, Miller fell back on his knowledge of pipe organs to help pay his seminary bills.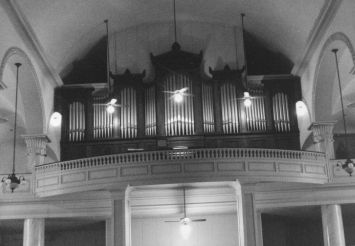 The pipe organ in St. Joseph's Cathedral in Bardstown, KY
"I did organs for a couple of local people to help put myself through school," he says. "On Friday nights and Saturdays I would grab another student and we'd go out and tune organs and do repair work. When I started [the Miller Pipe Organ Company] I didn't have a shop, so everything that got done had to happen in the church [the main owners of pipe organs]." He laughs as he remembered the early restoration of the pipe organ at St. Boniface Catholic Church. "We rebuilt it using my garage in the summertime, and we were spread out all the way down the driveway doing different operations!"
In 1978, Miller was able to build the back part of his current shop on Bardstown Road, and in 1982, the front and final part of his shop was completed. Now the shop is so busy and crowded that he is looking for space to meet the needs of the rapidly growing operation. The shop has eleven employees spread throughout the building, all working on different aspects of the pipe organs. And there are more components than you might think: the metal pipes, the wooden consoles, the felt covers and leather pouches – all are essential parts of a pipe organ, an instrument that has existed for more than 2,200 years.
"It is one of the oldest instruments, and for a long time, it was one of the most complex instruments than man built – until computers came along," Miller relates.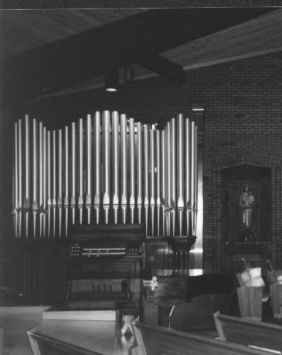 1890 Barckhoff Pope Organ, relocated to St. Denis Catholic Church from St. Columbia Church in 1997
Complex is right: the technical jargon that goes into explaining the inner workings of a pipe organ can be mind-boggling. While it resembles a piano enough to be considered similar to that instrument, the truth is that a piano is in many ways more similar to a guitar, and an organ to wind instruments.
"The sound of a pipe organ is made mostly by whistles," Miller explains. "Most of the pipes of the organ have no moving parts – you just blow air through them and they create a sound wave through a very narrow tube. Those pipes are called 'flue' pipes [the pipes that make the string and basic organ sounds].
"Then there are some pipes in the organ that are called reed pipes where the wind coming in makes that reed buzz and vibrate. It's curved, and when the wind hits, it is pushed closed and the springiness of the metal makes it pop back open. That's the way we get organ stops such as trumpets, oboes, clarinets, bassoons, tubas, french horns – all of those would be made through reed pipes. Essentially, every pipe in the organ is a speaker for its own pitch and sound.
"So you have sets, because each pipe plays only one pitch and one sound. A normal keyboard is 61 pipes, but if you have a flute, you have to have 61 pipes of various lengths for that stop and then your principal [organ sound] would have 61, and if you add reeds and all that, you just have hundred and hundreds of pipes."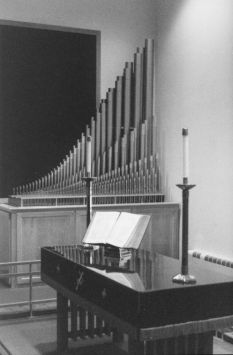 The organ in DePauw Memorial United Methodist Church in New Albany, Ind.
An example of this is one of the largest pipe organs in the world, which, according to Miller, has over 30,000 pipes. The organ is located in an 8-story space at the end of a large department store in Philadelphia, Pennsylvania.
Philadelphia is not the only place to hear a fine pipe organ, however. Miller asserts that Louisville is no slouch in that department, either. While most of the large organs located here and around the region only have pipes numbering in the hundreds or fewer, their sound was enough to draw the national convention of the Organ Historical Society to Louisville in 1993. St. Martin's Church, for example, has an organ built in 1894 that Miller's company renovated in 1992 specifically for the convention.
Just a few of the other organs of note around the area include the instruments in St. Boniface Catholic Church; Broadway Baptist; Memorial Auditorium (which houses the largest organ ever made by Pilcher, a famous organ-building company); and, until recently, at WHAS radio, which had a theater organ that was rather well-known.
"Herbie Cook [a former local radio personality] did a midnight serenade program on that organ that was popular all over the country because WHAS' "clear channel" was heard in many parts [besides Louisville]. At that time, the station used to close down – I think it was like on Sunday night between one and five a.m. – so the organ tuner would come and tune. That was the only time he could come tune, because the organ was located in one of the studios they used all the time!".
That same organ, which has stops for extras like whistles and bird calls located on its impressive horseshoe-shaped console, is now located in Louisville Gardens. The organ's extra sounds were included on many theater organs, which were used to accompany silent films before the age of "talkies."
So, after such a lengthy and stellar history, what is the future of pipe organs? In a word, says Miller, fiber optics. Already digital technology has affected the sequencing and programming of organs, but fiber optics is about to simplify things even more.
"It's the same technology they use in airplanes," explains Miller. "It used to be that you'd have these big, massive organ cables, and now you can just have one telephone wire. It won't be too long before they have an organ with no cable at all, just a transmitter."
And one of the best things Miller finds about organs is their staying power – that they can easily be the link between history and the future. "Organs last so long, and we can still build the parts that we need for old organs. With the electronic instruments, the technology is outdated so quickly that they won't even warrant to fix them after five years."
In the throwaway culture in which we live, the organ's staying power is something to think about. The next time you hear the regal whistles and stops of a pipe organ, no matter where it is, you can guarantee there's a story behind it, and chances are that Jim Miller could tell you the whole interesting tale.