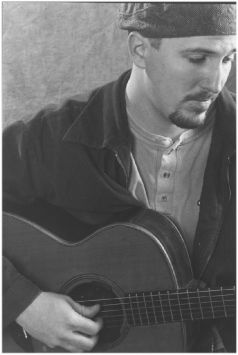 Peter Mulvey
Deep Blue, 1997, Eastern Front Records
By Vicky Moon
Much has been made of Peter Mulvey's guitar work, an intricate mix of percussive rhythms, complex fingerstylings and interesting melodies. His live performances are an amazing tribute to what one man can do with a guitar and more than prove that Mulvey is a singer/songwriter in a league of his own. "Deep Blue" roughens the edges of Mulvey's pure, acoustic folk-rock sound and takes the listener on an aural journey to the center of the human heart. In addition to Mulvey's always-impressive guitar work, "Deep Blue" features David "Goody" Goodrich filling out the sound with additional guitars, mandolin and keyboards and Mike Piehl on drums. The additional instruments push the folk influences of Mulvey farther down into the mix and turn up the volume of his rock influences which, though quite different from Mulvey's live performances, is just as interesting and atmospheric.
One wonderful aspect of Mulvey's songs is that they are the product of a man who reads much and well, and this project shows that off to perfection. Throughout the credits Mulvey mentions various literary works by authors such as Samuel Beckett and Shakespeare (whose influences are seen in the songs "Birgit" amd "No Sense of Humor" respectively). "Deep Blue" itself is a reference to the computer that beat chess champion Gary Kasparov, and the moody, psycho-sexual song is dedicated to Kasparov. Mulvey's lyrics are intelligent, incisive and gently, brutally honest, especially when discussing the state of human relationships. The best example of this is in the song "Smoke" in which he confesses "sometimes I feel like the man I think you think I am" and explores the differences of reality and myth in our approach to love. The musical settings for these lyrics are bittersweet, occasionally filled with a dissonant tension and leave the listener with a sense of longing. He makes a successful venture into the dangerous world of spoken word with "Birgit" and creates a mournful pleading poem helped along by the voice of actress Elizabeth London.
The bottom line is that fans of Mulvey will fall deeper in love with his talent and music and new listeners have no reason not to become instant converts to his musical stylings.