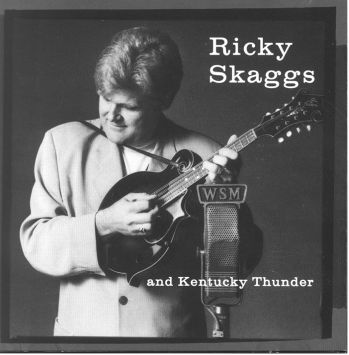 Ricky Makes His Point
Bluegrass Rules! (RounderRecords)
Ricky Skaggs & Kentucky Thunder
By Paul Moffett
Ricky Skaggs and Kentucky Thunder are a yardstick fit to take the measure of bluegrass music, and a fine ruler it is.
With Bluegrass Rules, Ricky Skaggs has taken a giant step toward honoring his promise to Bill Monroe to carry bluegrass's banner forward. Skaggs' twelve-year orbital flight into country music stardom dismayed many of his fans, who thought he had abandoned bluegrass, but Bluegrass Rules. emphatically refutes that notion.
Skaggs lays out his case with a dozen songs (and a couple of "vocalizations"). The fiery Monroe-penned instrumental "Get Up John" kicks off the album; the guitar solo by Bryan Sutton will make pickers green with envy and former Bluegrass Boy Bobby Hicks demonstrates why he was Monroe's fiddler for so long.
Two of Dr. Ralph Stanley's songs make the list; likewise two Carter Stanley tunes. "Little Maggie" is a festival standard seldom done better, and the high-spirited "If I Lose" will probably now return to favor as well.
Carter Stanley's "Ridin' That Midnight Train" offers room for more quick pickin', while "Think Of What You've Done" is the cry of a man thrown over by a lover. Following that theme of loss is the haunting "Drunken Driver,"with it's early twentieth-century-style "warning" to those who drink and drive. This one might well haunt you in your sleep,' as it did me.
Skaggs' own mandolin piece, "Amanda Jewell," written in style of Monroe, is a showpiece that will offer, a challenge to many a mandolin player, while "Rank Stranger," with tenor vocals by Paul Brewster, encapsulates the gospel heart of bluegrass.
The CD closes with another blazer, Monroe's "Rawhide," which will serve to illustrate why Monroe's music was so very influential in the middle of the Century.
After a dozen years as a contemporary country music star, but contractually prevented from recording bluegrass, Skaggs' experience in country has refined his skill at recording acoustic instruments and every bit of that skill went into this CD. While Skaggs undoubtedly had the.entire Nashville "A-list" of acoustic players available to augment his crack band, Kentucky Thunder. which features Monroe's longtime fiddler Bobby Hicks, he really didn't need to. He did invite Dobro wizard Jerry Douglas and fiddler Stuart Duncan to "sit in" on a couple of tunes. but all the rest is Skaggs and the band, mostly recorded live, with few overdubs. just like it's s'posed to be. Then there are those bluegrass harmonies. Appropriate to every tune, they are in turn four-part sweet and Stanley-style in-harmonious. Also just like it's s'posed to be.
If you like bluegrass at all, then this is the album of the year. If you don't like bluegrass, this is the album of the year. Either way, this is an absolutely "must-have" CD.