Jim Rosen Dies
ByPaul Moffett
Jim Rosen, harmonica player, sing and lead of the Mudcat Blues Band died at his home on Wednesday, February 18. He reached his 42nd birthday two days earlier. Rosen, born James Abraham Rosen in Louisville, grew up in Jeffersonville, Indiana. He began learning to play the harmonica in his teens and in 1986 formed the Mudcats, later the Mudcat Blues Band with drummer Gene Wickliffe, singer Susan O'Neil, guitarist Rob Pickett and bassist Larry Holt. O'Neil and Holt later left the band. Holt was replaced by bassist Brendan Lewis. Rosen took over O'Neil's role as singer after her departure. The "Mudcats" name persisted in spite of a change in the name of the band to Mudcat Blues Band due to legal conflicts. The band was a staple on the Louisville blues scene for its entire existence.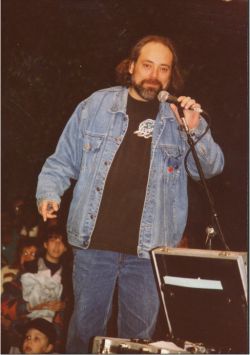 Jim Rose at Garvin Gate in 1995. Photo by Jean Metcalfe
The Mudcats recorded and released three well-received albums, including I Want To Play In Your Big Backyard, which featured Rosen's "Terminal Man," written after he got the news of his fatal illness. The albums, combined with steady performing, helped establish Rosen as the region's premier blues harmonica player. A live album, recorded in December, is scheduled for release later this year on Ear X-tacy Records.
Rosen was also very active with the Musician's Emergency Relief Fund (MERF) and regularly played at benefits to raise money for musicians down on their luck. His generosity was repaid over the last few years when several benefits were held for him. He was diagnosed with lung and kidney two-and-a-half years ago and, at that time, was given ten months to live. He underwent several experimental treatments and donated his body to the University of Louisville Medical School.
Rosen continued to perform during the years of his illness, often playing ferocious harmonica lines. Todd Smith. engineer at Allen Martin, noted that at a session late last year that Rosen blew "an incredible part" in spite of being obviously in pain.
Despite his reputation for gruff bluntness. Rosen was well-loved by his compatriots in the music business in Louisville, some of whom were with him when he died at home, which he shared with his companion Belinda Cowan.
MERF President Londa Crenshaw, a longtime friend of Rosen's, said that the community had lost a great friend and that he would be sorely missed. A private wake was held on February 19 at the Spring Street Meeting House. A memorial concert will be held on Monday, March 2, beginning at 5 p.m. at Butchertown Pub and Cafe, I335 Story Ave.
Rosen taught blues harmonica at Indiana University Southeast in New Albany, and he was the recipient of Kyana Blues Society's Sylvester Weaver Award in 1993 He was also a member of the American Federation of Musicians local ll-637.
Besides his companion, Rosen is survived by his father, Al Rosen; his step-mother ldell Rosen; his mother, Jessie Rosen; brothers Peter and Marty Rosen; a stepbrother, Bill Bizer and four stepsisters, Vicki Bizer. Pat Malian, Peggy Scott, Malinda Combs and Beth Van Etten.