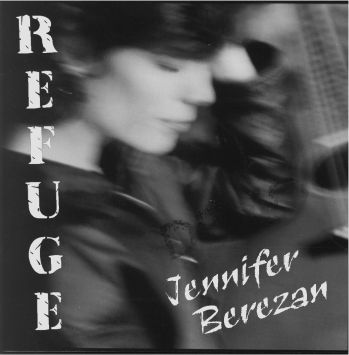 Refuge (Edge of Wonder)
Jennifer Berezan
By Paul Moffett
Bless Canada for sending us musicians with refined sensibilities and carefully developed skills. Count Jennifer Berezan in that list.
Following her NAIRD nominated, 1992 Borderlines CD, it was five years before Refuge went to glass. The delay certainly did not do harm. Possessed of a splendid voice and equally enchanting guitar skills, Berezan writes of love and myth, art and womanhood and the blue Canadian skies draped with the Northern Lights of her childhood. Shaped in the vocal-dominated Americana / folk rock genre, the result is as gently intoxicating as a glass of soft blush in front of a fire.
Her lyrics are lush without being overly stuffed with imagery. The 'refuge' of the title song is this: "The snow fell so still like music to the ground / and I'd take refuge in that holy sound."
"Crazy Saints" has the Trojan prophetess Cassandra walking in modern Los Angeles, while "Turning of the Wheel" will meet with the approval of all New Agers who have come to an understanding of their mantra: "No matter what life gives you / no matter what you steal / you cannot stop the turning of the wheel."
Berezan's love songs also reflect the lessons of dreams and hopes not quite realized. In the "The Woman I Am," she speaks to a lover: "If the woman I am can't hold a candle / to the woman I thought I'd be today / If this world gets too much for us to handle / Will you love me anyway?"
Her melodies are pretty and hummable and, fortunately, not obviously derivative, although "Home to You" just slightly suggests CSN&Y's "Suite Judy Blue Eyes." These days, that passes for new music. Whether or not you're old enough to recall that folk rock chestnut, her incorporation of a bit of it won't put you off.
Listen for this CD on your local AAA / NPR station. I wouldn't be a bit surprised to hear her on David Dye's "World Cafe" program. Wherever you come to hear it, give it chance and some change and, at the least and regardless of your gender, wrap it as a gift of love to your significant other. You'll be glad you did.