I've Got A Mind To Ramble
Goin' Back Home
There is a time in one's life to return to one's roots and that is what has happened with James Peters. Peterson had moved from Florida to Louisville a little over a year ago, in order to establish a home based within convenient travel distances of eastern and midwestern festivals and tours, but love of the country and his old homestead got the best of him.
I first got wind of this through his manager and now wife, Stephanie Manna, on the Kyana Blues Society website. To get the whole story, I called her in Russell Co., Alabama, where they now live. James was on the road at the time playing an extended engagement at Jimmy Buffet's Magaritaville in Key West, Florida.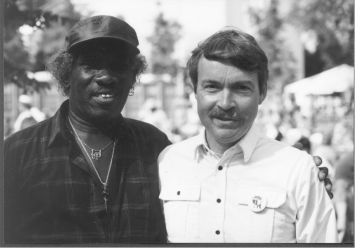 James Peterson, left, and Keith Clements
Stephanie said their marriage was a private family affair that took place in Louisville on January 22. Shortly afterwards, James returned to his birthplace, Battle Community, which is 60 miles east of Montgomery, Alabama. Stephanie soon followed with her two children in February.
The 152-acre wooded homestead, first purchased by James' grandfather, included an 1870 vintage house complete with a tin roof and central firehouse. Also on the property is a club that had been run by James' daughter.
Peterson is fixing up both places for a guest house and the "James Peterson Blues Club." On the outside, the club is just a concrete block structure, but on the inside there are mirrors, wood paneling and even fountains. They plan to add a patio and are clearing out many pine trees for parking, in hopes of accommodating large crowds for plenty of blues, boogie and barbecue.
James Peterson no longer records for Waldoxy since he now has his own label, Houndog Records. His next CD release is co-produced with his son Lucky and is due out August 1. All the material is original, with Lucky playing organ, guitar and singing back-up vocals. This is a long-overdue father and son collaboration.
Peterson's current band includes two Nashville musicians: Mo Jackson on second guitar and Billy on drums. James Brown, from Cincinnati, plays with him on drums. Peterson will still play festivals like the Down Home Festival in Huntsville in May and the Blues Bash in Florida, but he really wants to cut back on his hectic touring schedule.
Stephanie Peterson said that their hope is to have their own blues festival on their homestead.
Headline Music Hall
The original owners of Stevie Ray's, Mike Pollard and Fred Wooten, are at it again with a new venue in the works. They bought the old Burdorf Kessler building on the Lexington Road side of Distillery Commons, down the hill from where Cliffhangers used to be. At first Ray Schulman, the owner of Distillery Commons, was reluctant to sell the building for entertainment use after the bad experience he had with Cliffhangers. The good track record Mike and Fred compiled with Stevie Ray's, plus good references, persuaded Schulman to sell. The building is conveniently located between downtown and the east end, near I-64 and has plenty of parking.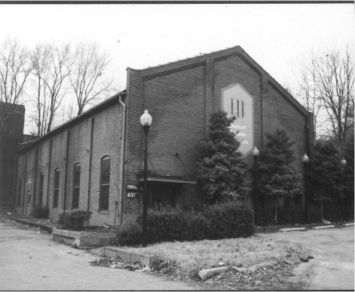 The soon-to-be Headliner Music Hall
The partners are working with the architect, Greg Burns, with the idea of retaining the original character of the building, with an art deco influence. There have been some pleasant surprises during the renovation. When the existing suspended ceiling was removed, the original vaulted cornice around the perimeter of the inside hall.
There will be spacious bar near the entrance and a room off to the side for more private use. Pollard said that the Headliner Music Hall will be strictly for music with no food served. Besides blues, they want to book a wide variety of other music, including zydeco, jazz and R&B. Mike and Fred plan to do a first-class job like they did with Stevie Ray's, even hiring an advertising agency for promotion. Stay tuned for more details when the open later this summer.