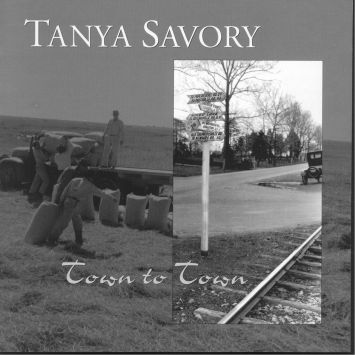 Town to Town
Tanya Savory
By Paul Moffett
Tanya Savory continues the chronicles of her adventures on The Road and the lessons learned therefrom that she began on her first release, Better Shade of Green. The theme is revealed by the inclusion of "40, 80 or 10," a tune about the particular Interstate highways that cross the country and lead back to a lover. The tune also appeared on the first CD.
Because she has been living in Louisville, the tunes are more Kentucky-influenced; the hook-y "When the River Rose," "I Don't Hear That Train" and "Bluegrass" are prime examples. Not that it really matters, as Savory is a traveling musician and finds inspiration everywhere, although she did have Pam Gadd playing banjo on a couple of songs.
This CD is nearly of a piece with the first one, both in overall sound and thematically. Savory is a singer/songwriter with a beautiful voice and a way with a melody. If you like how she sounds, it really isn't important what she writes about, as she does it well.
This CD is being shopped to various major labels and may reappear in a new package. Buy one now so you can say you knew her when. Savory just played a show at the Twice Told Coffeehouse and will no doubt be back in town soon. Catch her if you can.