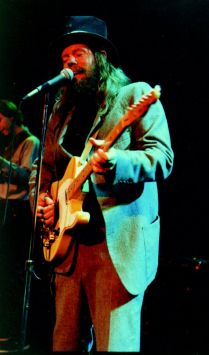 Steve Ferguson and his Midwest Creole Ensemble, May 16, Stevie Ray's; May 22 & 23, Air Devils Inn
May Upcoming
By Paul Moffett
It's no news to Louisvillians that it's currently Derby (Two) Weeks. As usual, every musician with an interest in the serious partying and gambling that goes on for most of the last couple of weeks in April and early May have booked themselves some kind of gig in town. that's harder to do than it has been and, unhappily, this year one of the biggest shows, the Derby Eve Jam, won't happen because the promoters couldn't line up a big enough headliner. Wait until next year.
In the meantime, there's plenty of live music to while away the time between parties or as parties. Every nightclub and bar with anything remotely resembling a "stage" has live music booked, so you really can't avoid it. Have a lot of fun while you're here for Derby, wear your earplugs and remember to tip your servers.
Please note that this list is not even close to being comprehensive. Check the calendar.
Acoustic
• A free show at Steilberg String Instruments gets the nod for way cool concerts. Bryan Sutton, guitarist for Ricky Skaggs and Kentucky Thunder will play the music store on May 17. This guy is so incredible, you'll probably want to throw away your guitar and break your fingers in despair. Or he'll inspire you to practice, practice, practice.
Tix and info: 491-2337
• The last time Freakwater played Louisville at the Clifton Center, Janet and Catherine chopped up the writer we sent to do an interview and fed him to the fishes. This time, they'll be at the Bluegrass Brewing Company and we'll recommend the show but not send a writer. They just released their fifth album in January. The equally productive but more media-friendly Paul K will open.
Tix and info: 899-7070
• The two rooms that book the most acoustic music seldom manage to get their calendars to LMN in time for listing. Call the Twice Told Coffeehouse at 456-0507 and the Rudyard Kipling at 636-1311 and ask them who's playing.
• However, we did scrounge up a month-old calendar and found out that former Louisvillian Peter Searcy will be at the Twice Told Coffeehouse on May 1. Searcy was the big-voiced front man for Big Wheel and Starbilly. Well worth a listen.
Tix and info: 456-0509
Bluegrass
• If it's Spring, it must be bluegrass festival time. Count the Red Mule (formerly Red Mile) Bluegrass Festival as being out of the blocks early. The three-day event will be held May 14-16 at Walnut Meadow Campground, just outside Berea, Ky. The festival features lots of bands; headliners include but are not limited to Dr. Ralph Stanley, Continental Divide, Eastbound, the Osborne Brothers and J. D. Crow and the New South. For serious bluegrass types, there is primitive camping available.
Tix and info: 606-349-5028
Blues
• Mr. Downchild and the Houserockers will be at Stevie Ray's on May 29 and 30, with a new CD Steppin' on Time, to promote. These guys have been at Stevie Ray's on a couple of other occasion, so they have a bit of following.
Tix and info: 582-9945
• Our cover story band, El Roostars, will do their blues bit at Stevie Ray's on May 8 & 9.
Tix and info: 582-9945
• Duke Tumatoe and the Power Trio hasn't been in town in a while. They're returning to Stevie Ray's on May 13. This means that Wally Stewart will have to take Thursday off.
Tix and info: 582-9945
Celtic
• No doubt you've been waiting breathlessly for the return of genuine Cape Breton music to the KCA stage. No? Your bad, can be fixed. Fiddler Natalie MacMaster will offer up an evening of Cape Breton tunes on May 9 as part of the Bank One Lonesome Pine Specials. MacMaster has been attracting attention since the age of five for her fiddling and has since garnered many awards in Canada, including a Best Roots/Traditional Artist Award. She'll bring a hot backing band with her as well.
Natalie MacMaster, May 9, Ky. Center for the Arts
Tix and info: 584-7777
• Galloglas will offer their "Celtic Kentucky Derby Eve Celebration" at the Rudyard Kipling on Friday, May 1. Get your tickets early for this one.
Tix and info: 636-1311
• The 13th annual Glasgow Highland Games are set for May 28-31 in Glasgow, Ky. Set to appear are David Irvine; Clan Carmichael; Seven Nations Band; Colin Grant-Adams; Susan Palmer-Marshall and more, of course.
Tix and info: 502-651-3141
Christian
• Crystal Lewis and Avalon will bring their 1998 Gold Tour to Evangel Christian Life Center on Wednesday, May 13 for a 7:30 p.m. concert. Lewis' last CD, Beauty For Ashes, yielded three No. 1 songs on the Contemporary Christian Charts and her latest, Gold, debuted at #1. Euro-poppish Avalon continues to work their A Maze of Grace CD, with "Testify to Love" cracking the No.1 spot on radio.
Tix and info: 502-244-8297
• Third Day will bring their top-of-the-line Christian rock to Northeast Christian Church on Thursday, April 30.
Tix and info: 1-800-521-0290
Contemporary Dance
• Mikhail Baryshnikov returns to Louisville with the White Oak Dance Project, for two performances, May 3 at 7 p.m. and May 5 at 7:30 p.m at the Brown Theatre. The event is presented by the Louisville Ballet and sponsored by the Bank of Louisville and Ramada Inn.
Tix and info: 584-7777
Country
• The G®-Man, Freedom Hall, May 22. You don't have your ticket already, forget it, the show's sold out. If it's not, the Garth man is headed for the cable commercials.
Dulcimer
.• The Old Capitol Traditional Music Festival in Corydon is scheduled for May 29 and 30. Set to play are Les Amis, Tull Glazener, Maureen Sellers and Sam Stone. For more information, call Susan White at 812-944-6922.
Musical
• Actor's Theatre is presenting Radio Gals, which they describe as a "madcap musical comedy." Think "Remember WENN" with an all-girl orchestra. Sounds like a hoot. The show runs through May 31.
Tix and info: 584-1205
Orchestral
• Pianist Horacio Gutierrez will join the Louisville Orchestra for "Music in the Age of Discovery" which will feature a performance of Holst's The Planets and Beethoven's Piano Concerto No. 5. You get two chances: The Coffee Concert is on May 7 at 10:30 a.m. and the MasterWorks is on May 9 at 8 p.m. Both performances will be in the Whitney Hall at the Kentucky Center for the Arts.
Tix and info: 584-7777
• For those of you who believe that orchestral music is lost on the young, here's a little show to disabuse you of that notion: the Louisville Orchestra and the Symphony Orchestra of the Louisville Youth Orchestra will offer a joint concert in Whitney Hall at the KCA on May 8, at 8 p.m. The program is called "Night of a Thousand Strings" and will celebrate the 40th anniversary of the Louisville Youth Orchestra. The LO will also honor fifteen current members of the LO who are alumni of the LYO. Got that? Get tickets and go applaud.
Tix and info: 582-0135
Percussion
• Stomp returns to the KCA in May. Order your tickets now, or you'll never hear the end of it from your spouse and kids. No kiddin', they sell out everywhere, including all of their last visits to the KCA. It's a genuine phenomenon.
Tix and info: 584-7777
Pholk Music
• John Hartford will be in concert at the Bluegrass Brewing Company on May 30, during the Micro Brew Festival. Yep, not Jamie, but "Steam Powered Aereoplane" John, replete with his portable plywood dance floor. It's worth the ticket just to see the man clog and fiddle simultaneously.
Tix and info: 899-7070
Rock & More Rock
• Churchill Downs and Miller Lite are staging the "Festival in the Field" on Thursday, April 30 and Friday, May 1. Thursday, you get Almost Noah, Eden Street, Mighty Joe Plum and current hot alterna-rocker Creed will tell you about "My Own Prison." Friday, it's time-tripping back to Nostalgia City, as Eighties rockers Cameo take the stage, together with Funky Town and Face. The activities run from 11 a.m. until 6 p.m. Thursday, it's $2 to get in. Since Friday is Oaks Day, the ticket is $15. (Well, this is Derby.)
Reading Between the Lines Dept: the press release from Churchill Downs contains this sentence: "Eden Street will follow the local favorites." Brother Arlon and crew have achieved success! They're not local anymore.
The Toy Tiger has not yielded the concert booking scene to the Brewery and the Phoenix Hill. Perry Scroggin and Spotlight Productions are bringing in a number of interesting acts in May. Here are the details:
• Derby Night at the Toy Tiger will feature Maryland-based Trans Am, promoting a new CD, The Surveillance, on Thrill Jockey Records. They're touting an evening of fun and phone tapping. Please speak clearly into the microphone. Also on the bill will be Don Caballero and Parlor, plus Operation Re-Information, a band that plays "nerd-pop" electronic music. Log on to their website for all the information you need: www.reinformation.com/.
• Touch and Go Records artist June of 44 will appear at the Tiger on May 18. This band is another of the "Gee, they're from Louisville?" acts out on the road selling records. Also appearing will be Aasee Lake and Victory at Sea, about whom we have no information.
• It's a cheap trick! No, it's Cheap Trick at the Toy Tiger on May 10. Really, I wouldn't fool around about this. It's the real thing. It must be, the tickets are $17.
• If you missed the show with the winners of the Miller Genuine Draft Showcase series back in March, you (and Wild Justice Management) get a second chance in May 13, when it'll be 100 Acre Wood, Cooler and Muffy Panics giving it all they've got for a management deal. It'll be groove heaven.
• On May 21, it'll be Tortoise and Oval at the Tiger. Oval is one guy with a laptop running a variety of music software. Tortoise is the opposite: instrument overkill, with two drum kits, vibes, marimba, two basses, percussion, a farfisa, lap steel, synths and a guitarist.
Tix and info: 456-1137
• Of course, the Brewery is also continuing to bring in the current hot alterna-whatever to the Thunderdome, booking courtesy of Spotlight. The Foo Fighters and Rocket From the Crypt will play an $18.50 show on May 19.
• Initial Records will stage the Krazy Fest for three days at the Brewery on May 29, 30 and 31. We can't list the complete line-up, but considering the roster that this label has, it should be heavy with Louisville straightedge acts, including the Enkindels, Elliot and Metroschifter, among many others. Read Victoria Moon's Front & Center story on Initial Records on page 13.
Tix and info: 589-1003
• Aerosmith will walk this way plus play as many of their twenty-plus years worth of hits as they can stuff into a concert on May 19 at Freedom Hall.
Tix and info: 361-3100
• Bill Haley Original Comets featuring Al Rappa will appear at in Elizabethtown, at the City Parking Lot in downtown Elizabethtown on May 16. The event, called Jumpin', Swingin' & Rockin' in Downtown, runs from 6 to 10 p.m. and will also feature Crown Electric and The Chip Nannies, plus the other usual festival sorts of events.
Tix and info: 502-763-0800
• If you wind up downtown on Derby Eve, by all means stop off at Zena's and catch Tim Krekel and the Groovebillies. Krekel's country songwriting earns him royalties; his rock songwriting wins him fans and critical raves. Also at Zena's that night will be the Snake Oil Medicine Show.
Tix and info: 584-3074
• Steve Ferguson and His Midwest Creole Ensemble will make a couple of appearances in town this month. On May 16, he'll be at the Air Devils Inn and then for two shows at Stevie Ray's on May 22 and 23. Take an early nap; Fergie seldom starts before 11:30 p.m.
Metal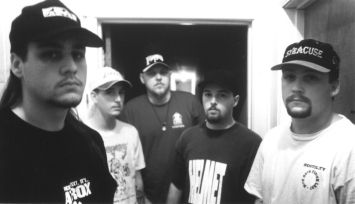 My Own Victim, PJ's Pub, May 1
• Metal fans, put the eight-band showcase at P;J.'s on your must-see list for Derby Eve. Check the list in the News from the Pit column. Louisville's My Own Victim, with a new CD, tops the list. Ken Chouinord says they'll go until everybody is too tired to play anymore.
Tix and info: 368-9911
Progressive Rock
• Fans of experimental and prog rock should take note of a May 26.show at the Bluegrass Brewing Company. Artswatch is presenting ze French progressive rock act Present, which features former members of Univers Zero and Magma. Louisville's French TV will open. Former Butchertown Pub manager Stuart Neff is involved in putting this together, if that's any clue. Partial proceeds will benefit Artswatch.
Tix and info: 893-6216
Electronic / Techno
• As it O.R.I. wasn't enough techno/electronic, God Lives Underwater will slosh into the Brewery on May 4. they have a new CD, Life in the So-Called Space Age to promote.
Tix and info: 583-3240
Swing & Rockabilly
• It's curious how these two musical styles have been melded into one: swingabilly. Tony Perez is betting that Louisville has some cat daddies left: every Sunday in May, there'll be Swing and Rockabilly shows at the Phoenix Hill Tavern. Hard to highlight any one night but the May 10 show has Ray Condo & His Ricochets plus E-town's own Jump Swing band, the Chip Nannies.
Perez is also doing first Thursdays at Jim Porter's. In May, it's the Twistin' Tarantulas from Detroit and the Trip Daddys from St. Louis. In June, he's bringing in Wanda "Solid" Jackson, who was rockin' and rollin' in 1956. That's what you call authentic.
Urban & R&B
• If get this issue soon enough, catch the B&W DerbyFest Concert on Wednesday, April 29 at Freedom Hall. Scheduled to play are Patti LaBelle, The Blues Brothers Band with Special Guest Eddie Floyd and Boney James. This is a free event.
Now take two Mint Juleps and call me next month.