I've Got A Mind To Ramble
Louisville Blues Festival 1998
I missed last year's Garvin Gate Blues Festival because a group of us from the Kyana Blues Society rented a pair of vans and did the King Biscuit Festival in Helena, Arkansas. Both of these festivals have always been held on the second weekend in October. This year, the line-up for what has become the Louisville Blues Festival was too good to miss, thanks to Mike Suttles, who booked the national acts and to John Grantz, who did the local bands. The festival has now made the transition from a neighborhood event, bursting at the seams, to a major urban festival with room to grow, particularly with high profile sponsors like National Public Radio and the Palace Theatre.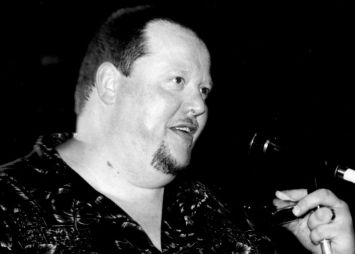 Paul DeLay. Photo by Keith Clements
The main stage was located in the middle of 4th Street, next to the Kentucky and Ohio 'Theaters. A variety of food and craft vendors were set up along 4th Street to Chestnut Street and around Theater Square.
Friday's headliners provided a powerful one-two punch, with Bernard Allison first working the crowd, playing a variety of guitars, including a green instrument shaped like the United States, which he played for "I'm Low Down." Near the end of his spirited set, he switched to a stainless steel guitar that had belonged to his father, Luther, for some stinging slide. (lt's encouraging to see a new generation of young musicians like Bernard, Kenny Neal, limmy D. Lane and Ronnie Baker Brooks carrying on the blues torch of the fathers.)
Li'l Ed followed /\llison, coming out kicking and jumping. His slashing slide guitar technique takes his uncle J. B. Hutto's style to higher levels of energy. During his performance, he was carried out into the middle of the crowd on the shoulders of his rhythm guitarist Mike Garrett, playing the guitar all the while.
On Saturday, the KBS presented the 1998 Sylvester Weaver Award to harmonica player Joey Lamont Gillispie before his set. When it comes to straight-head, Chicago-style blues, Lamont is the best in this area, together with his 100 Proof Blues Band. Guitarist Mark Stein took a lot of solos, while Rick O'Neil and Paul Tkac provided the driving rhythm on bass and drums. Lamont and Paul have played together so long that Lamont says he considers himself to be Paul's harmonica player.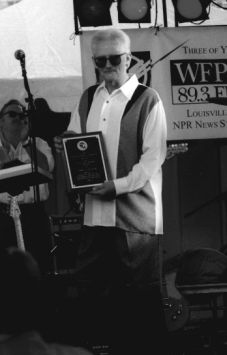 Lamont Gillispie holds his Sylvester Weaver Award Plaque
Paul Delay came all the way from Portland, Oregon to do the festival. He swaggered up to the microphone and sang a fine set of 'sad~but-true stories in a very off-beat, casual manner, while producing incredibly deep sounds with his chromatic harp. Thc crowd, neertheless, was anticipating he new edition of Roomful of Blues. Even Duke Robillard was in the audience.
Their polished performance was the show of shows, with an eight-piece band plus their new featured vocalist, Mae Odom, who sang with lots of poise and passion. After a full blast of the entire Roomful, they broke down into their rhythm section, which let Christ Vachon stretch out on some incredible guitar solos. The horn section stepped forward for a couple of jump numbers, then the full band returned to do their title song, "'There Goes the Neighborhood," from their newest CD.
There was a blues workshop going on in the back of Stage Door Johnnies on both Saturday and Sunday afternoons. John Burgard and Walter Lay played traditional acoustical blues, with at little history thrown in between tunes. Other local performers, including Harmonica Red and Sonny Love came by to sit in.
The perfect sunny fall weather continued through Sunday, but the cool air was heated up by the Red Hot Rhythm Blues Review. This is a group of nine veteran Louisville musicians, culled from Cosmo & the Counts. The Shufflin' Grand Dads and several other bands, who have formed Louisville's version of Roomful of Blues, with Wayne Young, Robbie Bartlett and Rusty Ends providing the vocals and lead guitar work.
Due to confusion about the time change, Sherman Robertson arrived an hour late from Houston, but when he got on stage, all was forgiven. He taunted and teased the enthusiastic crowd with his blistering Texas guitar licks, using his "Ford" and "Chevrolet," two Fender guitars. Then it was time to pull out his "Cadillac," a well-worn vintage I961 Gibson ES 355, that he has been playing the last 20 years. Sherman brought everyone together in one spirit with his simple ballad "Everybody Love Somebody" and left a memorable impressin with his first visit to Louisville. This eleventh edition – different name but still the same – of the festival will go down as one of the best.
From Holly Spring To Headliners
It was originally billed in Headliners' calendar was "A Special Blues Concert by R. L. Burnside." As it turned out, October 13 was a full evening of rock and blues. Robert Cage opened with his primitive Mississippi folk blues style of singing and scat grunting. Bodeco followed, but brought a lot of their younger fans in close to the stage. This recently reunited rock 'n' roll-a~billy band features a heavy, driving beat with a vengeance. You never quite know what Ricky Feather is going to say or play, while bassist Jimmy Brown constantly animated. Ricky Mason's guitar solos reminded me that I miss his work with Lamont Gillispie's Homewreckers. Bodeco's songs are punchy and short, which made their set like listening to a stack of rough and raw 45s.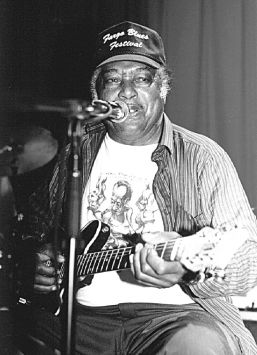 R. L. Burnside. Photo by Pete Strojny
Those who stayed were rewarded with the real blues thing. You know the saying: "the blues had a baby and they called it . . ." Well, R. L. Burnside hatched a blues bombshell that night, wearing his Mr. Wizard t-shirt and freely sipping several glasses of bourbon. His stripped-down band included Kenny Brown on slide guitar and R. L.'s grandson, Cedric, on drums.
Headliners was transformed into a northern Mississippi house party in Holly Springs. Burnside's hypnotic riffs soon had the young crowd bobbing to the music. These were the blues he learned from Fred McDowell and personalized over the last 45 years, playing juke joints, picnics and now major festivals. There was no Jon Spencer-influenced Blues Explosion distortion like what has shown up on some of Burnside's recent CDs. This night was pure, unadulterated blues like he playd on his first Fat Possum recording, Too Bad Jim.
Kentucky Headhunters guitarist Greg Martin joined the band near the end of the set and traded licks with Kenny and R.L., bringing one of the club concerts in recent memory to a climactic conclusion.