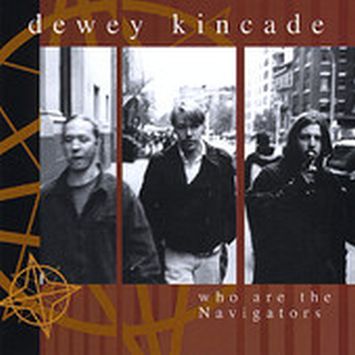 All Over the Place
Who Are the Navigators
Dewey Kincade (Snug Records)
By Tim Roberts
The liner notes of this CD contain an excerpt from the "Compass" entry found in the 1910 Encyclopedia Britannica. "Up to the time of the Portuguese exploring expeditions," it states, ". . .navigation had been conducted in the most rude, uncertain and dangerous manner it is possible to conceive."
It's the perfect introduction to Dewey Kincade'sWho are the Navigators – 13 tracks that sail all over the place, where uncertainty of direction gives us an impressive variety of songs that blend introspective, grown-up, and sometimes fun lyrics with styles stretching from folk and country, to psychedelic, fuzzed-out rock and bawdy barracks chanteys.
Backing Dewey is a strong lineup of musicians: Matt Frederick on lead guitars, Dan Chaffin on drums, and Dave Humphrey, Brain Gager, Dan Africk, Bent Lancaster, and Charles Martinez each contributing bass on various tracks. Others contributing their talents include Steve Frederick (Matt's brother), Jason Hallman, Slade Stumbo and Joel Serdenis. For the Louisville Music trivia buffs among you, Matt, Dan and Dave once made up the electric-groove trio known as Owen's Little Problem. Plus Dewey, Matt and Dan played together in a band called Satori. With their collective experience together in different combinations, this is a band whose members can read off each other well. The results show it.
Michelle Ciccarelli adds some sweet harmonies with Dewey throughout the recording, especially on "Billie Angel," and the smoky "Wicked Stepmother," a lengthy piece about a young man's dangerous, agonizing infatuation with his father's new young wife.
Combined with snazzy art direction and packaging from Louisville designer Rosalie Felfle,Who Are the Navigators introduces us to yet another strong set of Louisville performers. So clamber on board and cut the lines. Cast off in a full wind with Dewey Kincade and crew inWho are the Navigators.