Down On The Corner
• Dang Those Goofs Dept. In case you were wondering why the Satchel's Pawn Shop guys on the cover of the October issue had green faces, blame it on the printer. Usually I get to accept blame for all the mistakes - and I make my fair share - but this time, the boys at the web press switched two of the color plates necessary to print a four-color cover, hence, green faces.
Sigh. My apologies to everyone concerned, including the photographer, who was pretty much ticked off. Can't say I blame him.
On the plus side, I now know how to get areally good green.
• Attention acts with CDs. A new "entertainment" store - meaning they sell CDs - has open in Okolona. Called Hastings, at 4140 Outer Loop, the establishment is interested in getting CDs on consignment, as well as finding acts to do in-store performances to promote those CDs. Call Ms. Devon Scott at 961-6434 or Keith Schlepp, the music manager at the same number for more information. Oh yeah, they also sell books, videos and software.
• Sam Bush will appear at Disc Jockey Records on Shelbyville Road on November 7 for a "Meet & Greet." The Sam Bush Band will be in concert at the Kentucky Center for the Arts as a part of the Lonesome Pine Series. You can shake Sam's hand and get an autograph on a CD and picture with him at the event.
• A new studio is up and running in New Albany. Chaz Childers has established Planet Creative on .Charlestown Rd. Call him at 812-949-8115.
• Bryan Hurst and the Lollygaggers have a new CD out.
• Bodeco has put together a CD from a live performance held on a previous Thanksgiving some years back. TheWrath of the Path CD will be released the Saturday after Thanksgiving. They will be playing that day at Headliner's. "Crazy Wild" will be the first radio tune.
• Singer songwriter Bill Bartley, formerly with Poke A Dott and Something Big, has gotten together with bassist Glenn Watt from Thief in the Garden and Poke A Dott and drummer Robb Edwards of Goodnight Maxine and Shaft to form slack shop, which they describe as a modern rock trio, whatever that is.
• A note from Edenstreet assures all their fans that their new CD is on the way and that A&M is still with them. Check it out at their new website: www.edenstreet.com
• On November 2, the Kentucky Opera Guild will offer Dinner & Listen at Biscotty Bistro in La Grange. Call 584-4500 for reservations. The KOG will also hold aLunch & Listen program for the upcoming Kentucky Opera presentation ofMadama Butterfly on Tuesday, November 7 at Vincenzo's Restaurant.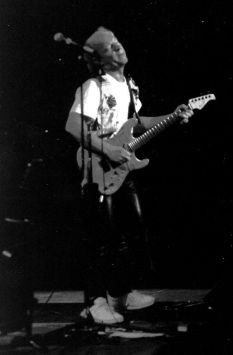 Martin Barre, gutarist for Jethro Tull, got into a solo during a show at the Palace Theater on September 29. The show was a sell-out and the crowd was rowdy. Photo by Paul Moffett
• Doll collectors will want to go the Louisville Ballet's Nutcracker Ball on November 21 at the Palace Theatre to bid on Bob McAdams' one-of-a-kind handcrafted doll, which has been modeled after the Ballet's prima-ballerina Helen Starr, dressed as she was in her role fromRomeo and Juliet. The silent auction will include more than 100 items, including fine wines and designer jewelry. Call 502-583-3150 ext. 51 for reservations.
• Gospel record company Daywind had such a fine time at the National Quartet Convention in Louisville in September that they sent four separate press releases concerning the NQC. Daywind artists took sixSinging News fan awards at NQC, among other things.
• Banjo master Tim Lake got a week-end trip to Japan, courtesy of the Kentucky Arts Council and the Lexington Sister Cities program, as reported in the KAC's The Blue Moon publication. He played banjo in a variety of situations, including in a quartet with two shamisen players and a shakuhachi player. They didn't do "Blue Moon of Kentucky."
• Speaking of things Japanese, Artswatch is presenting a performance by butoh dancer Ralph Rosenfield on Saturday, November 7 at Artswatch, 2337 Frankfort Ave. The performance is entitledHomage to Tamno, and will involve Rosenfield dancing nude inside an eight-foot, clear plastic ball. For more information, call 502-893-9661
• The Kyana Blues Society will hold a membership meeting and fund-raiser for the Foree Wells Memorial on November 7 at Billy's Place. A bus will be available at the Mid City Mall for a worry-free ride down to Wilson Avenue.
• Speaking of the KBS, Lamont Gillispie was the winner of the 1998 Sylvester Weaver Award, presented at the Louisville Blues Festival in October. Check Keith Clements' column on page 10 for more details.
• Fern Creek euphonium player Reed Woodson, 17, son of Ron and Shirley Woodson, has been accepted to the Interlochen Arts Academy, an important fine arts high school in Michigan.
• Hey, kids, the new Initial Records Fall 1998 catalog is out. Look foryour picture on the cover this fall. Log on to their website at www.initialrecords.com or phone 'em at 502-499-PUNK and they'll send you one. You get aFREE compilation CD with the catalog.
• Hawley-Cooke Booksellers will have author Larry Nager at the Shelbyville Road store on November 14 at 7 p.m. for a book signing. Nager's new book is Memphis Beat, about the "Lives and Times of America's Musical Crossroads." Nager will "speak, perform and sign" at the in-store event and will be joined by his band Red Mountain.
Also at Hawley-Cooke on Shelbyville Rd. Ralph Emery will talk about and sign his new book, The View From Nashville, on Monday, November 16, 7-8 p.m.
And finally, at the same store on November 10, there will be a celebration of Hank Willams 75th Birthday, hosted by H-C's Steve Henry.
• We had a nice chat with Barry Thomas of Love Jones the other day. Barry's working for a small record label in California, which was the reason for his call, but he also said that Love Jones is continuing to work on recording, though they're not playing out a lot. Then he allowed as how that he and his brother Dean, plus former Domani member Stuart Johnson were playing in a "bluegrass" band that was too "bluegrass" for country and too much "country rock" for bluegrass. However, they did wind up as the backup band in Randy Travis' new video, "Spirit of a Man, Wisdom of a Band." Look for it on TNN.
Barry also was involved as a consultant on the movie "Swingers," in which Love Jones had their tune "Paid For Lovin." He said that the band had just decided that they were only eight years or so ahead of their time.
Barry sends his regards to all Love Jones' Louisville fans.
• The Repertory and Concert Orchestras of the Louisville Youth Orchestra will present aFall Formal Concert on Sunday, November 1 at the Brown School, 546 S. 1st. Call Melody Welch-Buchholz at 502-582-0135 for more information.
• Canadian born saxophonist Paul Brodie will appear in concert at the U of L School of Music on November 17 at 8 p.m., with Naomi Oliphant accompanying him on piano. Brodie will also present a free lecture and a saxophone master class the day before, November 16. Brodie is considered to be the most recorded concert saxophonist in the history of the instrument. Looks like a great chance to improve your chops or just catch a fabulous player. The Selmer Company is picking up the tab, so go and enjoy. For more information, call 852-6907.
• The Kentucky Opera Guild is hosting the Kentucky District Metropolitan Opera National Council auditions on November 14 in the Main Recital Hall of the U of L School of Music. Aspiring opera singers will compete for the three top prizes and a chance to move on to the Tri-State Regional Auditions in January. Admission is free.
• The generally manic Tom Florian of the band The Air Conditioners sent a couple of involved e-mails messages that 1.) touted the success of his song "I Used to be A Jerk" on the web; 2.) described his distaste for the music business; 3.) urged every musician to join his action group against the music business and 4.) pointed to his website at www.netcom.com/~towilflo/52.htm. You can get all the info you might need and/or want from there.
Corrections & Clarifications
The name of the "unidentified fan" in the photo of Carl Perkins in Berk Bryant's February Bluegrass Beat column became known recently when we received a thank-you fax from that fan, Carolyn Rose Hensley. In addition to being Associate for Promotion, Presbyterian Church (U.S.A.), Ms. Hensley is a professional musician, music educator and music therapist, and was the teaching assistant for the History of Rock 'n' Roll at U of L a couple of years back. We thank Ms. Hensley for the clarification.
Codas
• Donald Hugh Byers, 69, died on October 11 in Louisville. He was a trumpeter for the Art Glazier Band and the Paul Hess Dance Band.

• Dargen Edwin Montgomery Jr. 70, of Crestwood, died on October 3. He was a singer, dancer and pianist, whose career including performing on Broadway and at the old Embassy Supper Club.

• Thomas Eugene Styles, 43, formerly of Louisville, died in Los Angeles on October 6. He was a singer and former member of the old Louisville Area Songwriters' Cooperative.

• Daisy Sutherland, 97, died on October 20 in Clarksville, In. she was a retired musician.




M
Tuby the Tuba Goes Missing
Jim Evans' silver, 45-pound 4-valve Bach tuba, affectionately called Tuby the Tuba and valued at $6,000 was stolen from the robe closet of the choir room at his church earlier this fall.
Evans is devastated by the loss and asks that musicians be on the look-out for the instrument. He has been working the phones, calling music stores as far away as North Carolina and South Dakota, requesting them to watch for the tuba, which has a serial number of 63680.
Evans can be reached at 502-895-3643.