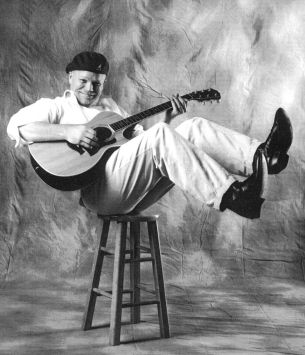 Chuck Jeter
Women & Other Mysteries (independent)
Chuck Jeter
By Robert Gruber
The real mystery here is why Chuck Jeter's fine '97 debut,Ain't Superman, didn't cause a major bidding war in Nashville. Pure pop gem that it was, that album set a new standard for local CCM recordings in terms of overall production quality. Likewise, I think Chuck's newest outing,Women & Other Mysteries will up the ante again.
Produced again by Vince Emmett at Melody Hill studios,Women... finds Chuck's music going in new and different directions, though the songs are anchored by his warm, unique lyricism. The first song, "Jet Ride," veers into modern rock territory with machine beats and synth colorings; "Freedom Side," co-written with Turley Richards, retells the Humpty Dumpty story and boasts a strong acoustic rhythm figure bolstered by an occasional blast of heavy electric guitar. "Big Fat Love" (also co-written w/ Turley) bounces along on a big phat hip hop beat with gospel-ly female backup vocals and trumpet provided by Jason Lanham. "Rhapsody in Blue Jeans" is a sweet instrumental interlude that showcases the violin work of Peter Rhee, leading into the classy pop-jazz sound of "Better Everyday," a definite radio tune with a flamenco-style lead and strong bass-and-drum work.
Speaking of jazzy, the song "I Don't Understand Women" uses a loungy, Lyle Lovett approach as Chuck lays on his humorous take on the great "Mars/Venus" debate. This is followed by a radical reinvention of the George Harrison classic "My Sweet Lord," where Chuck replaces the :hare krishnas" with a litany of different Hebrew names for God. The result makes for quite a nice worship experience.
Women.... is a bold step forward for Chuck Jeter, an excellent effort that deserves more than just local attention --and more than just a CCM audience. This is smooth medicine, a loving touch for a hurting world.