Bluegrass Beat
Fall IS here. I love summer — the warm weather and all — still I'm kind of glad to have a bit of fall. There are so many things associated with and happening this time of the year. Kinda reminds us that the holiday season is on its way. Also reminds us that something else is on the way, and that something is not what I look forward to. Well, I guess we have to have the winter and what goes with it to make us appreciate spring, summer and fall all the more. A good bluegrass festival can do the same thing without all of the possible side effects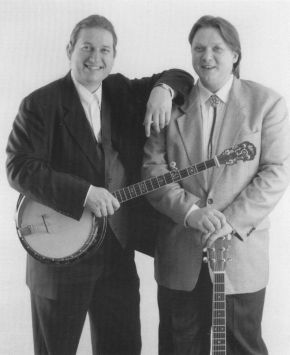 The Swiss bluegrass band The Kruger Brothes will be in town for the IBMA Trade Show
Now That's Long Distance
Just after the deadline date in August I received one of those "wonderful surprise" calls I sometimes get. We had just returned from our morning in the Radcliff booth at the Fair. I was out getting the mail and my wife called me to the phone. "Hurry! Long distance. I think he said Switzerland." A gentleman on the other end, which indeed reached all the way to Switzerland, told me he was Charley Earley. He was calling on behalf of a Swiss bluegrass band, The Kruger Brothers. It seems they are going to be one of the showcase groups at IBMA this year. Charley wanted to see if they could appear on my show. I told him they could. I received a couple of CDs, wrote a letter back and told them absolutely I would have them guest. They will be on Sunday Bluegrass on Oct. 18. They also told me they will be at Shepherdsville on Friday, the 16th. I have played, and will be playing, from their CDs. Uwe and Jens Kruger. Some very good and impressive pickin' from these guys. Jens, the banjo brother, turns out a couple of barn-burners. Don't miss them. I am very much looking forward to seeing, hearing and meeting these two.
Rest peacefully, Tessie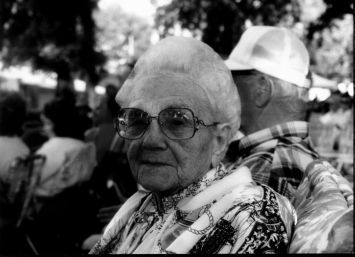 Tessie Bungard, 1897-1998
With the good sometimes comes the bad. The day I am writing this I received a note in the mail from Michigan. Tessie Bungart, the dear, sweet, perky, bright little darling who turned one hundred last October, died August 25. I must say I will miss seeing her at Charlotte, Mich., next June — and every June — very much. I am sure that Tessie will be there in spirit just as she promised when she said, "I'll be right here." (Here's to you, Tessie. Bless you, and rest peacefully.)
Surprise, it's Mr. Roy
Another surprise last month came in the form of a call from Roy Harper. Mr. Roy called to tell me he had a new tape he was sending and was hoping I would play it. Actually, he knew I would. Mr. Harper has quite a few friends and fans up here. He expressed a desire to come back up this way. You'll be hearing the new tape on my show.
Happy Anniversaries
I guess I had better put this in before I move on and totally forget it. First, belated birthday wishes to Pop Lewis on his birthday last month. Number 93, I believe. This month, Mom and Pop celebrate their 73rd wedding anniversary. Maybe more folks should elope and raise a big, successful family. Blessings to you all.
Bluegrass Photos
I received a book, Inside Bluegrass (20 Years of Bluegrass Photography), by Becky Johnson. It is a 106-page collection of snapshots over the years from the '70s into the '90s. Pictures are black-and-white interior shots with color shots on the cover. Most of the folks depicted you will recognize. Perhaps just a few of them you may find unfamiliar. There is a younger version of Del McCoury, Dry Branch Fire Squad, and the Lewis Family, as well as more-up-to-date pics, just to mention a few. If this is to your liking, here's a chance to increase your picture collection. Could be a nice gift. It strikes me as being just what it is: a collection of a bluegrass fan's pictures down through the years. The going price is $22 plus $3 S&H. This includes your choice of a free CD of The Johnson Mountain Boys' Live at the Birchmere, J.D. Crowe's Straight Ahead, or The McCoury Brothers' The McCoury Brothers. Order from Empire Publishing, Inc., Box 717, Madison, N.C. 27025.
Strictly Successful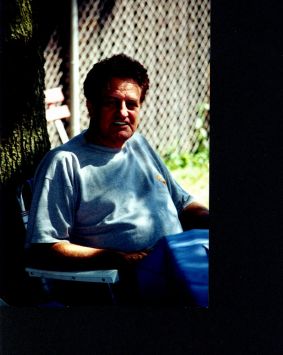 James Monroe took a breather during the Strictly Bluegrass Festival
The Strictly Bluegrass festival at Iroquois Park Sept. 11-12 was another success. I wasn't able to be there for all of Saturday's show, but did enjoy visiting Friday and Saturday. Ralph Stanley's bus pulled in just as I got there on Friday. I had a couple of pictures for Ralph that were taken at Norris, Tenn., last October. Ralph will be at the Museum of Appalachia Tennessee Fall Homecoming again this year, on Sunday, Oct. 11, for three shows. I also had the opportunity to visit with Dean Sapp. Dean will be here for the Oct. 19-25 IBMA bash. A lot of other good folks were there, including the McLain Bros., Reno Bros., Wendy Smith and Blue Velvet, James Monroe and many more.
WFPK Supports IBMA
I don't have too many details as I am writing this, but WFPK will be going great guns for the IBMA week. WFPK will be the media sponsor and will "feature" bluegrass all week. No, all of the programs will not turn into bluegrass shows. As I understand it now, attempts will be made to get various stars over to guest on a lot of the shows during the week. Ronnie Reno and Dean Sapp have expressed interest in taking part in this. There are some other big plans for that week with WFPK, so stay tuned. I'll tell you on Sunday nights as details develop and emerge. It is going to be a big week. Be a part of it.
Picking Coming Up
• The kick-off show at Shepherdsville Music Place will be Oct. 2 with Fresh Cut Grass; on Oct. 9 Jim McCall and Walker Mountain Boys; Oct. 16, The Kriger Bros. From Switzerland; no show on the 23rd; and then Oct. 30, Junction 22 Bluegrass.
• The Tennessee Fall Homecoming at the Museum of Appalachia, Oct. 8-11: Ralph Stanley, John Hartford, Mac Wiseman, Doyle Lawson, Kenny Baker & Josh Graves, Raymond Fairchild, and pages of others. Arts and crafts, exhibits and demonstrations, an event to attend. More specifics on Sunday Bluegrass, WFPK, 91.9 FM, Sundays 8-11 p.m.
• At the Galt House, Louisville, Ky., the IBMA Trade Show and Fan Fest Oct. 19-25. The list, too long to add in its entirety here, includes Alison Krauss, Tom T. Hall, John Hartford, Charlie Waller & Country Gentlemen, Ricky Skaggs, Larry Stephenson, plus, and that is just Friday.
Saturday looks like IIIRD Tyme Out, J.D. Crowe, Leroy Troy, Front Range, Nickel Creek, and more. That leaves Sunday with Curley Seckler, The Sidemen, Suzanne Thomas, Jim Buchanan and more.
You really want to be there. It seems to me the more support — especially local — that we give, the better the chances of IBMA staying here. As it is now, this event will be in Louisville through 2001. Think about it. Support — active support beyond lip service — can and will do wonders for "our" music — bluegrass music — here.
Thanks!
A note of thanks here to all of our listeners. So many of you did as I asked, at the Strictly Bluegrass Festival, when you talked to the various stars and told them you had heard their recordings on my show. James Alan Shelton, for one, came to me, beaming about how many of you had told him you heard his CDs. Ralph made some very kind comments from the stage. Steve Sparkman and others mention this. Again, THANK YOU.
Next time, here. Sunday night, WFPK. THE END.