I've Got A Mind To Ramble
Strokin with Clarence
During the summer of 1997, Michael Wells, the lead guitarist with the Walnut St. Blues Band, was on the road up east with James Peterson. While Mike was browsing in a Philadelphia music store, he met Philadelphia Sam, who got Mike's number and put him in touch with Clarence Carter's booking agent, Nate. Carter was planning a one-month tour this July to New York, Mississippi and Paducah, Ky. and needed a guitarist. Mike went down to Atlanta to rehearse with Carter and his band for two days, then they set out on the road in two Eagle campers. It was a small touring band that included Darrel on drums, Mance on keyboards and bass player John Day.
I asked Wells what was it like performing with this 62-year-old veteran soul man, who had several R&B hits in the late Sixties and Seventies on Atlantic and Fame Records.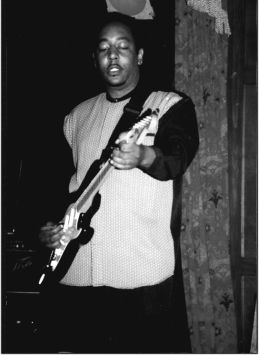 Michael Wells - Photo by Keith Clements
Wells said that Carter is an excellent musician on both guitar and piano. Even though he has been blind since birth, Clarence can read, write and arrange music in Braille. He is known for his humorous, lascivious and sly vocals, as on "Slip Away," "Snatching It Back," "Patches" and "I'm the Midnight Special."
Clarence has more recently gone back to his blues roots, singing a raunchy version of Tampa Red's "Love Me with a Feeling" and his big seller of 1986, "Strokin'," which continues to be a party record favorite. Since Carter only averages about three shows a month, it wasn't enough to keep Michael busy, but he enjoyed the experience, as he usually got to open the sets.
Buddy Guy at Coyote's
There was no line dancing or cowboy hats at Coyote's on September 15 when the blues made a rare appearance in the form of Buddy Guy. The opening act, Olu Dara, though talented, did little to arouse the restless, standing-room-only crowd with their Afro-Carribean roots-based music. A warm-up set similar to the one that opened for Buddy at the Thunderdome in 1995 would have been more appropriate. I've seen several of Buddy's shows in Louisville and Chicago, and they had always been unpredictable, due to Guy's volatile nature, but this show was very similar to what he did in '95. There was electricity both on the stage and in the hall. Buddy appeared at 10 p.m wearing a black hat and a white polka dot shirt that matched his Fender guitar. (Check on Guy's most recent CD, Heavy Love, for more polka dots.)
He opened with two Chicago blues standards, "Got My Mojo Workin'" and "Five Long Years." Then there was no holding him back on "Stepping Out & Stepping In," for he was off the stage and out into the audience. As he worked his way to the front of Coyote's, his guitar cord had to be fished over the heads of the crowd and reeled back in. When he sang "It Feels Like Rain," we all got a lesson on how to sing the blues properly and with the right inflection from a master.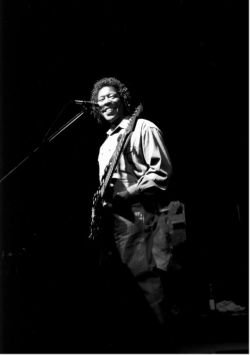 Buddy Guy at the Thunderdome, March `5. 1995. Photo by Keith Clements
During the middle of the show, Buddy invited Mary Ann Fisher, who was backstage, to come out and sing a few lyrics together. This was a real thrill for Mary Ann, since she had never met him before. After Buddy sang "I've Got A Problem," which deals with woman number 1 and 2, he said "If you been reading the news, someone else has this problem, too."
He slowed things down with "Ain't No Sunshine," then brought it back to a thundering climax with "Midnight Train," trading vocals and guitar licks with Scott Holt. Holt did a powerful version of "Red House" that would have made Jimi Hendrix proud.
The rest of Guy's band included the very expensive Tony Z (Zamagni) on keyboards, Ray 'Killer' Allison, who, though buried behind a huge drum set, kept the beat along with the bass player.
Guy's recent performances have included a segment during which he copies the styles of other blues guitars, like John Lee Hooker, Stevie Ray Vaughan and Eric Clapton, and this show was no exception. I wanted to yell out "Play what you do best, play Buddy Guy." He's got nothing to prove. At the end of the set, the crowd was primed for an encore, but for some reason he did not comply.
The Louisville Blues Festival
See you at the Kyana Blues Society's booth at the Louisville Blues Festival (formerly the Garvin Gate Blues Festival) on October 9-11 in Theater Square at 4th and Broadway.