Celebrating Samhain or Happy New Year !
The Celtic new year is the Festival of Samhain (pronounced SEW-in) when the bridge between the living world and the spirit world is shortest. The ancient Celts carved faces in turnips, hence our jack-o-lanterns. River City Gael friends will have a number of opportunities to enjoy the occasion.
The Irish Rover Turns Five !
On Sunday, November 1, the Irish Rover rewards its patrons with free food and giveaways at an "Open House," featuring music by Drowsy Maggie from 4 p.m. to 7 p.m. and The Rashers from 7 p.m. to 10 p.m..
Five years of good food and craic that brought legitimacy to the Irish pub concept in Louisville is well worth celebrating.
A Traditional Irish Breakfast commences at 10 a.m. and continues at leisure to 2 p.m., serenaded with traditional music by Ten Penny Bit ($5.95 per person for bangers, rashers, black pudding, eggs, mushrooms, tomato, boxty cakes and soda bread).
Banshees Galore
On Halloween night (Saturday, October 31), Galloglas will be providing music for the Irish Rover New Year revellers. A live Irish band (TBA) will be playing for the Halloween / New Year partydown-ers at Molly Malone's. Celtoids will have to be at one of these places to mark the passing year.
3rd Annual Celtic Costume Party
The Rudyard Kipling will host its 3rd Samhain Festival Friday, October 30, beginning at 9 p.m. with a costume party / competition and concert by Galloglas with special singer songwriter guest Kathleen Hoye. Some of the Bluegrass Irish Dancers will be on hand as well to dance a few tunes. The last two of these parties were sold out and a great time was had by all. Admission: $8.00. Call 636-1311.
And For the Rest of October...
October 2: Celtic Jam session - Rudyard Kipling, 8 p.m. The first Friday as ever. No cover.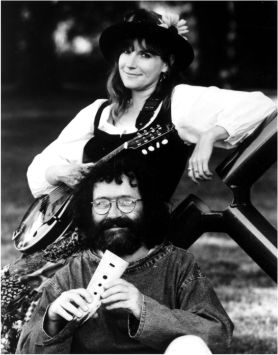 Four Shillings Short
October 7: Four Shillings Short, a Celtic-World Music fusion band hailing from Ireland/California at The Irish Rover, 8 p.m. FSS played at Twice Told Coffeehouse this summer and were very well received.
October 9: Drowsy Maggie takes the stage at the Rudyard Kipling at 9 p.m.. $5.00.
October 16: Drowsy Maggie does it again at Molly Malone's, 9:30 p.m.
October 24: Galloglas does Molly Malone's, 10 p.m..
New Session at Molly Malone's
Every Sunday from 4 p.m. to 8 p.m., Molly's will have an "open mike" Celtic jam session. All are invited to play or just listen in the warm atmosphere of a Victorian era Dublin pub. No cover.
Attention Dancers !
You have seen Riverdance. Act on it! Maybe you can still get in the fall classes offered by the Bluegrass Irish Dancers? Call Heather ASAP 897-1400.
Attention Drummers!
Old marching band glory days passed you by or don't want to go there? You've done rock, punk, jazz, whatever and are looking for a change of pace. Be a part of the Louisville Pipe Band! Bagpipes play at one volume level only (loud) and need the drumming for dynamics and definition. LPB has some excellent players who are willing to teach free of charge. Check it out. Call Rick at 894-8856.