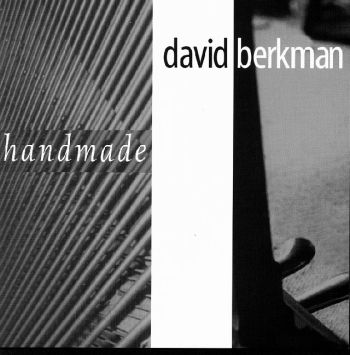 One-Day Stand - David Berkman

?>

One-Day Stand
Handmade (Palmetto Jazz)
David Berkman
By Tim Roberts
It's amazing what can be completed in one day: a barn raising; a newspaper edited, laid-out, printed, delivered; a trial and conviction; a jazz album recorded. What's even more amazing if that one-day feat results in some interesting, non-traditional jazz, which is what happened with New York pianist David Berkman and his debut release Handmade.
Extraordinarily crafted and performed, Handmade, recorded in one session on February 1 of this year, presents a series of short pieces that echo the daring spirit of McCoy Tyner and Herbie Hancock from the 1960s, ranging from wild-blowing be-bop, to softer, original ballads with Berkman on solo piano. The selections are packed with surprises, like interesting little side trips you take on a vacation.
Handmade's personnel reflect the spirit of the barn-raising mentioned earlier. Each one contributes his share without overpowering the others. The attention each player gives to each piece is strongly evident. Along with pianist Berkman are other barn-raisers Tom Harrell flugelhorn (for whom one of the pieces is named) on trumpet and, Steve Wilson on saxes, Ugonna Okegwo on bass, and Brian Blade on drums and percussion.
Handmade shows what miracles can be created in just one day.