Down On The Corner
• Fans of the "Louisville Music News" TV show, as well as other public access music programming in Louisville / Jefferson County, take note: the public access channel has been moved from 14 to 70. The shift was done in part to reduce the chances that tender young ears might stumble over some free speech. The LMN show is on Saturday nights at 7:30 p.m.
• A new regional original music radio show has debuted on WRVG FM 89.9. Hosed by Mary Cain and JB, the show is called "Sound Check" and is on Fridays at 7:00 p.m. The hosts describe it as "an overview of the region's original music scene . . . serving up previews, reviews, news and (soon ) interviews." You can contact them at 502-868-6569.
• Word comes that Jimmy Gardner has been added to the lineup of Duchess and the Boogie Kings, joining former Mighty Water King Jay Comstock. Could get riotous on those gigs.
• The Kentucky Opera will hold auditions on October 8 at the KO offices 101 S. 8th St. for the character of Ambrogio in The Barber of Seville. Stage experience is desired but the role will require no singing. For more information, call Liz Oberle at 502-561-7934.
• Ace Records Business & Music Group Inc., a Louisville-based independent company, has released a compilation CD, For Your Radio, featuring artists Ikie Smoov and Set One. The CD is targeted to the urban market and has an R&B and hip-hop focus. Find out more by calling 502-776-9189.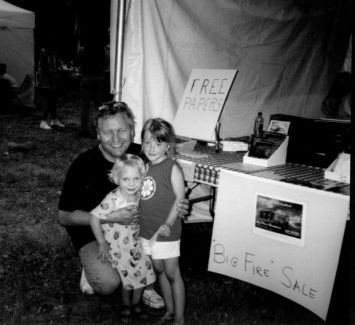 Tim Krekel and his daughters Anna, left, and Jessica, stopped by the lMW Records booth between sets at the Kentucky Bourbon Festival
• Marilee Hebert-Slater is moving from Actor's Theatre of Louisville to the Kentucky Center for the Arts. Hebert-Slater will become the KCA's Vice President for External Affairs.
• The Louisville Chorus has a new CD, Voices to Heaven. They will be performing selections from it at Hawley-Cooke Booksellers on Shelbyville Rd. on Sunday, October 18, 2-3 p.m. The event is free but they'd like you to buy a copy of the CD, of course.
• Fans of Kessler's Friends will be happy to know that there is a cassette of tunes from the band now available, called Live Coverage. Some of the songs are from the days of the Great Midwestern Music Hall in the Seventies and some recorded in 1996 at the Rudyard. The tapes are available at ear X-tacy Records.
• Dewey Kincade, whose band was formerly Dewey and the Navigators or maybe just the Navigators, has a new CD, entitled, curiously enough, Who Are the Navigators?. As if a new CD weren't enough, Kincade and friends have also formed an new indie record label, Snug Records, to go along with it. Check the usual stores for a copy and watch for Dewey, who's out there doing the work. Last word was that they are looking for a publicist. Their phone number is 426-1641.
• Initial Records has moved into a new space in the Bluegrass Industrial park in J-town. They were a bit cramped in the 800-square foot house they were in on East Broadway. Now they've got room to stretch, with 2,000 square feet or so to set up show in. Their new phone number is 499-PUNK (7865). The web site is the same, as they have a domain name: www.initialrecords.com.
• Headfirst Media is also moving into new offices. They will be occupying space in the upper floor of the Louisville Antique Mall on Goss Avenue. It's a two-story move, from a basement to the 2nd floor. They're not quite ready for company yet, but you can still reach them by phone at 636-3010.
• Mary Jean Zena dropped a note to say, sadly, that the Java Men won't be doing their regular weekly gig at Zena's. She cited the lack of support from Louisville jazz "enthusiasts" She's not the only jazz presenter to make that comment. Read Tim Roberts' rant on page 9. It always comes down to this: if you don't "vote" with your presence at shows, don't complain that there are not enough live shows to go to.
I guess the Java Men and their music just aren't old enough for the fans. Thanks for giving it a try, Mary Jean.
• Chaz Rough's Harvest Showcase tends to fall right at the deadline for LMN to go to press, but we did get to the VIP Party on the first night at Headliner's. It was, as expected, a bit of a schmooze fest, or, if formal language is more to your taste, a "wonderful opportunity for networking."
"Radio Louisville" (WFPK) program director and morning on-air guy Dan Reed and his new bride Ann were hanging out by the upper rail listening to the Jive Rockets serving up their mix of rock-a-swingbilly. (Honk if you can say "saxophone retro-swing.") Keith O'Lone and Kellie Burton of the Fox got lots of attention from the musicians in attendance. Please play my record, Mister DeeJay.
C-J music meister Jeffrey Lee Puckett and new LEO editor Cary Stemle, plus scribbler Kevin Gibson and former U of L Cardinal staffer Cheryl Chastine rounded out the print media representation. Cheryl was happily hanging onto the arm of 100 Acre Wood singer Nat Thumas, who seemed to be returning the favor. Look for Cheryl's piece on the Harvest Showcase elsewhere in this issue.
Bob Rutherford, who recently scored some industry points (and maybe even made some money or the possibility of money in the future, what a thought) with his success at getting Supafuzz a deal with Gotham Records, had a few comments to make about the Louisville music scene, a subject much on the minds of folks at the party. (Look for Supafuzz to play a CD Release Party at the Toy Tiger on October 3.) Likewise Triangle Talent's Gary Deusner, who, as usual, was parked in a corner, watching the action. Carolee Allen of the City of Louisville's Business Services office and ramrod of the newly formed Louisville Music Industry Alliance seemed to having a fine old time talking shop with all comers, including the recently married John Bahandas of Union Tree. Bahandas' studio-mate and engineer Todd Smith was giving the buffet table a heavy workout. He probably doesn't get enough time to eat, what with the Days (of demands) of the New album.
In addition to several folks from Nashville whose names I didn't get, the Chaz and Headliners owner Mike Pollard were happily, if somewhat anxiously, stirring the crowd.
Now if we could just figure out how to make stuff like this happen a little more often than once a year. . . .
• Now you can order up a custom-mixed CD on line. For $12.99, unwrapped.com will burn you a CD of material from the site's selection of material from small independent labels. Point your browser at www.unwrapped.com to find out more.
• From Nashville comes word of a new organization, the "Nashville Insider," described as "responding to the needs of recording artists and songwriters in all genres of music." That means it has a website with a couple of features. One is called the "World-Wide Record Gallery, " offering independent and unsigned artists an on-line forum to promote their projects to the global market," i. e., RealAudio (or something similar) audio clips of material not on major labels. The other is called the "DemoZone,"where you can hear song demos. No word on the important question of cost to whom. The website URL is www.nashvilleinsider.com.
• I spent a weekend at the Kentucky Bourbon Festival down in Bardstown (no, I didn't sample the bourbons, I was working.) It was a very cool festival with lots of music, booths and an amazing number of a.) Louisvillians and b.) foreign tourists. Besides (predictably) Japanese, who have a fondness for things Kentuckian, there was a group of German singers and a couple of Brazilians who stopped to chat. There were several others whose nationality I couldn't determine.
All in all, it was a most pleasant weekend, aside from the stab wound I managed to inflict on myself. Even that wasn't too bad - the Bardstown Emergency Room folks were most solicitous.
Codas
• Rodney "John" Darden, 54, died on September 19. He was a musician and a member of the American Federation of Musicians, Local 11-637.
• Raymond L. Ward Sr., 89, died on August 27 in San Mateo, Ca. He was a native of Louisville, a musician and a member of Musician's Union Local 6 in San Bruno, Cal.