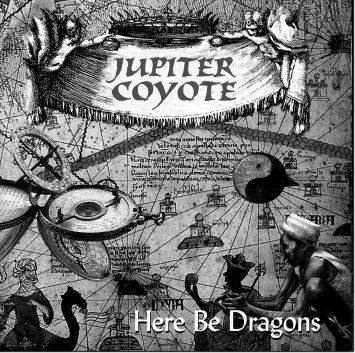 Here Be Dragons - Jupiter Coyote
Here Be Dragons (Autonomous Records)
Jupiter Coyote
By Tracy Connell
Something old, something new, something borrowed... well., you get the picture. The Georgia-based band Jupiter Coyote incorporates all of the above into their recent CD release Here Be Dragons.
With an acoustic slant, heavy snare drum and the revival of the Hammond organ, the influence of old bands is evident throughout. Although this musical styling is currently considered mainstream, much of it is borrowed from the Seventies.
Quality musicianship along with strong vocals make songs including "Find," "Words: and "Rain" stand out. Several songs feature arrangements that include vocalist Beth Woods, thus providing a new dimension to the band's sound.
Song after song, personal experiences unfold in the fashion of journal entries. Unfortunately, many of the lyrics, though saturated with references to personal friends and places, are to vague to convey the story.
Unable to relate to the songs, the listener is left on the outside looking in. Even from the outside, it is evident that Jupiter Coyote as a band outshines the material on this CD release.