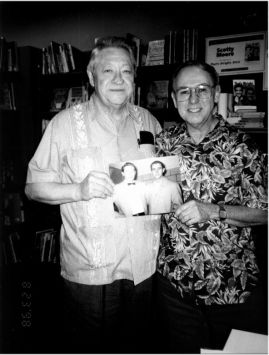 Scotty Moore, left, and Bob Mitchell, in the 1956 photo.
Would you like to meet Elvis? No thanks.
By Bob Mitchell
In late 1956, Elvis came to Louisville and I thought it would be a fun event, but none of my friends was interested in going. I almost decided not to go, but then I realized I would get to see and hear Scotty Moore. So, on the afternoon of the concert at the old Louisville Armory (now called Louisville Gardens) I rode a bus downtown and arrived 30 minutes before the concert. Since Elvis had not yet become a phenom, I was able to buy a ticket and go right in. Can you believe it?
Now, the important thing to understand is that seeing Elvis was going to be nice, but the REAL reason I went was to hear Scotty. Did you say "Who?"? Scotty Moore was Elvis' first guitar player. Since I am a guitar player, I always listen for the guitar in any recording. And in 1956, there was absolutely nothing like the sound that Scotty put around an Elvis vocal. I do not remember much about the concert, except that there was a lot of screaming, and very often it was just as Scotty would launch into one of his solos. He was THE FIRST rock and roll guitar player! Scotty is THE ONE who laid the foundation for all other guitarists. And it was a treat to listen to that man!!
After the concert, it seemed like I heard someone say, "Elvis has left the building." At any rate, I wanted to meet Scotty, so I simply walked backstage. There was no security, no mobs, and no rules … rock and roll was new. I knocked on the dressing room door and was invited in. There I was, sitting with my hero, Scotty. Someone took a photograph (I think it was D..J. Fontana). What a perfect afternoon! After 15 minutes of small talk, the band left the building for their hotel.
I walked down the street with Elvis' band and no one we passed had any idea who they were. Less than an hour before, they were receiving the wild accolades of an appreciative audience. As the band turned to enter the hotel, I turned toward my bus stop. I was feeling wonderful. What could have been sweeter? I had heard and EVEN MET the man I went to see. It was a moment of total satisfaction, so I hope you can understand my response to what happened next.
Scotty said something to the effect that he had enjoyed meeting me and asked, "Would you like to come up and meet Elvis?" I said, "No thanks" and caught a bus to go home. After all, I had homework to do. I also wanted to get out my guitar and practice sounding like Scotty.
Last month, after almost 42 years, Scotty and I met again, this time at Hawley-Cooke Booksellers where he was signing copies of his book, That's Alright, Elvis, and copies of his latest recording, All The King's Men.
After I shared the above stories with the 30 die-hard fans who attended the signing, Hawley-Cooke staff took a photo of Scotty and me holding the photo that was taken years ago. Scotty and I shared a few laughs and he re-posed us so we'd be in the same positions we were in on that perfect Sunday afternoon in 1956.
Do any of you readers know or have a story to tell?