Monster Magnet at The Toy Tiger
By Laura Spalding
Monster Magnet brought their trippy groove / metal sound to the Toy Tiger on September 22. The band is touring in support of their latest CD, Powertrip, which has been getting quite heavy radio play with the tune "Space Lord."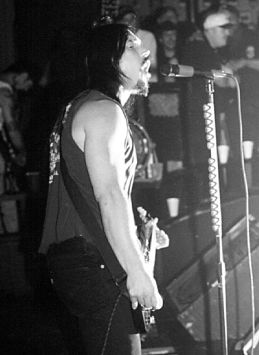 Dave Wyndorf. Photo by Pete Strojny
"Space Lord" is a cool song, but Monster Magnet has a lot more to offer. The band had moderate success a few years back with "Negasonic Teenage Warhead," from their CD Dopes to Infinity. The crowd seemed pretty familiar with this tune and others from the earlier CD.
Surprisingly, Monster Magnet seemed to stick more to earlier material, rather that tunes from the new CD. Some of the songs from the new CD included "Powertrip," "Bummer," "Atomic Clock" and "Space Lord," with which the crowd was happy to join in on with frontman Dave Wyndorf.
Monster Magnet put on a good show-but it would have been nice to hear more from the new CD, since it offers such a mixing of different styles of heavy music.
Superface and Purple Jesus opened the show.