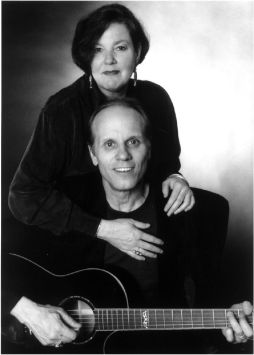 Robin & Linda Williams
October Upcoming By Paul Moffett
If you thought you were busy in September, you ain't seen nothin' yet, to rehash an old but serviceable phrase.: October is so packed to the max with live music that you should just take most days off to sleep and go out every single night. Really. Read on.
Acoustic / Americana / Folk
• Bloomington songbird Carrie Newcomer will bring her new Philo Records release, My True Name, to the Twice Told Coffeehouse on October 9.
Tix and info: 456-0507
• Rounder Records must have decided that their acts have a home in Louisville. In addition to Newcomer, Ellis Paul will return to the Rudyard Kipling on October 16. He has a new release, Translucent Soul, to promote.
Tix and info: 636-1311
• Robin and Linda Williams and Their Fine Group set the bar really high for the week of the IBMA at the Comedy Club in Mid-City Mall on Monday, October 19. Robin and Linda have what they call in the business "monster chops," both vocally and instrumentally and the songwriting to go with them. Then again, you could call them "musician's musicians and songwriters," as a great long list of major performers have covered their songs. Prairie Home Companion's Garrison Keillor offers this about them: "Individually their voices can melt cheese, and in duet they can do all purpose welding."
Hard to top that.
They have a long string of records on Sugar Hill, so take the credit card or a wad of cash to the show.
Tix and info: 459-5532.
• If you want to run up to Indy, On October 26 you can catch a twin bill of Bob Dylan and Joni Mitchell at Market Square Arena.
Tix and info: 361-3100
Ballet
• The Louisville Ballet will open the company's 46th season on October 1-3 in Whitney Hall, KCA with Tales of Hans Christian Anderson. The Tales will include The Ice Maiden, The Steadfast Tin Shoulder and the world premiere of The Little MermaidBy KO artistic director Alun Jones.
Tix and info: 502-584-7777 or 502-583-2623
Bluegrass
• The International Bluegrass Music Association's Trade Show and Fan Fest will be held at the Galt House October 19-25. The Fan Fest show in the Grand Ballroom is maximum bluegrass overload: acts set to appear include: Alison Krauss & Union Station; The Del McCoury Band; IIIrd Tyme Out; The Lonesome River Band; Charlie Waller & the Country Gentlement; J. D. Crowe & the New South; Joun Hartford; Tom T. Hall; Ricky Skaggs & Kentucky Thunder; Blue Highway; The James King Band; Rhonda Vincent & the Rage; Front Range; David Grier; Mark Schartz & Friends and more. Read the story on the IBMA on Page 14 for information.
• You can tune up for the IBMA but watching the KET's "Kentucky Life" season-opening show on October 3, which will feature a profile of Ricky Skaggs. Showtime is 8:30 / 7:30 CST.
Blues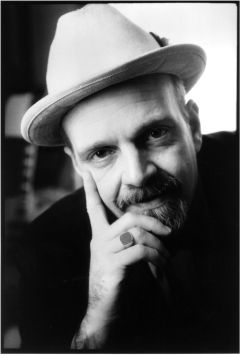 Darrell Nullish
• It's a really good month for the blues in October. Downtown at Stevie Ray's, Darrell Nullish, former member of Anson Funderburgh's group, will kick off the Wednesday night concert series on October 7. Nullish is a blues singer / songwriter and he can wail, as is evident on his new Severn Records CD.
W. C. Clark will be at SR's on October 14 and Tinsley Ellis will be there on October 21, Duke Tomatoe and the Power Trio close out the month oo the 28th.
Tix and info: 582-9945
• The Louisville Blues Festival on Theater Square, formerly the Garvin Gate Blues Festival, will be held on Octber 9-11. The event is being sponsored by the Palace Theater and organized by the Public Radio Partnership. Headliners include on Friday, Bernard Allison and Lil Ed & the Imperials, On Saturday, Bullseye / Rounder recording artist Roomful of Blues take the closing spot. The Paul DeLay Band is the other out-of-town act appearing. Sunday, Greg Schaber & High Street and Sherman Robertson straddle the schedule.
• Not to be left out, Headliner's Music Hall will bring in 71-year-old guitarist R. L. Burnside on October 13. The Metro Blues All Stars will honk the blues at Headliners on October 23.
Tix and info: 584-8088
• The second show in the Bank One Lonesome Pine Special Series will feature the multiple-award winning, "King of the West Coast Blues" Charles Brown and Band, whose style has been described as "Duke Ellington Meets the Blues." Brown has won the Rhythm and Blues Foundation Lifetime Achievement Award, the W. C. Handy Awards for Best Vocalist, Best Pianist and Best Album of the Year and has been nominated for Grammy Awards several times. Besides all that, he's a really nice guy. The show is October 30 at 8 p.m. in the Bomhard Theater, Kentucky Center for the Arts.
Tix and info: 584-7777
Celtic
• The San Francisco-based Celtic band Four Shillings Short has been in Kentucky once before. They're returning for a several shows during October. On Wednesday, October 7, they'll play at the Irish Rover. On the 8th, they'll be at Joseph Beth Booksellers in Lexington for a 7-9 p.m. performance (606-271-4031). On the 9th, the Common Grounds Coffeehouse, Lexington (606-233-9761) will host them and on Saturday, they'll make a splash at the Twice Told Coffeehouse (502-456-0507). They have a new CD, so take extra money.
Chamber Music
• Two of U of L's resident chamber music ensembles will be in concert in October. The Kentucky Center Chamber Players will offer a concert on the 4th in the North Recital Hall of the School of Music. On October 11, the Ceruti Chamber Players will be in concert at the North Recital Hall.
• The Chamber Music Society of Louisville will offer a performance by pianists Gilbert Kalish and Lee Luvisi at 3 p.m. on Sunday, October 18, in the North Recital Hall of the U of L School of Music.
Tix and info: 502-852-6907
Country
• Coyote's has nearly gone berzerk in October, with a six-show bill, mostly country. Kicking the month off will be the Hag himself on October 1, who is making his last club tour. Better take the opportunity to see the Legendary Merle Haggard. Dallas Moore will open.
How about a free show for the boomers? Leon Russell will be in the big room on October 6, pumping his new CD, Legend in My Time: Hank Wilson, Vol. III, a collection of country standards. Russell will probably sing a tune or two from the old rock days as well. Kathleen's Dream will open. While the show is free a ticket is required or else you pony up $5.
On October 15, Coyote regular and Louisville favorite David Allan Coe will ride his bike into the big room. Corsicana, Texas' favorite singer / songwriter Billy Joe Shaver will open, which makes for one fine double show.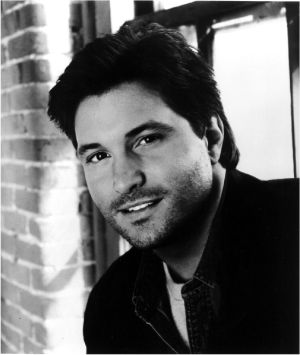 Ty Herndon
Contemporary country artist Ty Herndon has Big Hopes that his show on the 22nd will draw a big crowd. That's the name of his current album as well.
Friday the 23rd, comedian Sean Morey will sing "The Man Song" and other country-ish comedy bits.
Tix and info: 589-3866
• The Courier-Journal's Jeffrey Lee Puckett calls Faith Hill a "major babe" of country music and who can argue with Jeffrey Lee? Tim McGraw's bride will be at the Palace on October 18 for one performance and while the tickets start at $21.50, that might be cheap compared to next year.
Tix and info: 361-3100
• Renfro Valley has quite a country October laid out for fans of old-time country, a.k.a, not contemporary country music. In the middle of the Appalachian Harvest Festival, Gene Watson will put on two shows on October 3 at 7 & 9 p.m. The next week, Loretta Lynn will appear two days in a row, on October 9 & 19. Ronnie Milsap will slide into the Valley on October 24 and the Fiddlers Festival will on the last weekend in October.
Tix and info: 1-800-765-7464
Gospel
• If you didn't hear enough or didn't make it to the National Quartet Convention in September, a trip to Renfro Valley during their Gospel Music Celebration, October 15-17, will reward you with performances from The Primitives, The Singing Cookes, The Hoppers and/or the Bishops.
Tix and info: 1-800-765-7464
Festivals
• The Second Annual Kentucky Family FolkFest will be held October 3-4 on the grounds of the Christian Church Homes of Kentucky on 4th St. Acts scheduled to play include New Horizons, the Beargrass Creek Boys, the Rascals of Ragtime, the Juggernaut Jug Band, Karen Kraft and Kicks, Peaches and more. The event is free.
More Info: 254-4211
Jazz
• The Bank One Jazz Cabaret Series at the Kentucky Center for the Arts on October 18 will feature the Dick Sisto Quartet, with Cincinnati guitarist Kenny Poole, Bob Bodley on bass and Gary Claude on drums.
Tix and info: 584-7777.
• The U of L School of Music's Jazz program will offer a couple of concerts in October. On the 20th, at p.m., the Jazz Ensemble II and the Jazz Combos will perform at the Bird Recital Hall. On the 29th, it will be the University Singers and Vocal Jazz in concert.
Tix and info: 852-6907
• The kick-off show in the 1998-1999 Midnite Ramble Series at the Kentucky Center for the Arts will be on October 31, with jazz singer Gloria Lynne, who will perform her I Give You Love concert.
Tix and info: 584-7777
Musicals
• "Tomorrow, Tomorrow, Tomorrow." Don't hold it against the composers of Annie that every little girl whose parents think she can sing has screeched that tune out at some audition or showcase, to the dismay of those listening. You can hear the tune done correctly (we assume) when the musical arrives at the Kentucky Center for the Arts for an October 13-18 run. It's the 20th Anniversary of the show, so don't expect the original cast. It is a Broadway-quality group, including Sally Struthers and Conrad John Schuck.
Tix and info: 584-7777
Octoberfests
• Brush you on your sprache Deutsche, find some pants that won't split when you do the duck dance, pack some antacids and head out for the many Octoberfests celebrations that will be going on around the town.
• St. Bartholomew Church in Buechel will hold an Octoberfest on October 11, from 4-9 p.m.. The german band The Kaelins will perform.
Tix and info: 267-6339
• If you want a more refined Octoberfest, check out the J. B. Speed Art Museum's Thursday event on the 15th, with Walker & Kays and the Kaelins.
Orchestral
The Louisville Orchestra will be busy in October, now that the messy contract business has been straightened out. Here are the hightlights:
• The first New Dimensions Concert will be on October 10 at 8 p.m. in the North Recital Hall at U of L. featured will be Symphony No. 1By David Dzubay, composer in resident at Indianan Univeristy, and the Metropolis Symphony by Michael Daughterty. Robert Franz will conduct.
• The MasterWorks and Coffee Concert #2 will be on October 23 & 24, in Whitney Hall at the KCA. The program will feature Gustav Rivinius playing Elar's "Cello Concerto." Uriel Segal will conduct.
• The Bank One Louisville Pops Series will offer up Michael Feinstein with the LO, originally scheduled for October 17, has been rescheduled to May 15.
The 1998-99 NightLights Series kicks off on October 15 at the Palace and Ocotber 16 at the Ogle Center at Indiana University Southeast, with Bernhardt in Orbit, featuring music inspired by science and science fiction.
• Finally. the LO will present their Halloween Spooktacular at 11 a.m on October 24 at the Palace, Robert Franz conducting..The show will be repeated at the Ogle Center on October 25 at 2 p.m.
Tix and info: 568-1111
• The U of L Symphony Orchestra, Kimcherie Lloyd, conductor, will present their Kaleidoscope Concert at the Kentucky Center for the Arts. On October 31, they will perform a Halloween Concert.
Tix and info: 852-0516
• The J. B.Speed Art Museum's Hattie Bishop Speed Endowed Concert Series will present pianist Ignat Solzhenitsyn at 3 p.m. on Sunday, October 25 in the North Recital Hall at the U of L School of Music. The son of writer Alexander Solzhenitsyn, his recital will include Beethoven's Eroica Variations and the Schubert Sonata in B flat major, D. 960.
Tix and info: 502-634-2700
Pop
• The Bank One Lonesome Pine Specials kick off the 1998-99 series on October 9 with The Bobs, that splendido San Francisco a cappella group whose wonderful harmonies and skewed, nay, twisted sense of humor puts them in a class all by themselves. Really. Imagine "White Room" with all the guitar parts done vocally. Only you don't have to imagine it, the Bobs have done it. Lord knows what other things they have in mind. Put this one on your must-see list.
Tix and info: 584-7777
• Singer / songwriter / pianist Tori Amos will check into the choirgirl hotel at the Louisville Gardens on October 28. Her new CD is, of course, from the choirgirl hotel.. Young women go to identify with Ms. Amos, young men go to drool and, usually by accident, suffer some raised consciousness. Nobody better call her a "major babe."
Tix and info: 361-3100
R&B
• Classifying the Neville Brothers (Aaron, Art, Charles and Cyril Neville) as R&B is as good as any of the other categories into which they might go: pop, rock, Cajun, jazz, etc. What matters is to "Tell It Like It Is": they will be in concert at the Palace Theater on Sunday, October 25 for an 8 p.m. show. Jerry Green and Friends will open.
Tix and info: 561-3100
Rock
• Fill up your billfold and head out to Hikes Point to the Golden Nugget for the CD Release Party for last month's cover group, The Rumors. The CD is called Pacific and the party is October 2. There won't be a cover charge for this show.
Tix and info: 454-9914
• Supafuzz gets on the CD Release Party route with their eponymous Gotham Records release. At the Toy Tiger on October 3, with Edenstreet.
• Spotlight Productions' rock shows for October include a triple bill at the .Mercury Paw on October 3: Ida, Gloritones and MK Ultra. On October 22, it will be the Belgian Waffles, Steve Shelley's 2 Dollar Guitar and a band whose name is unsuitable for printing in a general circulation publication. Mike Watt cimbs into the Mercury Paw on October 24. Finally, moe will be at the Phoenix Hill on October 27.
• It's free rock on the Belvedere during WSFR's Rocktoberfest on October 10. Eddie Money is the cash cow for this show. Spanky Lee reforms to perform and the Devonshires will reprise the 60s for ya.
• Time trip back to the 80s with Dokken at Coyote's on October 20. They do have a new CD, Shadowlife, so take money. Bad to the Bone will open.
Tix and info: 589-3866
• Homeboys Days of the New will take a break from recording to drive down to the Palace for for the Fox's birthday on October 24. Better grab a ticket quick before the the local folks realize that this is a REAL NATIONAL ACT, NOT JUST A LOUISVILLE BAND! Talk about your cognitive dissonance.
Tix and info: 361-3100
• Nothing like a combo of Halloween and Lollalapooza to scare the bejeebers out of ordinary citizens. Make it Hallo-Polooza, a four band extravaganza at the Fern Creek Community Center, 6104 Bardstown Rd. on Saturday October 24. Think Freddie here: a night of music and mayhem. It's an all-ages show besides. Bands set to play include: Assisting Sorrow, The Slackers, Psycopathy and Anti-Social.
Tix and info: Page Jason at 672-3153.
• At P. J.s, your Halloween show will feature Faceplant, Incursion, Abominant, Assisting Sorrow and a Mindstorm reunion.
Tix and info: 368-9911