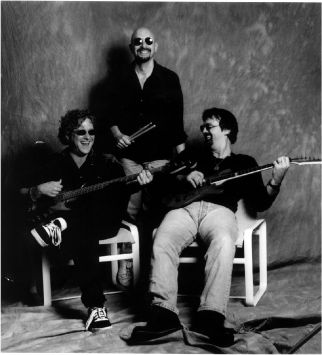 Show Me What You Can Do = Steve Smith, e al
Steve, Steve, and More Steve!
Show Me What You Can Do (Tone Center)
Frank Gambale, Stuart Hamm, Steve Smith
Cause and Effect (Tone Center)
Larry Coryell, Tom Coster, Steve Smith
By Tim Roberts
Now that he's been out of the lineup of Journey for several years - where he was part of a (gasp!) Top 40 rock band with a string of sure-fire hits - drummer Steve Smith has descended into the jagged, uncertain, messy terrain of (double-gasp!) jazz-fusion. And he's done so with the help of some of the best performers - themselves either solo acts or part of other outfits at one time - from jazz, fusion, blues, and rock in all its forms.
In July we brought you a review of Vital Tech Tones, the recording featuring Smith along with Flecktone Victor Wooten and Scott Henderson. It was only the first strike of lightning. You've got two more coming. Take 'em like the wild man or wild woman you are.
The first, Show Me What You Can Do, has Smith creating some high-octane jams with guitarist Frank Gambale (who appeared in the Dave Weckl Band's Rhythm of the Soul, reviewed here last month) and bassist Stuart Hamm, whose 1988 album Radio Free Albemuth is among the most underappreciated in jazz fusion. The sound is loud, sometimes messy, but packed to the CD's outer rim with a gusto that contains more power than a case of Jolt cola. As Gambale puts it in the liner notes, "there's plenty of testosterone here – many music played by manly men!!!"
If Show Me is full of raging electricity pounding into a forest fire, Cause and Effect is earthy, kinder, more direct, but can still kick your butt when it's not in your CD player. Even the packaging is different: Show Me is in multi-shades of crimson; Cause is in green hues. Here Smith is joined by jazz guitarist Larry Coryell and keyboardist Tom Coster, formerly of Santana. The power is still there, but the overall sound is bluesy, tempered by Tom Coster's organ. Some straight-ahead jazz is included, too, on the track called "Wrong is Right." Even on the softer numbers, though, the trio's playing is tight and consistent. Smith moves between those and the others with equal skill.
The common practice for a rhythm-section musician in a rock band is simply to move to another after it breaks up. Then another. Then another. And eventually get back with the original band to do nostalgia-act gigs of state fairs and mall openings. The three recordings Steve Smith has released on Tone Center show him in a divergent genre that frees his power and blends it with musicians of equal potency.
And you'll never see any of these guys opening a mall.