I've Got A Mind To Ramble
Yank Rachell, That's Who
Recently the Kyana Blues Society made a $25 donation to the Yank Rachell Memorial Fund to pay off some lingering funeral expenses. When the motion was made at our meeting, Lynn Gollar, our secretary, asked "Yank who?" I replied that "he was a Thirties mandolin player" and the meeting continued.
Yank deserves more than a passing comment, so here goes a little history lesson.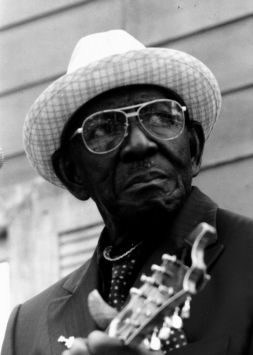 Yank Rachell. Photo by Keith Clements
Mandolin players are a rare breed in the blues, for the instrument is usually associated with bluegrass music. During the Twenties, there were plenty of string, hocum and jug bands throughout the South and Midwest. Howard Armstrong (Louie Bluie), a native of Tennessee and later a Chicago resident, carried on the black string band tradition with Ted Bogan and Carl Mertin in the Seventies, playing both mandolin and violin. Brothers Sam, Louie and Boo Chatmon of The Mississippi Sheiks could all play the mandolin. Charlie McCoy accompanied Ishmon Bracey on mandolin in Mississippi and later teamed up with his brother Kansas Joe McCoy in Chicago, playing his screaming National steel mandolin with its influential metallic sound. Johnny Young also came from Mississippi to Chicago and amplified his driving Delta sound on mandolin, contributing to Chicago's South Side blues.
This brief preface brings us to James 'Yank' Rachell (pronounced RAY-chul). Yank was born in 1910 on a farm near Brownsville, Tennessee. The story goes that when he was about 8 years old, he passed a neighbor sitting on his front porch, playing a mandolin. Intrigued with its sound, Yank asked if he could buy it. The neighbor asked for five dollars, which Yank didn't have. But he did have a pig he was raising to slaughter. A deal was made, much to the chagrin of his mother, who said "Next fall, when we are all eatin' pork, you can eat that mandolin."
Yank practiced with some help from local musician Hambone Willie Newbern. Yank teamed up with another Brownsville guitarist and singer, Sleepy John Estes. They performed and recorded together for forty years, occasionally adding Hammie Nixon on harmonica. While Sleepy John liked to ramble, Yank settled down and raised a family.
In the 30s, he met Sonny Boy 'John Lee' Williamson, and they recorded together on the Bluebird label. There were many excursions between the South, St. Louis and Chicago to record with Sonny Boy, Henry Townsend, Walter Davis and Big Joe Williams. Yank moved to Indianapolis during the mid-Fiftes to be close to his wife's family, where he became the patriarch of the local blues scene. Yank, Sleeping John and Hammie teamed up again during the folk-blues revival of the Sixties to tour the college circuit.
The 1992 Garvin Gate Blue Festival featured Yank as Saturday's headliner. There were several performances by Yank at the Cherokee Blues Club with his granddaughter, Sheena, playing bass. I can recall how he often said he had to be "hitched up like a mule" when one of the musicians in the band assisted in hooking up the mandolin strap around his back. Even in his eighties, his dexterous, yet strong finger work on those strings brought back a melodic sound from another era. Three were two releases on Delmark records that present his two distinct musical styles.
"Mandolin Blues" united Yank with Big Joe Williams, Sleepy John Estes, Hammie Nixon and Mike Bloomfield to recapture his acoustic jug band roots. "Chicago Style" put Yank in a more modern amplified setting with Floyd Jones, Odie Payne and Pete Crawford.
Yank passed away on April 9, 1998, bringing the mandolin blues legacy to an end. He will be remembered for such original songs as "She Caught the Katy," " Divin' Duck Blues" and my personal favorite, "Texas Tony."
The Blues Society of Indiana had celebrated Yank's birthday with several blues jams during his later years and will continue the tradition of honoring him by presenting an annual Yank Rachell Memorial Jam near the anniversary of his death. A headstone was recently dedicated to Yank on April 26, 1997 at the New Crown Cemetery in Indianapolis. A memorial concert followed where David "Honeyboy" Edward performed. The Blues Society of Indiana deserves a lot of credit for raising over $4,000 to pay for the headstone and a big chunk of Yank's funeral expenses. Additional donations to pay off the remaining balance of $2,400 can be sent to the BSI, 6849 N. Michigan Rd., Indianapolis, IN 46268.
BSI's effort is a real incentive of the KBS to do the same for Foree Wells.