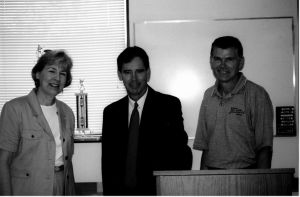 Local songwriters jean Metcalfe and Earl Meyers recently expressed to 2nd District Congressman Ron Lewis, center, their concerns about proposed legislation that affects the interests of songwriters, composers and music publishers. Meyers, a coordinator of the Louisville workshopof the Nashville Songwriters Association International (NSAI), and Metcalfe, president of Louisville Music Works, lnc., caught up with Lewis at a community forum at Eastwood (Ky.) Fire Dcpt.\'s Station l on Aug. I7.
"Fairness in Music Licensing" Bill Passes U. S. House of Representatives;
ASCAP Estimates that Bill Will Cut Songwriter Royalties I 0-20%
Songwriters and the creative process recently suffered a serious defeat in the U.S. House of Representatives when The Copyright Term Extension (Life Plus 70) was linked with the Fairness in Musical Licensing Act (the Restaurant Bill), which would allow bars, restaurants, and other retail stores to play music for free. Songwriters, composers, and music publishers favor the Life Plus 70 term extension (the term is currently life plus 50) and oppose the Restaurant Bill, asserting that the amended Fairness in Musical Licensing is unfair to songwriters. For example, ASCAP estimates that passage of this bill would result in a l0-20% decrease in income for its members. The bill also violates U.S. treaty obligations such as _GA'TT and threatens America's "copyright industries" who recorded more than $34 billion in foreign sales last year.
Songwriters, composers and music publishers do not understand how business owners who feel that music is essential to their customers enjoyment think they shouldn't have to compensate the creators of the music. (interior decoration and other amenities are not free.) Past negotiations have resulted in the exemption of more than 70% of all restaurants from any payment; the cost for non-exempt restaurants currently averages about $1.58 per day.
Music creators are encouraged to contact their Senators, urging them to oppose the Music Licensing Amendment (H.R. 789 / S.28). Kentucky's Senators are:s.
Senator Mitch McConnell Senator Wendell H. Ford
U.S. Senate U.S. Senate
361A Russell Senate Office Bldg. 173A Russell Senate Office Bldg.
Washington, DC 20510-0001 Washington, DC 20510-0001
Phone: 202-224-254] Phone: 202-224-4343
Fax: 202-224-2499 Fax: 202-224-0046
E-mail: E-mail:
senator@ mcconnell.senate.gov Wendell_ford@ford.senate.gov
Persons wishing additional information on issues or need to know who their representatives in Congress are may contact Meghan Coleman in ASCAP's Public Affairs Dept. at 212-621-6314, or e-mail: mcoleman@ascap.com.