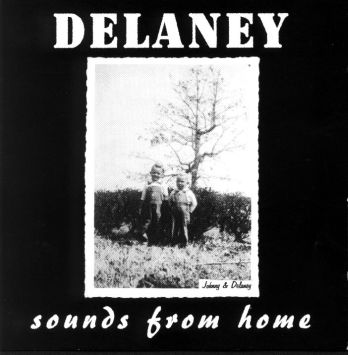 Delaney Bramlett - Sounds From Home
Sounds From Home (DK Records)
By Jean Metcalfe
Back in 1971 when Delaney Bramlett and his then-wife, Bonnie, had two Top 20 hits, I was rocking to "Rock A Bye Baby" instead of Delaney and Bonnie's "Only You Know and I Know" and "Never Ending Song of Love."
Luckily, when I covered the Kids First benefit in Scottsburg, Indiana, last fall, Delaney Bramlett was a special guest, and it was a special treat to meet the man and his music. When I recently received Bramlett's Sounds From Home from Ed Amick (album coordinator with Greg Martin), I found myself in possession of one sweet CD.
Bramlett's songwriting is superb — he wrote or co-wrote all 13 cuts, one with Eric Clapton — and his soulful voice sells each one. Keep the change. The musicians, song selection, song order and arrangements are excellent. The fetching black-and-white cover photo of brothers "Johnny & Delaney" as young lads in bib overalls tugged at the heartstrings of this mother of two sons and upped Bramlett's already high likability factor.
With a "whoo-oop," the album is off and partying. Close your eyes and let the bullfrogs, cigarette smoke and Bramlett's delivery transport you to a "Funky" barbecue in the wee hours.
Second in line, the feel-good "Everyday's a Holiday" is a sumptuous last meal before Bramlett rips your heart out with "It's Over." "Well I loved her, I had her, and I lost her." Guess that about says it all. Three words into the chorus Bramlett's trill swells the lump in your throat to near fatal proportions.
"How do You Know (There's Truth in the Love)" is a gospel rocker wherein the truth-seeker "sure didn't get it when they came knocking, insisting on witnessing on me."
With a strong melodic hook, "Locked Up in Alabama" might well capture the listener without having to clearly indicate whether this is a literal predicament or, worse yet, a figurative one. It's probably no coincidence that the follow-up selection is titled "Free." The latter is a touching paean to a special person: "I've never felt quite like this / And maybe that's why / I'm showing that part of me / That I've tried so hard to hide."
"Mississippi" is enhanced with delectable slide guitar and Bramlett's well-placed "ugh's" (the sound of someone punched in the stomach). On "Kiss," Kim Carmel Bramlett shares lead vocals and writing credit with her mate, and it's a downright steamy combination.
An open invitation to a party on "Rock-n-Roll Lane" sends the listener in search of the keys to the SUV, after first ringing up Ritchie Sambora, who has promised to "tell you where it's at."
Bramlett's vocals on "Kim Carmel" are reminiscent of Fergie and Prince Phillip. Not those Brits; think local royalty. "Aidee Aidee Idee Oh!" spells Cajun, with a tune that evokes Buddy Holly and will not fade away. Bramlett and Clapton's "Let it Rain" features a passel of extras, including but not limited to, congas, steel drums, and a baker's dozen background vocalists.
A "Brown Paper Bag" in the corner of the room holds a lot of unmailed letters. It is a sad bundle that should only be opened with caution and a little help from whatever helps. There are other unhappy corners in "Brown Paper Bag" and it closes Sounds From Home on a melancholy note. But that, brothers and sisters, is what the blues is all about.
Delaney Bramlett is scheduled to perform at this year's Kids First benefit in Scottsburg, Indiana, on Nov. 21, and copies of Sounds From Home will be available at that time. While the album awaits release in the U.S., it can be purchased directly from Walker Ed Amick, 812-752-2052.