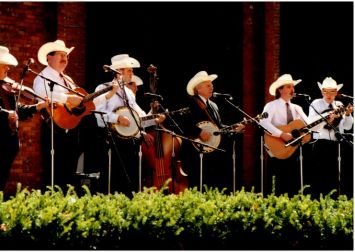 Ralph Stanley and the Clinch Mountain Boys will be the featured act at the Strictly Bluegrass Festival
Strictly Bluegrass
By Victoria Moon
Over the past seven years, very quietly and very simply an extraordinary, one-of-a-kind event has taken place in Louisville that draws music aficionados from across the country. On September 11 and 12, this event, which has no comparison anywhere else in the world, will occur once again. Thousands of people from all across the country will descend on the Iroquois Park Amphitheater for two days of free music, companionship, food, dancing and fun. No, it's definitely not Woodstock: no drugs, no alcohol, no screaming guitars with Marshall stacks cranked up to 11. This festival is alcohol-free, family-friendly and – most of all – the music is strictly bluegrass.
The Strictly Bluegrass Festival is a family affair, a huge and complex production offered to bluegrass lovers everywhere by the Brewer family of Louisville.
"It's a labor of love," admitted Gary Brewer in a recent telephone interview, adding that the Strictly Bluegrass Festival was "the largest free bluegrass festival in the country – that's the official quote now. It's even been a question on Jeopardy!"
Brewer, a well-known professional bluegrass musician and the name behind Gary Brewer and the Kentucky Ramblers, first thought of the festival with his father Jim Brewer several years ago but was originally discouraged in his efforts.
"People from the city said we couldn't have a major event like this without alcohol," Brewer explained, "and we couldn't get any kind of sponsors that would be alcohol-related . . . and this is a high-dollar event! But there are still people who enjoy a family atmosphere, and people who still want good, clean family fun, so we've proved [the critics] wrong since day one. We had over 10,000 in attendance since the first day, and that's an ongoing crowd!".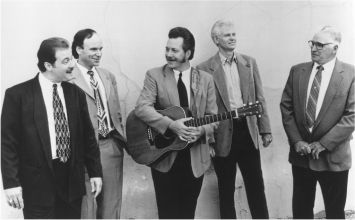 Gary Brewer and the Kentucky Ramblers will play both days of the Festival
In keeping with the family theme, it is the members of the Brewer family who run the event from booking the bands, renting the space and running the concessions. It all started when Brewer and his father went to Mayor Jerry Abramson with their idea to have a free festival featuring only bluegrass music.
"I've worked for Mayor Abramson now 13 years, playing bluegrass here in town, and me and my dad approached him and said 'Hey, we want to put on a bluegrass festival', and he was behind us 100%", Brewer related. The mayor gave them a great deal of moral support and gifts-in-kind to help the Brewers realize their dream. The family began to look for some outside sponsors as well, which they were able to find, making the festival a success from its inception. It has since drawn visitors from several foreign countries (including a television crew from Japan who came one year to film the festival for Japanese television), and approximately 25 states around the country.
"It's something we're very proud of, and it's our effort to keep this music alive," Brewer said. "Louisville does have a great heritage of bluegrass music, and of course Kentucky is where the music is founded. Why shouldn't we have the biggest bluegrass festival here?"
The members of the Brewer family have bluegrass music running through their veins. "I'm the fifth generation musician in my family," Brewer related, "and this is something I've been doing since I was a kid".
While Brewer is the first full-time professional musician in his family, his father is Brewer's road manager, bus driver and part of the band. Brewer's grandfather toured in the 1920's with original country music greats The Carter Family, and far back into the 18th century, his family roots are tangled heavily with the roots of bluegrass music.
"Bluegrass is just a full-time thing for us," Brewer explained,"whether that be out playing, putting together the festival, or working for the city as a bluegrass musician".
Besides the appeal of the music itself (which, as Brewer pointed out, has elements of musical forms as diverse as jazz, Celtic, blues and gospel), he also spoke of bluegrass as a music that spanned the generations, as he sees every year at the festival. "Everyone is represented at our show," he enthused, "from the toddlers up. They get up and dance, and you can see the little two and four-year-olds out there jumping and swaying to the music along with the seniors!"
Like most bluegrass festivals. the Strictly Bluegrass Festival has jam sessions happening every day during the festival. Audience members bring their instruments to the festival and have the opportunity to sit with nationally-renowned performers and play with them.
"That's why bluegrass is so popular, because it's got something for everyone from the professional musician onstage to the typical factory worker who likes to pick and sing at home. That's what makes it so neat." Brewer also pointed out that on Friday night, the first night of the festival, the performers who have performed that evening will come out and play with the audience members who want to play with them.
"The audience will have an opportunity to meet and play with their favorite pickers and singers," said Brewer, "and it gives the beginners a way to be up close and personal with the professionals. That's what makes this music so great! Bluegrass people are down-to-earth people. If this was country music, you'd never be able to get to sit down with Hank Junior or anyone like that – it's very seldom you'd even be able to get an autograph from them! That's why bluegrass is so popular."
When asked what he and his family liked best about the festival, Brewer unhesitatingly answered "It's all great!" He added that it was when someone came up and "said 'thank you,' and what a great time they had and how much they enjoyed the music" that mattered the most. "That's payment enough right there."
This year, the festival will feature Ralph Stanley and the Clinch Mountain Boys, the Larry Stevenson Band, the Reno Brothers, the McClain Brothers (part of the old McClain Family Band), James Monroe (son of Bill Monroe), several local and regional bluegrass bands and, of course, Gary Brewer and the Kentucky Ramblers – who will be featuring "the world's youngest recording star," Brewer's three-year-old son Wayne, playing along with them on a song or two. Besides the music (which Brewer assured would continue nonstop for the two days of the festival) there will be local craft booths, face-painting, food, the free-for-all jam session, and several workshops and activities geared specifically for children and teenagers.
The Festival will run from 5 – 10 p.m. on Friday and 11 a.m. – 10 p.m. on Saturday.