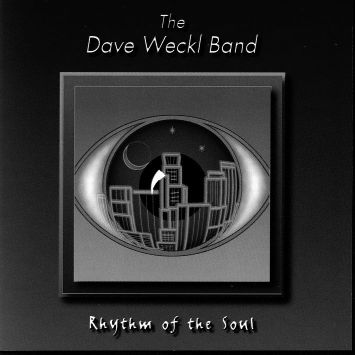 Dave Weckl Band - Rhythm Of The Soul
Tight as a Drum
Rhythm of the Soul
The Dave Weckl Band (Stretch Records)
By Tim Roberts
The title is somewhat misleading. Anything with the words "rhythm" and "soul" are evocative of old Stax recordings, or something percussion-heavy and full of sounds from rainsticks, shakers and congas. Instead, Dave Weckl's Rhythm of the Soul is eleven tracks of fusion injected with some rhythm-and-blues sensibility. It is by no means the kind of nasty funk that burns into your memory. You can listen to it and come away feeling clean afterward.
This is the fourth solo project from drummer Weckl, who is known for his work with Chick Corea's Elektric and Akoustic bands. He was also the drummer on Madonna's Like a Virgin. With impressive credentials behind him, Weckl is joined by Jay Oliver on keys, Tom Kennedy on bass, Buzz Feiten (another member of Corea's Elektric outfit) and Frank Gambale on guitars, and Steve Tavaglione and Bob Malalch, on sporano and tenor saxes, respectively.
A few of the selections are, for a lack of a better term, standard tight fusion with guitar and sax matching each other on the melodies. Some are too short and seem underdeveloped. Behind it all, though, is Weckl's technique, polyrhytymic but exact and steady. He's a subtle dynamo that drives the band in every selection.
A few tracks worth mentioning include the third one, "Mud Sauce," with a New Orleans feel where Kennedy abandons the electric bass and gently lays a groove with an acoustic one. Then the band gets soft and slow-burn sexy on "Someone's Watching," with its haunting keyboard undercurrent and a brief appearance by Gambale's electric sitar.
Some real fun happens on "Access Denied," based loosely on the rhythm and changes in the theme from Mission: Impossible. It contains some wild-but-brief solo work from almost all the musicians on the track. Weckl claims in the liner notes that because his version is in 6/8 time, while the original was in 5/8, the tune is completely different, but he states it is "definitely NOT the airplay tune" and asks that there be "no lawsuits please." However, it is reminiscent of the funk-rooted revised version of the theme U-2's Larry Mullen and Adam Clayton did for the MI movie two years ago.
With the contributions by its experienced session men and a drummer with deadeye-dick technique, the Dave Weckl Band's Rhythm of the Soul is full of catchy, tight fusion that goes down smooth, tingly and sweet like ginger-ale.