I've Got A Mind To Ramble
Unfinished Business
It's time to complete what I started last month by listing the remaining ten of my favorite blues recordings.
Luther Allison - Hand Me Down My Moonshine, INAK 9015E (CD)
I've seen two extraordinary live performances by Luther: at the 1995 Chicago Blues Festival and the 1996 Hot August Blues Festival at Kenlake State Park, where his boundless energy and emotion was draining. There is a more intimate side to Luther that is on this delightful, laid-back acoustic set. Fortunately, his CD was reissued in this country last year on the Ruf label.
Various Artists - Angels in Houston: The Legendary Duke Recordings - Rounder 2031 (LP)
This anthology includes Bobby Bland singing some early material arranged by Joe Scott and James Davis, whose whereabouts was unknown at the time. The flip side features Larry Davis doing his original version of "Texas Flood" and Fenton Robinson playing "As the Years Go Passing By." All these excellent cuts are from the early Don Robey years at Duke.
Magic Slim - Live `n Blue - Candy Apple CA0401 (LP)
Slim's gritty vocals and guitar playing, backed by his brother Nick on bass and second guitarist Daddy Rabbit, gives this Southside Chicago band a distinctive raw-edged sound. This was recorded at the Zoo Bar in Lincoln, Nebraska and was his first recording in the States. "Tear Drop," which is the name of his band, is on the record and is one of my all-time favorite instrumentals.
Dr. Ross - His First Recordings - Arhoolie 1065 (LP & CD)
This master of the raucous, infectious harmonica and guitar boogie was recorded on this album in the early '50s in Memphis, before he moved north to Flint, Michigan and mastered his technique as a one-man band. Great barrelhouse music.
Various Artists - The Country Blues - RBF RF1 (LP)
This record is a companion to Samuel Charters' book of the same name. The fourteen cuts are by some of the pioneering bluesmen from the '20s and '30s. The record includes a nice pamphlet insert of liner notes. It was my first exposure to some of the people I had read about in Charters' book, like Blind Willie McTell, Sleepy John Estes, Bukka White and Tommy McClennan.
The Legendary Son House - Father of Folk Blues - Columbia CL 2417 (LP & CD)
Son House still gives me chills when I hear his impassioned music. These recordings were done during his rediscovery period in the mid-'60s, with Al Wilson of Canned Heat assisting on two cuts. Here is the music that Son House originally performed in the '30s.
Howlin' Wolf - Moanin' in the Moonlight - Chess 1434 (LP & CD)
Some of the best of Howlin' Wolfe's recordings on chess are included on this record. Disregard the inane liner notes that play up the folk aspect of his music; it was his original primitive untamed sound that makes this record with "Smokestack Lightnin' " and "Evil" so good.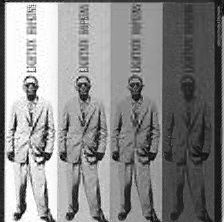 Lightning Hopkins - Folkways
Lightnin' Hopkins - Lightnin' Hopkins - Folkways FS 3822 (LP & CD)
The cover of this album is a classic with four Warhol-esque images of Hopkins standing in a baggy suit against white, yellow, orange and red panels. Sam Charters recorded these songs in Houston in 1959, following a long search to find Hopkins. This was Hopkins' first LP and it brought him wide recognition among the folk audience. There is an intensity and excitement in these songs, as Hopkins rediscovers his ability to perform alone again.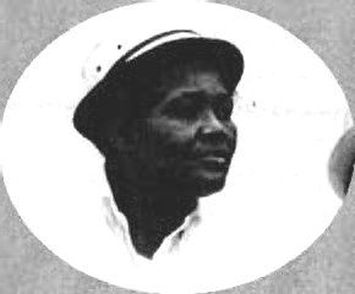 Big Mama Thornton
Big Mama Thornton - The Original Hounddog - Ace 940 (CD)
Women's roles in the blues are significant and my favorite is Willie Mae Thornton. Her powerful voice was the female counterpart to the blues shouter, Big Joe Turner. These twenty-two early recordings on the Peacock label have Johnny Otis, Bill Harvey and Roy Gaines backing her up. Willie Mae Thornton was the originator of "Hound Dog" and the last of the Big Mamas.
Various Artists - The Louisville Blues Compilation - Rollin' & Tumbling 2601 (LP & CD)
There is a lot of sentimentality in this record, as this as Scott Mullins' first venture into recording. It was exciting to be at Artist Recording Service on Barret Avenue when some of these tracks were put down by Curtis & the Kicks, Da Mudcats, Henry & the Noisemakers, Foree Wells & the Walnut Street blues Band, Mark Stein & the Steamrollers, Rocky Amaretto Blues Band, the Bluebirds, the Derby City Blues Revue and Steve Ferguson. This record makes an excellent statement about the state of the blues art in Louisville around 1990.
I could go on with my favorites by Big Joe Turner, Freddy King; Jimmy Reed, Albert Collins, Elmore James, Little Walter, Fred McDowell, T-Bone Walker and Bukka White, but I've got to stop somewhere. If I were asked to do a list of favorites a year from now, it would probably come out a little differently. That's the beauty of the diversity in the blues and our personal tastes; it is evolving and we are changing but the blues will always be there when you need them.