A Feast Day to Remember
River City's March 17th was the best in living memory, according to the Rock Institute of Unscientific Data Research Methods. The Irish Rover and Molly Malone's were overrun with revelers and a grand time was had by all, despite the crush. Jerry Springer aside, Rock marvels at the actual civility that prevails in America. All the local bands (Celtic or not) were employed at our many celebration stations but Rock can only account for two, Molly Malone's and the Irish Rover, and they were brilliant. The Wearin' O' the Green Party at the Rover was a good start and the parade day was mercifully dry and tolerably cool. Kudos to Kelly McKnight and the Ancient Order of Hibernians for a great show that has much promise for the future.
Adult Irish Dancing Classes
All interested adults (18+) are invited to a six-week session of classes to learn basic steps and ceili (dance party) dances under the instruction of Heather McClanahan. Heather is a certified Irish dance instructor and directs the McClanahan School of Irish Dance (f/k/a Bluegrass Irish Dancers). She is a legacy of the beloved McGing Irish Dancers of Cincinnati.
Classes will be held Tuesday evenings in the studio at 2115 Frankfort Ave. (rear) beginning April 13 through May 18. Six weeks instruction is a remarkable value at $50 per person and couples are welcome! If you have questions, give Heather a call at 897-1400.
The Tannahill Weavers Return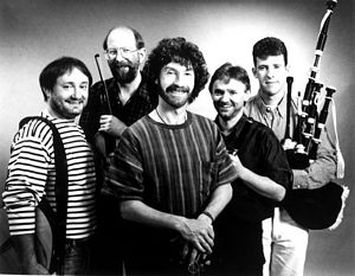 Tannahill Weavers
The TW return to Kentucky on Sunday, May 9 at the Kentucky Scottish Weekend. This is the premiere folk band of Scotland; the group set the standard for Alba's modern presentation of its musical heritage. Rock will be there in the front row as a wild-eyed fan / volunteer roadie / groupie / devotee.
Seven Nations Invade Highland Games
Both of Kentucky's Highland Games will feature Celtic Rock phenom 7 Nations as a part of their festivities for 1999. Vast amounts of information will be forthcoming in the May issue.
Just remember: Kentucky Scottish Weekend, General Butler State Park -- weekend after Derby (May 7-9); Glasgow Highland Games, Barren River State Park (June 3-6). If you can't wait, contact (KSW - KyScotWknd@aol.com and GHG at 502-651-3141. SET THESE DATES ASIDE!
Come on down to steerage
On Sunday, April 11 the Irish Rover will host Louisville's first "steerage party.""Titanic" buffs and Gael friends alike will delight in the steerage menu crafted by Siobhan Reidy and the marvelous music of Drowsy Maggie from 6 to 9 p.m. Call 899-3544 for reservations (no flotation devices please).
Drowsy also performs at Molly Malone's on April 9 and at The Rudyard Kipling on April 23.
Ten Penny Bit on Tour
On the road north are our merry melody makers. They travel to Detroit, Michigan, Rochester, New York, Pittsburgh, Pennsylvania and Toronto, Canada. Godspeed! Homecoming is at the LaGrange Street Festival and Molly Malone's, both on April 24. Call 447-0581 for exact times, details, advice and gossip.
Rashers Route
Follow the boys to Molly Malone's April 16 and 17 and then to Madison, Indiana on April 24 at The Thomas Winery. The banjo is played not by Yule Brenner as rumor had it but rather by Walter Brennan. Two very different people. Sorry for the sloppy reportage. For further details or just to complain, please call 949-7015.
Cloigheann and Galloglas
Patience will be required of their respective fans as they are on post-Paddy's sabbatical and will not be playing (at least anyplace you can hear them) during April. Cloigheann will be back in May with its special Celtgrass sound and Galloglas will no doubt resurface with its neo-pan Celtic notions.
The Sessions Remain
Go to the Rudyard Kipling on the first Friday (April 2 @ 8 p.m.) and to Molly Malone's every Sunday (4-7) for the jam sessions. All players are welcome!
Louisville Pipe Band
Don't miss the biggest assembly of the LPB you are likely to have ever seen on the street at the Kentucky Derby Pegasus Parade. The band also has tres cool T-shirts for sale. Call 459-2001 to order.
Paul- on the Galloglas photo put "gone fishin'" or whatever.
I will ask Molly's to send their line up direct to you because they haven't gotten it to me yet.