Dr. John Phillip Landgrave
By Henry C. Mayer
Recently, there was a world premiere musical event in Louisville. The composer, a faculty member of The Southern Baptist Theological Seminary since 1965, is Dr. John Phillip Landgrave, who teaches voice, composition, electronic instruments and music ministry at the school.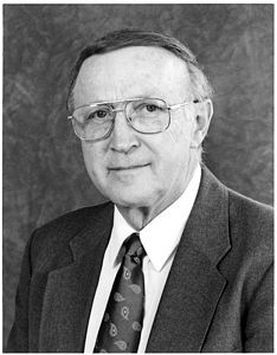 Dr. John Phillip Landgrave
This most recent major work of Landgrave's is a musical drama, "God's Love Song," inspired by and based on the Gospel of John. A dominant theme of the work is centered on the familiar passage from John 3:16: "God so loved the world that anyone who believes in Him will not perish, but have everlasting life."
The work was begun in 1997 as a major sabbatical project and finished in late 1998. Dr. Landgrave tells Louisville Music News:
"To my knowledge, there has never been a musical setting of the complete Gospel of John. My decision to tackle the project turned out to be a very intense and inspiring experience. The work was virtually finished and ready to go into rehearsal and production until two months ago when I suffered a fractured skull and developed blood clots in my leg, resulting in some eight weeks of hospitalization and convalescence.
"But through the goodness of God and the prayers of literally hundred of people, He has helped me to recover. Thanks to Him, the care of my wife, and the marvelous interest and dedicated work of students, community singers, players, and actors under the untiring leadership of Dean Lloyd Mims, Dr. Mozelle Sherman, and Dr. Tom Bolton, the work has been prepared and presented on schedule."
"God's Love Song" is a two-act presentation featuring some one hundred singers from Kentuckiana churches and the seminary. It involves two separate choirs, the Witness Choir directed by Dr. Bolton, and the Action Chorus, prepared and staged by Dr. Sherman, director of the Church Music Drama Theatre. A fifty-piece orchestra directed by Dr. Mims of the School of Church Music and Worship provides the instrumental music and there are over fifty singing and acting roles.
Gregory Church, tenor, is cast as Jesus, while baritone Nathan Platt plays the role of John the Evangelist.
Dr. Landgrave comes from a musical family. As a young man, his father won a national prize for competence on the saxophone. The reward was an enviable opportunity to play that instrument in the famous band of the "March King," John Phillip Sousa. The honor left such a lasting impression on that young sax player that he named his son after Sousa.
The son began to play and compose at an early age. His published and/or publicly performed works now include over 500 anthems, hymns and solos; 10 cantatas, 3 oratorios, 5 music dramas, 4 Christian musicals, 2 choral series and choral collections in Spanish, Portuguese, and Russian.