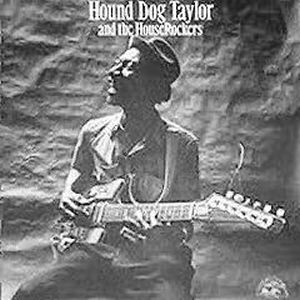 The Man Who Birthed The Alligator
Hound Dog Taylor and The Houserockers Deluxe Edition (Alligator)
Hound Dog Taylor and The Houserockers
Alligator Records today is probably the most-identifiable blues and blues-based label in the United States, in terms of active labels (Chess, after all, lives on only as an historical imprint). What got it started was one blues enthusiast, Bruce lnglauer, being steamrolled joyously by perhaps the most proudly, defiantly unreconstructed electric bluesman of them all, a man who would say of himself, "They'll say when I die, 'he couldn't play s*t but boy he made it sound good." The bluesman was Hound Dog Taylor. If ever the blues really had a legitimate garage band personality, Taylor was he - hard as a brick blues, Delta-bred and Chicago-curdled, engagingly sloppy, and with a knowing wink behind the dripping rhythms and squonking distortion. And yet, there was something deeper going on in every shiver and yowl of Taylor's slide guitar playing; in every drip and buzz of Brewer Phillips's lead guitar and bassline guitar work; in every splattering whack of Ted Harvey's drums (the trio worked without a bassist to the end, with Phillips and Taylor trading off on the bass lines as needed). Amidst a squall of higher-tech, smugger-than-thou virtuosity-for-its-own-sake sound passing as the blues, Taylor was at once a throwback and a look to the future. From the polished boogie of George Thorogood (who was Taylor's roadie and opening, act when Taylor toured New England, and whose early albums owed more to Taylor than anyone let on) to the howl and fire of R.L. Burnside and junior Kimbrough; from the more subtle extant of the Forecasters to the whelping, deconstructionist blowouts of the Jon Spencer Blues Explosion, Taylor's influence is more profound than credited.
He was also a mentor - Elvin Bishop played with him before joining the original Butterfield Blues Band in 1964, and Bishop still speaks warmly of the man to this day. Guitarmeister Son Seals did a stint as Taylor's second guitars (after having spent some time as the drummer of Albert King's road band), shortly before Taylor reconfigured the Houserockers you hear on his Alligator sides. Future Alligator stalwarts like Magic Slim and the Teardrops (whom Taylor had befriended and who replaced him as the house act at Florence's Lounge in Chicago) and Luther Allison benefited from his interest. And one-time Brownsville Station frontman Cub Koda, now a respected bluesologist and musician (his Brownsville hit, "Smokin' In The Boys' Room," was said to be Taylor's favourite rock and roll recond), was mentored in the breach, touring and recording with the surviving Houserockers after Taylor's death from lung cancer in December 1975.
Taylor had recorded sporadically prior to the Alligator years, including a side or two for Chess (who probably didn't have a clue of what to do with him, almost the same problem they had had with Taylor-influenced john Lee Hooker during part of the 1950s). But when lnglauer formed Alligator explicitly to record him, Taylor fell right into his element. Asked to do nothing but be his own exuberantly unreconstructed self, he shone on his four Alligator albums. They remain masterpieces of unambitious, unpretentious, from the spleen, party-hard blues. For the most part, the prime cuts therefrom are present here. The first three make his own debt to Elmore James crystal clear, covering three James chestnuts (why the writing credit for James's "Roll Your Moneymaker," a slight rewrite of his "Shake Your Moneymaker", went to Taylor, is beyond me) and playing them like he's driving a private party in his basement with the bootleg brew flowing like blood. He was never even close to James as a slide guitar virtuoso - Taylor's own assessment of his ability, cited above, is chillingly accurate - but his rippling enthusiasm alone made him at least a worthy practitioner. As a songwriter, Taylor wasn't writing anything even close to a classic blues repertoire, make no mistake about it - he was probably one of the most unoriginal lyricists in the genre - but he knew where to put the stomp and sliced it his own way. If you can listen to "Give Me Back My Wig" or "Take Five" or "She's Gone" and put on a sour face over it, then you just don't get the joyful side of the blues as wholly as you think. Me, I have a hard time keeping "Ain't Got Nobody" (from Genuine Houserocking Music, his fourth and final album and the album which gave Alligator its longtime slogan) off the CD player - sure, it's another Elmore James payup (this time written by Taylor), but it beats the living daylight out of any bar band you're hearing in a lot of places, and the turnarounds are just so heart-sliding you'd be hard pressed not to call for a round on the house. And there are some previously-unreleased cuts to be had here. "Ain't It Lonesome" is about as stale a story as they come, but Taylor is so earnest in telling it, and the trio plays it with such sincere directness that you forgive the staleness and just let him talk and sing, not to mention send one or two shuddering slide chords off into the dry air. "Phillips's Theme" gives Brewer Phillips a chance to stretch a little - he wasn't exactly the second coming of buddy Guy, but given a little room by the boss and he sure did have the feeling right. And the sound is so unpolished and reckless for a blues ballad that everyone who's ever hooked up in the basement longing to dig into those blues has just got to love a jar of jam like this (it's more transcendent than anything the Sean Wayne Duarte crowd will ever conjure up),especially when they shift from ballad to boogie - dare I say it - effortlessly, here and there. (The odd dynamic tension between Taylor and Phillips wasn't limited to their music, apparently, according to Bruce lnglauer - in 1975, an argument led to a shooting and Phillips insisted on pressing charges despite not being injured seriously. Taylor added various second guitarists while awaiting trial until, in September, the chain-smoking Taylor was diagnosed with lung cancer. Just days before his death that December, Phillips visited Taylor and the two made up.) But as I say, there is something deeper going on, too. You hear where you may not expect it - behind every derivative lyric, behind every rather lame-except-to-the-teller tale, is the spirit of a fellow who came to hard terms with who he was (and, most importantly, who he wasn't) and didn't give a damn, basically, whether he came off as polished enough, or witty enough, or sophisticated enough, or even original enough...this was his story and he was going to stick to it, and if you could put your prejudices aside, you just might get the point as long as you were there and he'd even forgive you for it, even if he wasn't quite what sortie self-important critic might uphold as an ideal of his breed. Besides, the man and his partners was so thrilled to be doing what they were doing (not for nothing were Taylor and the Houserockers the consistent favorite at the early l970s Ann Arbor Blues Festivals and other similar, scattered gatherings) that how could you refuse him? I mean, how many lifetimes will pass between musicians who seem to be having a right old time for themselves even when feeling as though about eighteen tons of truck have parked on their heads? And how often do you get any sense from the smugger-than-thou, more-put-upon-than-thou music superpeople, real and-imagined, that they actually enjoy the release their music gives from their real or imagined anxieties? Taylor was never a huge blues star - but he did not truly have to be. You might think twice after leaving Taylor behind, of course. but not while listening to hint. (And you can still picture him as you listen, skinny, satchelmouthed and skittering in his stage chair, long legs dancing the rhythm hard as he ran his slide across his cheap guitars, innocent and knowing at once.) And if that, in the end, was real essence of Hound Dog Tayor's blues, than in the end we can only ask for what we may not be able to have, depending on what's still in the Alligator-cans: more, more, more.