Rod Stewart's Freedom Hall Party
By Jason Koerner
Rod Stewart and his opening entertainment of bagpipers helped Louisville celebrate St. Patrick's Day this year at Freedom Hall. The "one-man, one-fashion-show" sported enough eccentric outfits on-stage in one night to clothe an entire army (providing the allowance for color in their uniforms.) But this array of a wardrobe is most responsible for making Rod a pop icon of our time. The instant image of the bleach blonde hair, hot pink suits and the passion of his smile crop up into the minds of those who hear his name, no matter their familiarity with his music. The easy visualization of his demeanor rivals the lips of Mick Jagger or Jimi Hendrix' hair as trademarks. All the recollection the baby-boomers have of him was brought to life during his lengthy set of hits. He was everything the boomers remembered, and everything his new fans have grown to love.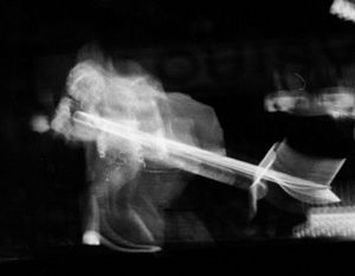 While this may look like a scene from Pink Floyd's The Wall, it is actually Rod Stewart, moving quickly. - Photo by Jason Koerner
A late start of the show due to the absence of the band only created more anxiety in the assembly for the festivities to begin. It would take more than an airplane delay to ruin the night of such eager concertgoers. The show proved to be well worth the wait. Singing fans made it nearly impossible to hear Stewart's voice during the famed tunes of "Have I Told You Lately?" (which had a church revival-style ending) and the classic "Maggie May". I think that everyone in the crowd knew just as many (if not more) words to the songs than Mr. Stewart did! It was one of those concerts that just didn't feel like a concert.
A performer like Stewart has the capability to make everyone there feel like he is singing directly to them, like it's just a big house party Rod Stewart happened to be playing at, entertaining you and a few thousand of your closest friends. This feeling became overwhelmingly true during the appropriately titled song "Having a Party," in which a ton of white balloons were dropped from the ceiling. Seats went out of style at this point.
Rod had an unusual pattern of intensity at the concert. As most performers, especially singers, grow weary as the show goes on; Rod only got better. It was like a momentum gain that continued to grow until the end, leaving no disappointment behind. The audience shadowed his energy and showed their appreciation for his efforts.
Perhaps the most interesting realization at the show was the abundance of women in attendance. I felt out of place being one of a handful of unmarried guys there, but hey, who's complaining? Hmmm . . .maybe I should consider reviewing the N'Sync concert for the same reason . . . naaaaa. Too much risk of being trampled by a group of teenyboppers making their way up to the stage! Sometimes you have to think about the danger involved in things like that. Better safe than sorry. Good show, Rod.