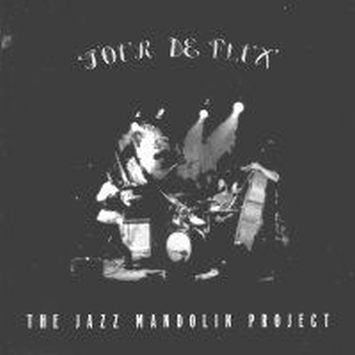 Tour De FLux - The Jazz Mandolin Project
A Mandolin De Force
Tour De Flux (Accurate)
The Jazz Mandolin Project
By Tim Roberts
The wonderful thing about jazz is that you can use any instrument to play it, short of a kazoo or tissue paper over a comb. As Bela Fleck has shown with the banjo, Stephane Grapelli with the violin, Toots Thielmanns with the harmonica, Jamie Masefield and The Jazz Mandolin Project (like Dave Grisman's "dawg grass" before them) brings the mandolin successfully into jazz with comfort, fun and a technical virtuosity that leaves lots of horn players in the dust.
Tour De Flux, the second release from the Jazz Mandolin Project, is eight all-acoustic tracks of surprises, easy strumming, some be-bop stylings, wildness, and joy. The JMP trio consists of Masefield on mandolin, Chris Dahlgren on upright bass and music box and Jon Fishman of the rock band Phish on drums. Don't let the title mislead you into thinking the CD was recorded live during the JMP's "Tour De Flux" series of shows from last year. It's an all-studio production that still captures the warmth of the trio's naturally acoustic sound.
Tour opens with a fireball of an intro number, "Flux," with lots of spirited strumming, a calypso rhythm, and a climax that builds and builds to the point of exhaustion. Next is "Chapeau," with its bouncy be-bop rhythms, then "Good and Plenty," featuring Dahlgren and his music box.
The most notable track is "Clip," the one selection written by all three members. It bounces along in an easy six-beat rhythm that evolves into a frenetic three-instrument jam and pulls back just in time for a breathtaking and loud fuzzed solo from Dahlgren.
Worth a space in your collection, Tour De Flux is a subtle celebration of unique jazz instrumentation. It's an all-acoustic, earthy sound that works well.