I've Got A Mind To Ramble
Hot House - Chicago's Legends and Masters
The weekend at the Chicago Blues Festival would not be complete without mentioning two evenings that I spent at the Hot House. This center for international music and art has recently relocated from the north side to Balbo and Walbash, one block away from Buddy Guy's Legends. Usually they book jazz and international music, but for the Blues Fest weekend, they had a four-night blues bash. A handout announced `Legends of the Chicago Blues" for June 4. That sounded pretty good, so we walked from our hotel and up a flight of stairs into a spacious room with Chinese red walls and large, colorful paintings with musical themes. Most of the seats were taken, so we asked a dapper little gentleman and his lady if we could share his semicircular booth. No problem, so we settled in for a long night of memorable music.
When we arrived, Aaron Moore was playing boogie-woogie, traditional style blues on an upright piano. Jon McDonald served as Emcee and house guitarist. The rhythm section was Bob Strager on bass and Willie Smith playing drums. Sam Lay and Chico Chism also came by later to help out on drums.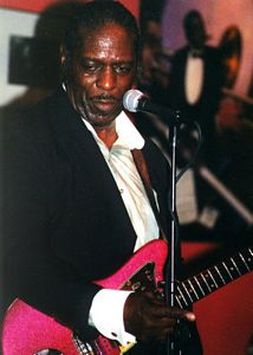 Eddie Campbell at the Hot House
Then the "Legends" arrived, with Dave Myers, James Wheeler and Little Smokey Smothers sharing guitar sets. Smokey was dressed in bib overalls and a bowler hat and was taking pictures of all the other musicians. Several of the headliners who had performed earlier that day at the Festival showed up, including Kim Wilson and Larry McCray. The place was electric with all that talent in the same house.
Meanwhile, people kept coming up and greeting the distinguished guest whose booth we were sharing, so I had to ask - it was Francis Clay, who had drummed in Muddy Waters' band off and on from 1957 to 1967 and then played with James Cotton. Clay now lives out in San Francisco and leads his own group, Syncopation.
The second night was "Chicago Blues Guitar Masters" on June 4. Bob and Willie were back to maintain the beat behind guitarists Phil Guy, Eddie C. Campbell, Byther Smith and Jimmy Burns. While these players are not the biggest names on the national blues scene, they are all highly respected in Chicago. Eddie Campbell got into a funky groove with "This Is My Last Affair" and "King of the Jungle." The Taildragger and Jimmy Lee Robinson also dropped by to sing a few songs. The show reached a climax with all the guitarists jimmy together on "All Your Love."
It was two nights of blues bliss. I hope this will be an annual festival extra-curricular event.
KBS Amateur Blues Contest Update
The contest has been rescheduled from August 15 to August 22 at Stevie Ray's to avoid a conflict with the MERF Barbeque and Blues Benefit at Phoenix Hill on August 15. The judges for the competition will be Mary Ann Kindall, a singer and guitarist from Cincinnati; Rich Reese, a radio DJ with a Monday Night Blues show on WORX in Madison; Sonny Sitgraves, a veteran blues drummer who played in many Chicago bands; Jim Diamond, the winner of last year's KBS competition and Mark Stein, lead guitarist with the Blueshounds and 100 Proof Blues.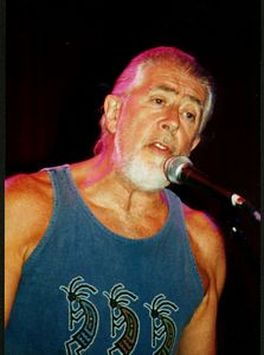 John Mayall at Headliners
We have upped the ante for the winner to include a cash prize of $250, recording time at Real to Reel Studios and a chance to play at the Louisville Blues Festival and the Six Flags Kentucky Kingdom Blues Festival. The competition should be top notch, so come and check it out.
The Father of British Blues
Actually, John Mayall has been living in Los Angeles since 1969, but it was in Manchester and later London that he started the Bluesbreakers. A long string of great guitarists got their start playing in his band, including John McVie, Eric Clapton, Peter Green, Mick Taylor, Walter Trout and CoCo Montoya. All of these guitar slingers have gone on to greater fame on their own.
Mayall's knack for surrounding himself with great musicians during the Bluesbreakers 36-year history is based on selecting musicians who believe in his music and encouraging them along the way. That was evident at Headliners on June 30, when Mayall performed a sold two-hour set. After getting the sound and mikes adjusted just right, he was all over the stage, playing harmonica and keyboards and sometimes both simultaneously.
His current band includes Joe Tuele on drums, John Paulus on bass and guitarist Buddy Whittington. Whittington carries on the tradition of fine guitarists with not flashy but solid solos. He also did a nice vocal on "Jacksboro Highway." Mayall tore loose on his keyboards with a boogie-woogie called "Ain't No surrender" and did the title track from his latest CD, Padlock on the Blues, a slow blues. Most of the music was original - which was refreshing to hear - and included "Always a Brand New Road," written by Joe and Buddy about Mayall's life.
For their well-deserved encore they did "Sure Put the Squeeze on Me." Mayall is 67, does about 120 one-nighters a year and still looks athletically fit. His legacy will be as a bandleader and mentor.