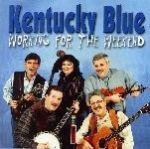 It's Gooood
Working for the Weekend (Independent)
Kentucky Blue
By Jean Metcalfe
Half of the sixteen cuts on this bluegrass album are originals, and they fit right in with the tried-and-truegrass. Working for the Weekend, Kentucky Blue's fifth album, kicks off with "Blue Eyed Kentucky Mountain Girl," written by the group's guitar player, Frank Kemper. It tells of courtship, marriage and life with his high-school sweetheart, Adell, and apparently she is one fine lady. Talented too. She contributed her nice original "Corrine" to the project.
"Mountain Laurel" is a lively love song written by popular solo performer Randall Hylton. Enjoyable as it is, the Hylton song that most often comes to mind is - sadly - "On the Commode Again," his earthy (yet fun) spoof of a Willie Nelson hit. Kentucky Blue made the classier choice.
"Left Over Biscuits" speaks of more than bread stored in Tupperware after the morning meal. Ham and gravy - and more - are also on the "menu," and it's a bit on the spicy side. A fun ditty.
The first of Wes Maynard's writing credits on Working for the Weekend, "East Kentucky" will tug at the heartstrings of Kentuckians from every part of the commonwealth. Three other Maynard originals are included (banjo wiz Dave Cosson sits in on one), and all evidence pride in his heritage. Kentucky Blue hopes he will keep the songs comin'.
Webb Pierce's "There Stands the Glass" hit it big back in 1953, claiming for twelve weeks the No. 1 spot on Billboard's country charts. Kentucky Blue banjo player Dave Cottrell's lead on this cut may not outdo Pierce's version, but it is a pleasing country classic tucked among the bluegrass titles.
It took an unfortunate bout with neuritis in 1996 for Cottrell to name and play "Neuritis Rag," a wonderful instrumental he had written several years earlier. When life hands you a lemon . . . .
"Tupelo County Jail," co-written by Web Pierce and Mel Tillis, is mighty reminiscent of "Birmingham Jail." BMI claims 21 "Birmingham Jail" titles, but Roy Acuff's version is listed first and probably is the one recalled.
Next up, Kemper sings a fine bluegrass lead on "Julie Ann," one of his favorite songs.
Kentucky Blue can be counted on to include at least one gospel number in its albums, and on this one it's "Over in Gloryland." Good choice, good performance.
The toe-tapping instrumental version of the instantly recognizable "Five Foot Two" provides evidence of the abundant musical talents of this bluegrass five-piece. Raymond McLain is a guest fiddler on this and five other cuts.
Sausage mogul Al Purnell makes a cameo appearance on "The Ballad of Old Folks Sausage," and does a "goooood" job. Written especially for Purnell's Simpsonville sausage company by former Kentucky Blue member Scott Nation, this much-requested ditty is a wonderful bit of fun. The vocalists have to be on their collective toes here, and non-singer Laurie Cottrell (wife of Dave) is probably happy to be just pickin' and grinnin'. She does both well.
"Happy Trails" is a poignant closer for this generous collection. It's pure nostalgia and it works.
Kentucky Blue's regulars also include Ron Mobley, who plays a fine mandolin, and Martin Harley, jolly good fiddle player and resident comic.
A purchase of Working for the Week End is money well spent. Kentucky Blue once performed, by invitation, for the tycoons of Toyota Motor Co. during an all-expenses-paid trip to Japan, for Pete's sake! And besides, they're all so darned likable.