Molly's First Anniversary
Molly Malone's Irish Pub and Restaurant will celebrate its first anniversary on August 13 and 14 with a mighty party. Happy Hour prices will obtain from 5 p.m. on both days. Prizes will be awarded every hour on the hour. On Friday the 13th, come order your drinks from guest bartender Bill Samuels (of Makers Mark Distillery Fame) from 5 to 7 p.m. There will also be a Bill Samuels look-alike contest. If you are not sure how to replicate his countenance, come dressed as a whiskey bottle with wax on your head and you just might win the prize. Drowsy Maggie will perform its special brand of foot stompin' music from 10 p.m. to 1 a.m.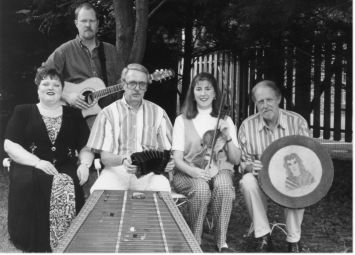 Drowsy Maggie
On Saturday, there will be entertainment in the tent outside and the mighty Galloglas will play on the stage inside. Molly's has had a great year and its many patrons are thrilled at having live music every Friday and Saturday night as well as a Celtic jam session every Sunday afternoon. The Literary Pub Crawl and the Pub Quiz on Wednesday nights are a big hit. Rock is delighted to see this traditional Irish pub tradition supplant the usual pinball and pool table atmosphere on offer locally. Molly has survived the ravages of a gratuitously vicious Courier Journal review, a few spiteful neighbors as well as the usual startup bugs to become a Louisville landmark that has fared very well in Louisville Magazine's "Best Of" series. Rock is sure all the LMN readers will join me in a hearty "thank you" to Sheila and Michael Hughes and Chris Purcell and the Molly staffers. Happy birthday!
Oh Lordy Guess Who's Forty
It was a grand night last Thursday last when a group of local Celtic musicians and friends gathered to wish Michael Riedy a happy fortieth birthday. Bill Meyers gathered Mark Rosenthal (Cloigheann), Charlie Smith (The Rashers), Paul Whitty (Galloglas) and Jim Bocklage ("The freelance Cash Bandit") to sing and play for the occasion. Michael's great personality and hard work and his wife Siobhan's keen eye for design and high culinary standards together have made the Irish Rover a place of which everyone claiming Irishness can be rightly proud.
Celts at the Kentucky State Fair
Check out the Louisville Pipe Band and the McClanahan School of Irish Dance on Saturday August 21 from 4:30 to 5:30 in the South Wing stage of the Fairgrounds. This will be a great show-indoors out of the heat!
Traditional Irish Step dancing Classes
Registration is now open and will continue to September 1 for instruction classes for beginners, ages 5 and up. Classes are held one hour per week during which time dancers are taught the basics of Irish dance, including beginner reels and jigs. The McClanahan School is lead by veteran dancer, Heather McClanahan, TCRG. She is qualified by the Irish Dancing Commission in Ireland. An open house will be held on Sunday, August 22 from 2 to 4 p.m. at the studio at 2115 Frankfort Avenue.
The Rashers Rule!
Check out this really hot band at Molly Malone's on Friday, August 27 at Molly Malone's and on Saturday, August 28 at The Thomas Winery in Madison, Indiana.
Celts in Corydon
Galloglas will be on the Conrad Hurley Bandstand as part of the Old Capitol Music Series in Corydon, Indiana on Friday, August 13, starting at 7 p.m. Admission is free. Bring a lawn chair or blanket and your own beverages and you will be assured of a great evening of entertainment.
Traditional Music in Dublin
If you travel to the auld sod this summer and find yourself in Dublin, check out the live music scene at these venues: Abbey Tavern, Barry Fitzgerald's, Bad Bobs, The Baggot Inn, Brazenhead Pub, Castle Inn, Central Hotel, Clifton Court Hotel, Duffy's Bar & Lounge, Harcourt Hotel, Johnny Fox's Pub, Keatings Pub, Kitty O'Shea's, Mother Red Caps Tavern, The Norseman, Oliver St. John Gogarty, O'Neils, O'Sheas Merchant Pub, Paddy Flaherty's Pub and the Temple Bar Tavern. The start times and days vary so you are well advised to call for the particulars. If you go be sure to give Rock a report via the LMN. Slan!