Cowboy Corner
State Fair Goes Country Again
The sun's a scorcher, the temperatures are sweltering, and it's about time for the kids to go back to school, meaning only one thing: it's time for the Kentucky State Fair, which will run from Aug. 19-29. And lucky for country fans, this year's fair will once again be packed full of country music concerts. Kentucky State Fair veterans Brooks & Dunn will open the fair on Thurs., Aug. 19 along with Trace Adkins and newcomer Brad Paisley. The red-hot Reba McEntire will also return to the fair this year after sitting the fair out for a year or two, as she will perform on Sat., Aug. 21. Opening for Reba will be comedian Dick Hardwick. Clay Walker and Deana Carter will roll into Cardinal Stadium for a double-whammy show on Fri., Aug. 27. And closing the fair this year will be traditionalist Randy Travis along with Terri Clark on Sun., Aug. 29. Tickets for all of these shows are $20.00 (in addition to parking and gate admission), with the exception of the Clay Walker/Deana Carter show, which is $18.50.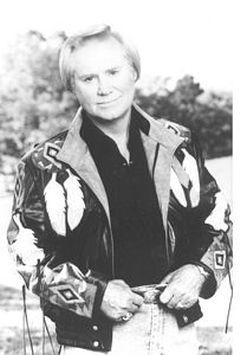 George Jones will sing at Cardinal Stadium on August 26.
If your wallet can handle FREE a little better, then never fear as you are also in luck. The Oak Ridge Boys will make their annual appearance at the fair on Sun., Aug. 22, a tradition the quartet has held for around 20 years now. On Tues., Aug. 24, Flatwoods, Ky.'s own Billy Ray Cyrus will be joined by the hottest new country duo from the Lexington, Ky. area, Montgomery Gentry. And to round out the list of free shows, the "King of Country Music," none other than George Jones will hit the stage in Cardinal Stadium on Thurs., Aug. 26.
Thanks to the fine folks on the fair board, as well as our friends at Triangle Talent for putting together yet another A-list of country concerts for this year's fair.
Billy Ray Cyrus a "Busy Man"
While we're on the subject of Ky.'s own Billy Ray Cyrus, he truly is a "Busy Man" these days as his song says. Recently, Billy Ray took time out of his busy touring schedule to appear in the upcoming movie "Radical Jack," which he will also supply music for. Back on the concert trail, Billy Ray recently broke the attendance record at a recent concert at Six Flags Great Adventure & Wild Fair in New Jersey. The Beach Boys held the previous record with an attendance of 10,000 fans, but Billy Ray blew this group out of the water with 13,000 fans. Amidst all of these projects, Billy Ray and Mercury Records recently announced that they will part ways after nearly 10 years. Commenting on his departure, Billy Ray recently said, "Pursuing a dream is like anything in life. There is a road that each of us must follow and staying true to the path is sometimes the most difficult part. Like every road, there are turns and stops that must be made in order to reach the ultimate destination. I have inevitably reached the crossroad in my career, but fortunately it is one filled with unlimited opportunities. In so doing, I wish only the best for Luke Lewis and the entire Mercury Nashville staff." (Note: Luke Lewis is the president of Mercury Records)
And if all of this weren't enough to keep a man busy, it was recently announced that Billy Ray and his wife Tish will be parents once again next Feb. Congratulations to the happy couple! Be sure to mark your calendars now because you won't want to miss Billy Ray's free concert, along with the hot new duo Montgomery Gentry, Aug. 24 at the Kentucky State Fair.
Farm Aid '99
Farm Aid president and co-founder Willie Nelson recently announced details for Farm Aid '99, a charity concert to benefit and help save the family farm. This all-day concert will be held Sept. 12 at the Nissan Pavilion in Bristow, Va. near Washington, D.C. Joining Willie will be fellow co-founders John Mellencamp and Neil Young, as well as the Dave Matthews Band, Steve Earle, the Mavericks, Sawyer Brown, Susan Tedeschi and Trisha Yearwood. If you are interested in attending this benefit show, tickets can be purchased by calling (800) 551-SEAT. If you are not up for quite so long of a road trip, never fear as Country Music Television will be broadcasting the event live, along with information on how you can do your part to help the family farmers.
Vince Gill Golfs for Charity
Country crooner Vince Gill will be taking to the golf course again this month for charity. Vince will host his annual pro-celebrity charity golf tournament call The Vinny Aug. 2 and 3. This event will be held at the Golf Club of Tennessee in Kingston Springs, Tenn. Celebrities confirmed to participate in this event include the likes of Brooks & Dunn's Kix Brooks, Cledus T. Judd, George "Goober" Lindsey, Diamond Rio's Marty Roe, Larry Stewart, Mark Wills and Chely Wright.
If you are interested in being a spectator at this event, you can purchase tickets by calling (615) 790-7755.
Country Well Represented on Women of Rock & Roll List
When the pop/rock cable video channel VH-1 recently generated its very own list of the 100 Greatest Women of Rock & Roll, five of the most respected women in country music appeared on the list. The late, great Patsy Cline topped the list of country gals at a whopping #11, followed by country-folk singer Emmylou Harris at #22. The "Honky Tonk Angels" rounded out the list of country girls: international superstar Dolly Parton landed at #34, Butcher Hollow, Ky.'s "Coal Miner's Daughter" Loretta Lynn held onto the #65 spot and the late "First Lady of Country Music," Tammy Wynette ranked #73.
Congratulations to these fine country ladies.
Charley Pride's Star Shines Bright
Charley Pride has plenty reason to shine these days as he was recently honored with the 2,140th star on the Hollywood Walk of Fame in Hollywood, Cal Ever so humble of this great honor, Charley is very deserving as he has topped the country charts 36 times with hits such as "Is Anybody Goin' To San Antone" and "Kiss An Angel Good Morning," and he has sold millions of albums throughout his career.
And while we're talking about famous sidewalks, Henry Paul, Van Stephenson and Dave Robbins of the trio BlackHawk recently left their mark at the Music Valley Wax Museum of the Stars as they were inducted into the Sidewalk of Stars.
Congratulations, Charley and BlackHawk! Keep up the good work.
Country Music's Family Tradition
There has been a definite baby boom in country music in the past few months. Country outlaw Travis Tritt and his wife Theresa recently welcomed their second child, a boy, into the world. Tristan James Tritt weighed in at 7 lbs. and measured 19 in. Tanya Tucker and her fiancé, songwriter Jerry Laseter, recently welcomed Tanya's third child, daughter Layla LaCosta Laseter, on June 25. Layla measured 19 ½ in. and tipped the scales at 7 lbs. Ricochet's Junior Bryant and his wife Trish were recently blessed with an 8 lb., 5 oz boy named Colton Reid. In addition, as was reported above, Billy Ray and Tish Cyrus will be parents once again come the new millennium. Congratulations to these parents and parents-to-be.
On a much sadder note, the divorce between Ashland, Ky. native Wynonna and Arch Kelley III has now been finalized. Wynonna reportedly was granted primary custody of son Elijah and daughter Grace but will not receive child support, as Arch is currently unemployed. She also must reportedly pay Arch $250,000 in the settlement.
Now, back to a higher note, Brent Warren, half of the new country duo The Warren Brothers, will be saying, "I do" this month as he recently became engaged to his longtime girlfriend, Raquel Gillette. Congratulations to the happy couple!
Country Health Update
There have been some very serious health conditions in the country music community lately, but fortunately it seems as if things are looking up. Grand Ole Opry member Charlie Louvin is at home recovering following recent surgery to remove one of his kidneys. Charlie hopes to return to the Opry stage real soon. Country parodist Cledus T. Judd is currently recovering from recent emergency gall bladder surgery. Cledus was rushed to the hospital in Roanoke, Va. while he was there scheduled to perform a show. And fortunately for Ray Stevens, doctors have reported that the country funny-man is cancer-free following recent prostate surgery in Baltimore, Md. Ray plans to return to the stage on Sept. 15 at Nashville's Acuff Theatre on the grounds of the former Opryland.
Best wishes to Charlie, Cledus, and Ray! We hope you continue to improve.
Well, that's it for this month. I hope to see you out at the fair concerts. Always remember: "Keep your boots shined up and your hat on straight, `cause country music is comin' your way."