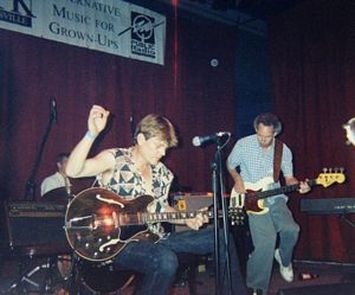 Bodeco
Dylan for Dollars
By Cheryl Chastain
There was something about the "Dylan For Dollars" benefit at Headliners Music Hall that brought out a crowd the likes of which is seen all too rarely these days in Louisville. Maybe it was the fact that it was a benefit for the Public Radio Partnership, mobilizing WFPK's enormous listenership to come out and support the station. Maybe it was the irresistible draw of an entire day of the Bob's music.
Maybe it was the promise of seeing fifty of the area's finest bands for a measly ten-dollar cover. Maybe it was some combination of the three. Whatever it was, it drew at least four hundred people out to Headliners on July 18th to hear an amazing nine hours of music. Each of fifty local artists covered one Dylan song each, playing ten minutes apart.
Perhaps the most impressive thing about the event was that it ran entirely on schedule. WFPK's Dan Reed, who put the event together, had done three such benefits previously, and the evening went off without a hitch. Mom's Music had provided the equipment, so the bands simply walked on stage, plugged in their instruments, and played. The danger was, if anything, of running `ahead' of schedule; master of ceremonies C. D. Kaplan (of LEO fame) often ended up stalling at the mic to take up the rest of the ten minutes. Other than Reed and Kaplan, noteworthy attendees included WFPK's Leslie Stewart, WDRB's Dick Irby, LMN's own Paul Moffett - who self-deprecatingly but sweetly performed "One Too Many Mornings" - and LEO / LMN stalwart Kevin Gibson, as well as his boss, LEO editor Cary Stemle. In short, Schmooz City for musicians.
Song choices ranged from archetypal familiar to obscure, and the takes on Bob's originals varied from faithful to almost unrecognizable. Essentially, each of the bands adapted Dylan's words and music to their own trademark style. Teenage folk-rockers Cloverleaf kicked off the event with a melodic but folksy cover of "Ballad of a Thin Man," muting the song's bitterness with a banjo and jaw harp. Five minutes later, punkers Leech 803 ripped through a blistering "Blowin' In the Wind." This was a stunning treat for those who had arrived early enough to catch it. Lead singer Gordon Graham effectively released the pent-up anger that stewed beneath the surface of Dylan's original, screaming at the right moments and lapsing into a resigned rasp for the tag line.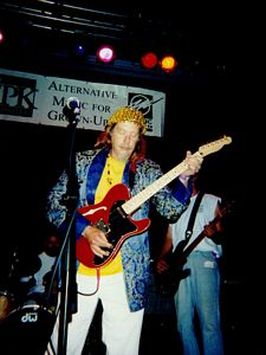 Steve Ferguson
There was a previously unannounced appearance by the Rumors, who made the suitable but obvious choice of "My Back Pages," an excellent performance, but nearly identical to the Byrds' cover thereof. There was, unfortunately, a relative dearth of female singers (eight, by my count). Most of these went for the ballad route. Candy Says performed a sweet "Don't Think Twice, It's All Right," while the LEO's Liz Shaw played a hopeful acoustic "Meet Me In the Morning." Kathleen Hoye served up "One More Cup of Coffee" cool but smoldering, with a suitable shot of loneliness.
What Sue O'Neill and the Blueshounds' smoothed-out cover of "Positively 4th Street" lost in acerbity, it made up in sophistication. The formidable Tanita Gaines and the Accused performed a soulful "Threw It All Away." Far and away the standout moment of the evening, though, was a rollicking rendition of "Buckets of Rain" by underexposed Louisville talent Heidi Howe, who's blessed with a country charisma and a voice big enough to fill a stadium. Another highlight was 100 Acre Wood's "Shelter From the Storm." Lead singer Paul Moeller is one of the area's biggest Dylan devotees, and it showed not only in the extraordinarily appropriate song choice but also in the sheer joy of the band's performance. The blending of Dylan's sentiment with 100 Acre Wood's distinctive but indescribable pop-rock sound was seamless.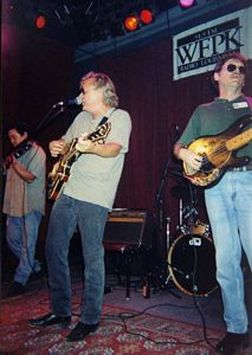 Tim Krekel
Unconventional performances included the Dick Sisto Quartet's jazz take on "The Times They Are A-Changing" and Splatch's "Can't Wait." L'Woo did a largely improvised "Cold Irons Bound." Aside from being one of the few choices of a recent Dylan song, this was interesting for its smorgasbord of musicians from other bands, notably 100 Acre Wood drummer Mark Book. Dharmachine's interpretation of Dylan's poem about Woody Guthrie, complete with dancer, marked the outside edge of performances.
On the name-recognition front, we were graced with two performances from Paul K., one as acoustic solo ("Dirge"), and one as Paul K. and the Prayers ("Isis"). Soul Inc. brought back their original vocalist Jimmy Orton for "Subterranean Homesick Blues." Tim Krekel and the Groovebillies had much of the audience dancing to "Like A Rolling Stone," and Edenstreet played an inevitably loud and bluesy "Gotta Serve Somebody."
The one-of-a-kind Bodeco was, wisely, saved for last. Ricky Feather tore through "Maggie's Farm," then launched into other favorite covers. As I left, C.D. Kaplan was rechristening the evening "Bodeco For Bucks" and a crowd of young Bodeco fans was quickly whipping itself into a frenzy.