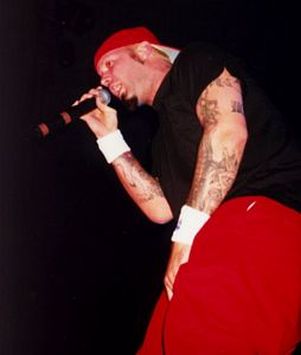 Fred Durst -
Limp Bizkit at Louisville Gardens:
By Jason Koerner
Once stuck in the shadow of Korn, Limp Bizkit has made quite a name for themselves as of late. Recent radio play of the cover version of George Michael's' "Faith" acted as an introductory piece to the band's style of hard-hitting "hip-hip-rock." Now promoting their new CD, Significant Other, Bizkit filled the Gardens without a problem and has proved to the non-believers that their success stems from more than their association with Korn (who signed Limp Bizkit to their label). This concert had an impact that smashed the ideas of anyone that thought for a second that Limp Bizkit was going to be a "one hit wonder."
However, in the midst of such different opinions about the band, I am confused as to how I really felt about this show. On the way there, I couldn't have been more pumped up. Combat boots, cut-off V-neck T-shirt, "Three Dollar Bill, Y'All" playing in my CD player . . . it couldn't have been better. But I have to admit that I was more impressed with the hype than the show.
It seems that there is more truth between the lines of the hit "Nookie" than meets the eye. From the specialized "Girls Only" backstage passes handed out at the show, to the repeated come-ons to the entire female population of Louisville that night, the only logical thing one could believe was that the band was more interested in the "rock-star" image and the "fringe" benefits that come with it, than their music and entertainment value. Or maybe it was simply a lack of material. I dunno. I just know that as a male member of the audience, I felt pretty damn worthless, as well as compelled to say something to my girlfriend like "I am sorry I brought you to such a sexist concert." I guess Fred Durst really does do everything for the 'nookie,' even his concerts.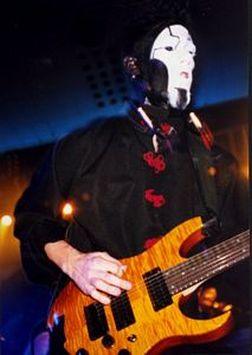 Limp Bizkit guitarist - Photo By Jason Koerner
Aside from the slander of those of the opposite sex, there was some very impressive work. A special blend of rapping, screaming and singing creates an interesting vocal style, c/o Fred. "Counterfeit,""Faith" and "Stuck" were my favorites for the night. For the most part, every tune that was played sounded good. The music was not the low point of the performance, rather, it was the lapses between good songs that made me unhappy. The mosh pit was huge, the crowd response was there and the venue was sold out. But there was just something missing from my experience as a male.
And now onto Staind. I was very impressed with the power of the vocals of Aaron Lewis, as they seemed more gruesome in person than their radio exposure. The guitar riffs were not that complicated, but the band plays well together and works to achieve fullness in their sound. The changes were good in their song structure, and they carried heavy intensity throughout their set. That made a big difference in the attitude of the crowd. Staind has only been viewed as a force to be reckoned with in the past few months, but Louisville must be taking to them quite well (in the month of July, anyway), because by the time this review will be in print, Staind will have already performed again at the LRS Fest '99 with other national acts such as Orgy, Fuel and a host of others, and for $1.02, I might add. Intensity, intensity, intensity...
It was nice to see a heavy band that I was not very familiar with at a big venue for a change. Sometimes the talents of some local heavies get lost in a bad sound check. Staind obviously had the right sound at the Gardens. Look for this band to really take off on the charts soon.
Simon Says kicked off the show with their energetic style of rock. The band was similar to many of the bands that have been trying so adamantly to blend rap and rock . . . well, I guess that's my main point of focus about the band. They were good, but nothing cutting-edge, in my book. I didn't get to see their more intimate show at the Toy Tiger with Loudmouth and Flaw, but I probably would be more impressed in a smaller club where I was forced to pay more attention to detail.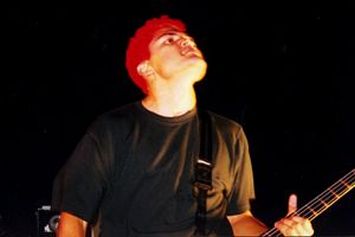 Simon Says bassist - Photo By Jason Koerner
I'm glad I went to the show, but Staind is probably the only band that I would pay money to see again.