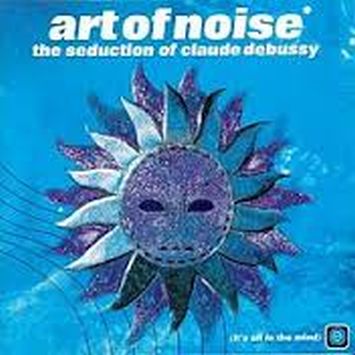 A Metaphorical Voyage Through Genius
The Seduction of Claude Debussy
Art of Noise (ZTT/Universal)
By Tim Roberts
Imagine a large room. A summer rain ticks against the windows. Soft piano music floats from somewhere. Before you on a marble table is a vase holding a dense bouquet of flowers, all in varying shades of blue and purple. You lean your head into it and draw its aroma deep into your chest. Your thoughts become thick as if wrapped in dark silk. You raise your head. The music, the rain, the fragrance from the bouquet all enfold you. As Charles Beaudelaire described it in his poem "Harmonie du Soir,"". . .sound and perfume swirl in the evening air."
Transform that heady experience into sound and it becomes The Seduction of Claude Debussy, the first recording in nine years from the British band Art of Noise. Containing founding members Trevor Horn, Anne Dudley and Paul Morley together for the first time since 1985, Seduction gets help from guitarist Lol Crème (known for work with 10cc and Godley & Crème), grainy voiced British actor John Hurt, vocalists Sally Bradshaw and Donna Lewis and rapper Rakim. They carry us through a stress-busting trip via a sensuous collage of sounds, styles and words filtered through the moody works of Claude Debussy.
Referred to in the recording as "the revolutionary who sent Twentieth Century music on its way," Debussy disdained convention, legacy, religion. He was born on a late summer Sunday in 1862 and died in Paris in 1918 while it was being pounded by rain and bombardment from German artillery. We get a similar contrast with several selections on Seduction: soft, tonal pieces filled with strings, gentle pianos interpolating sections of Debussy's music, dance rhythms, operatic vocals, and startling techno-funk with Rakim's machine-gun rap delivery. We also get Art of Noise's disdain for the conventional recycling of Debussy-esque ambient sounds common in most of the Windham Hill catalog. The underflowing piano in "Il Pleure," for example, plays in a major chord for a few bars before it descends down a chromatic scale, sounding as if the playback speed is suddenly slowed. Tricks like that keep the entire recording in its dreamy atmosphere.
What specifically is the seduction of Claude Debussy? The clues revealed in each selection are vague, more metaphoric that specific. It could be the seduction of finding a template or form for expression. That way, different expressions could be relived in the same way, like forcing all dreams to have a distinct beginning, middle and end, as tidy as a family sitcom. Some music works well that way. Others refuse those limits. The Seduction of Claude Debussy is Art of Noise's refutation of templates. By basing it on the metaphor of the composer's life and works (all that he created and refuted), Art of Noise has provided a luscious recording full of the colors and capabilities of all unbound expression, where, as described by Beaudelaire, you can "gather the wondrous fruits that your heart desires; come and be lost in the strange sweetness of this afternoon that has no end."