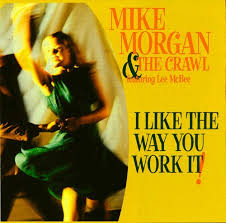 Mike Morgan And the Crawl - I Like The Way You Work It!
I Like the Way You Work It! (Black Top Records)
Mike Morgan & The Crawl
Fortunate am I to have a blues-loving brother in Texas. For a few years now, he's been sending me tapes and CDs of that area's best and brightest, and among them was the scorching work of Mike Morgan & the Crawl, featuring the distinctive blues harp and soul-man vocals of Lee McBee. The Crawl creates a sound that's real, raw, honest and all the way live - rockin' roadhouse blues with a hardball shot of Memphis soul and electric Chicago mojo.
Guitarist Mike Morgan doesn't wank about with flurries of overdriven notes - he's frugal, tasteful, and tone-oriented, the way a true bluesman should be. Likewise, McBee can drive the rhythm with his harp, or he can lay back and create atmosphere - either way it's good. Backed by a super-tight rhythm section and augmented by Riley Osbourne's piano and organ, Morgan and McBee make the blues a joy.
I Like the Way You Work It! does a much better job of capturing the band's dynamite live sound than last year's effort, The Road. Standout cuts include "Face Down in the Dirt" (check that greasy rhythm guitar!), "What Do That Mean?" and the intensely emotional "I Wanna Know" (featuring a heart-wrenching lead vocal by McBee). Mike Morgan shows his stylistic diversity on three instrumentals: "Flyin' High" and "Martinis For Two" are lounge-y Texas swing, while "Chasin' Casey" has more of a rockabilly spin. Thirteen tunes in all, this is a definite blues party platter that'll keep the house rockin' 'til the cops come knockin. You'll like the way they work it!
Mike Morgan & the Crawl are scheduled to play at Stevie Ray's on Wednesday, August 4.