Bluegrass Beat
There's much to put under the tree this time. Got to go back to October layaways and review things that happened then and since - things like the IBMA in Louisville that I haven't had a chance to tell about, and that I hope you had an excellent Thanksgiving Day and that you did give thanks.
IBMA World of Bluegrass '99
IBMA was a real deal for me this year. I spent a lot of my time visiting with friends, meeting new friends and renewing contacts from previous years. For example, I met a young man, Chris Negvesky. Chris is the producer, or one of the producers, of those great Country Reunion, Grass Roots to Bluegrass, Family Reunion Gospel, etc. video sets that feature so many of the Stars. The real stars who made the music and made it the enduring treasure that we can all go back to with our thoughts, LPs, 45s, CDs, maybe even 78s. Now, through the magic of these wonderful video sets, we can see and hear the stories and songs directly from those who were there and actually lived it as performers.
The stories are fascinating, and the music is great to hear again from those who made it and are doing it again just for you, the viewer of the video. I write from first-hand experience as I have obtained the Grass Roots to Bluegrass set. As of this writing, I have watched the first four volumes plus the first bonus tape. Such a good time, such a time of reminiscing with friends, and treasured stories of the beginnings. John Hartford made the comment to Sonny Osborne, "This is the way television should be done."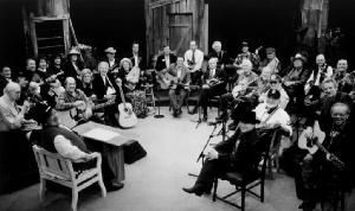 Grass Roots To Bluegass
I will be doing additional volumes in coming issues, but for now this is a Christmas shopper's answer to that present that will fit, is multiple-use and will provide enjoyment for the special friend, relative and bluegrass fan. For information concerning ordering, contact: Christopher Negvesky, Grass Roots to Bluegrass, 125 Belle Forest Circle, Suite 101, Nashville, TN 37221. E-mail to: cpnegvesky@aol.com. I might add that my orders arrived in really fast turnaround time. Ten days or less. Maybe I was lucky; however, I prefer to think it is the excellent service they offer.
Another item concerning the IBMA shows for this year has to do with one of the "side stage" shows. These are shows in the room with the exhibitors. Some are workshops; some are shows of various other titles. One show that left everybody talking and applauding (Grand Ole Opry bigwigs take notice) was a show called "The Old Time Radio Variety Show." I think I have the title correct, at least very close. Comments ranged from "best show here" to "the best show I ever saw in my life" and up. It was rather obviously a representation of the Grand Ole Opry and I do mean GRAND OLE Opry and not the downhill show that is being presented today. The participants in this show were not impersonating the various acts, but rather representing them.
One gentleman in particular, who represented Oswald singing, became a real sensation. Strong, very much sound-alike, just "blew everyone away." Duets were well represented by the Case Bros., Martin and Gibson. Leroy Troy was among the performers. You should have seen Leroy in his Stringbean outfit. Everett Lilly was on hand and was received very warmly. Doc Wilhite did an excellent representation of Uncle Dave Macon.
By all accounts, this show should have been done on the main stage. Audience reaction, follow-up feedback not only that I heard, but to IBMA, leaves no denying this hit the heart of the fans. Isn't that what this is all about? Again, Grand Ole Opry folks, take note.
While I am on this subject, I remember 4-5 years ago or so, Leroy Troy walked out on the stage at Owensboro on a Saturday afternoon, all by himself, and stole the whole day, if not the whole weekend. I asked Leroy if they wouldn't let him be on the show after he stole the day. He replied, "I haven't been on the show since then." Leroy Troy can't be on the show, but John Cowan, drums, etc. and all can! Enough, enough, "you're really asking for it Louie."
Opry on Death Row?
Is the Opry on death row? A recent item in The Tennessean, a Nashville newspaper, by staff writer Jay Orr, concerns the new Opry manager, Pete Fisher. According to this article, Fisher is "charged" with reinvigorating the Grand Ole Opry. It seems this reinvigorating translates to firing - the article put it "dismissing" - five members of the staff band. Five of Nashville's top musicians with the experience and the ability to back any act that would require the services of the staff band. Among those to go: Leon Rhodes, Buddy Harman, Joe Edwards, Ralph Davis and drummer Jerry Ray Johnston. Three new musicians will be hired to replace these folks who have worked with some of the real Stars of The Grand Ole Opry. As I understand it, auditions will not be held; the replacements have probably been pre-picked.
Joe Edwards was with Martha Carson and came to the Opry with her; Leon Rhodes, a Texas Troubadour; and "Harman, who has played on 15,000 recording sessions, according to one estimate." Fisher was quoted as saying the restructure was to "improve and achieve efficiency, upgrade the quality to provide the best service we can." Yeah, upgrade to more "crock" music.
Vince Gill says his problem is "the so-called big stars of today that don't support the Grand Ole Opry." Well, there's a lot more there and a lot more that could be said. Apparently some of the names are showing a protest. I haven't heard it yet, but there is a song out called "Murder On Music Row." I hope to have it by the time you read this, and will play it when I get it. That, of course, will be on Sunday Bluegrass, WFPK, 91.9 FM, Sunday, 8-11 p.m. This seems to smack of age discrimination in the workplace. What do you think? If it wasn't for what they seem to be trying to get rid of, there wouldn't be anyone there to get rid of it. Work through that one.
Kruger Brothers
The Kruger Brothers are fast developing a huge fan following here in the states. They did it again at IBMA with roaring approval. We've mentioned this before but it bears repeating. Everything they play is not hard bluegrass, but those who appreciate the music, talent, and ability, not to mention the attitude and friendliness of these wonderful musicians from Switzerland, are totally impressed and receptive. Their venture on the Spirit of Jefferson was a success; just ask the folks who attended. An interesting aspect of that cruise was that more than half of the folks who attended were from the community and not from IBMA folks.
The Krugers have a new 3-CD set with which they made me feel very special. I had the distinct privilege of being the first to air cuts from it - the first anywhere, any time. THANKS, guys. They have promised to be on my show anytime they are here and I very much look forward to that. They were gracious enough to allow my friend Harold Clark to do a couple of numbers with them on my show. In Harold's words, "They are the best band I have ever had backing me." I don't know how many longtime bluegrass fans have said to me with sincere conviction that Jens Kruger is the best banjo player they have ever heard in their life. I have heard that many times. It is not meant to say any less for all of the great banjo players we all know, have heard and grown up with; it is simply to say more for Jens.
The new CD set from Double Time Records is called Carolina Scrapbook. It was recorded in North Carolina with many guests from the area. Michael Cleveland is on a couple or so. I was excited to see the name Clint Howard and find he had recorded some songs with them. Some of the others are Si Kahn, Maynard Holbrook, and Tut Taylor, to name a few. The third in the set is called Scraps, sort of a collection of everybody just playing around at times. All are worth a listen. A few of the numbers are, "Kissimmee Kid" (which features Michael), "If I had A Sweetheart,""Old Coon Dog Will You Be Loving Another Man,"" Devil To Pay,""Molly, Keep My Skillet Good And Greasy," and "Little Maggie," just to name a few. If you can't find this locally, contact Double Time Music, Inc., 579 Armory Road, North Wilkesboro, N.C. 28659. It will sure look and sound good Christmas a.m. and anytime.
Bluegrass Calendar
• Music Ranch USA at West Point enjoyed overflowing success with their show Once Again, Patsy, Legacy of Patsy Cline. On Dec. 4 they are working on continuing the legacy series, this time honoring George Jones. Plans now are for Once Again Marty, (Marty Robbins) on Jan. 8. Of course, the regular Saturday night shows will continue as usual. Music Ranch will be closed Christmas Day and New Year's Day.
• At Shepherdsville on Dec.3, Doyle Lawson; on the 10th, J.D. Crowe; Dec 17, to finish the year, Bluegrass 101. Starting the next century right, on Jan 7, Dr. Ralph Stanley and Tommy Brown.
• Cedarcrest Lodging and Entertainment Campground at Campbellsville will have the Bluegrass Strangers on Dec. 3, The Stevens Sisters on the 11th, and a New Year's Bash with Dayle Eskridge & Changing Times on the 30th.
Thank You and Happy Holidays
I guess I'd better let up for this time. Again, I appreciate all of the support I have had from all of you, the readers, those who listen to Sunday Bluegrass, those who visit with me at the various shows and have for all of these past years.
Oh, by the way, did you get the question this time or did you miss something? Well, actually you didn't, I didn't have one for you this time. Just wanted to see if you are paying attention.
A sincere wish from The Country Gentleman to you for a very special and meaningful Christmas season. Most importantly, the true meaning and reason we have and celebrate this most special time. Peace and good will to each as we all start anew, not only in a new year but a time that we experience only once in a lifetime - a new century. Make it better for all.