I've Got A Mind To Ramble
Meet James Watkins
Have you ever noticed how most bass players in a blues band stand stoically on the right side of the bandstand with their feet planted firmly on the stage? While there are exceptions, like our own Jimmy Brown, who, when he's performing with Bodeco or with Duke Robillard, is constantly in motion, as though he had the proverbial ants in his pants, most keep a steady beat without showing much emotion. Louisville veteran James Watkins is one who belongs in the stoic school. After several attempts to meet for an interview, we finally got together as his pad at the Flaget Apartments.
Born in Crestwood, KY on June 10, 1943, Watkins attended Pewee Valley grade school, then Lincoln Ridge in Simpsonville, when Whitney Young was the principal. He first started making music with his cousins, using homemade guitars and pie pans. While in his late teens, Watkins sat in with Junior Wells at Drakes Drive-In in Newburg. Wells, a musician from Berrytown, was noted for propping his guitar on his big belly and picking it with his thumb.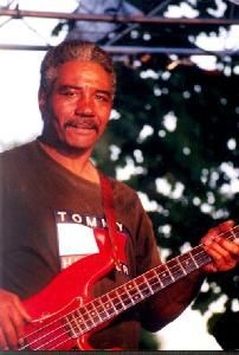 James Watkins
During the late '50s and early ' 60s, Watkins played bass at Billy Lymp's Rosedale Park on Highway 60 in Middletown. The band included Delbert Williams (Little Del) and Eggie Porter on guitars, plus Larry Branson on drums. The group also gigged at the Hilltop Inn off Watterson Trail near J-town. These were old-fashioned country blues joints where people came to have fun and eat good food.
Watkins moved into Louisville in the mid-'60s and started playing at the Cotton Club on 15th St, where they had a Battle of the Bands contest each Saturday from 2 to 6 p.m. The Grand Opry at 29th and Grand was another black club, which was like a big barn and could hold several hundred people. The place later became Mr. Dee's Inferno, emphasizing more jazz. At that time, Watkins was playing with the Terrell Raiders, a group from Philadelphia that settled in Louisville for a while. They needed bass and guitar, so James and D. D. Taylor joined them until Taylor went with the Ambassadors, a band from Dayton, Ohio. That's when Watkins started the Moonlighters, an R&B group.
The Moonlights moved to Indianapolis in 1965 and remained until 1970, playing at the Blue Eagle Lounge on Indiana Avenue, the main nightclub strip. One evening, Wes Montgomery heard Watkins and asked him to join his jazz combo. Watkins played with Wes around the Indy area at local clubs. He also did some spirituals with the Nashville-based Echoes of Harmony and cut a couple of songs with them on a small Indy label.
During the Moonlighters period, Watkins went out on the road with other R&B groups like Little Johnny Taylor, the Chilites, the Intruders and Loyd Price. Once he was traveling in an old Greyhound tour bus with Soloman Burke, on they way from Norfolk to Little Rock when the bus started acting up. Burke, who was a believer in Louisiana voodoo, got in the back of the bus with his jar of clover leaves and seed and began chanting "Gonna make it down." Sure enough, the bus made it to Little Rock but stopped dead when they arrived and had to be junked.
When Watkins returned to Louisville in the early '70s, he started another band, The Nightlighters. They connected with Bell Enterprises and were on a lot of shows with Motown groups like the Four Tops, the Temptations and Martha and the Vandellas. Lee Haycraft was the guitarist with the Nightlighters and "he was one of the best guitarists in Louisville but he won't play no more," Watkins said.
During the late '70s, Watkins got in with the Soul Men. This was a big horn band fronted by vocalist Joe Wells and guitarist Jimmy Gorin. They traveled all over Kentucky and the Mid-West until Gorin joined Earth, Wind & Fire. In the '80s, Watkins got out of music and worked with the State Highway Department for ten years, until he injured his back and retired.
Around 1996, he got with Fred Murphy, Pen Bogert and Sonny Sitgraves and formed the 10th Street Blues Band. They played at the now-defunct Red Devils Motorcycle Club at 10th & Dumesnil. Watkins also did a short stint with the Bloodshot Blues Band at Zena's.
Other musicians have referred to Watkins as one of the masters of the walking bass, with his uptemp shuffle. He now plays a red 1972 Fender Precision through an Ampex amp and is trying to get back to being a full-time musician, noting "I've been playing bass for so long, it just comes natural."