A Musical of Hope In Need of a Stage
The Funeral of Mr. Disappointment (MoonRover Records)
Moon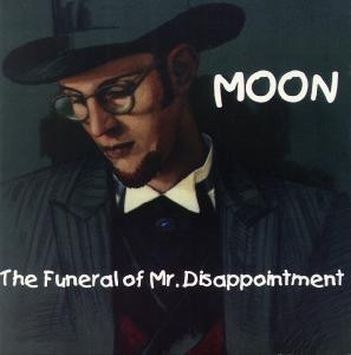 Moon - The Funeral Of Mr. Disappointment
Twenty years ago Rupert Holmes annoyed the airwaves with the cloying "Escape (The Pina Colada Song)," followed too closely by "Him,""Morning Man" and "Answering Machine" (containing "So I went out to buy some dog food for the cat," in a straw-grasping attempt to rhyme the next line). They were intended to be nothing more than romantic rock ballads, which didn't prevent the critical battering he took. Still, Holmes had an ear for working up catchy melodies that spin in your brain in the Tin Pan Alley tradition of clever songwriting like Frank Loeser (Guys and Dolls) or Meredith Wilsson (The Music Man). That was a skill he brought into his musical adaptation of Charles Dickens's unfinished novel The Mystery of Edwin Drood, which earned him truckloads of praise and a Tony® award.
The songs in The Funeral of Mr. Disappointment from local songwriter Moon are similar to the ones from Holmes in that they are more full of hooks than a tackle box. Unlike Holmes, however, Moon doesn't fixate on romances (soured or otherwise) or coerce his rhymes. These are sublimely positive songs of change, faith - in the self and in others - and the unburdening of the spirit. The songs are so thematically linked that, taken together, they seem to be from a soundtrack to a musical that needs to find a stage. All that's missing is a story to interweave among them.
In this stageless production, the curtain rises on a cover of Jimi Hendrix's "Crosstown Traffic." This version is neither tight nor slick. Instead, it has the playful spontaneity of an informal jam session among friends. There's a sudden segue to "Something's Always Happening to Me" and its piano-slamming intro. Then comes "For You" and its angelic vocal harmonies (arranged by Moon and performed by Rebekah Bortz and Lisa Smith) that could dissolve coal to make diamonds. Tears will well up in your eyes when you hear them. The first act closes with the title cut that has the feel of a spiritual loaded with words of encouragement.
Act two begins with "Happy (The Dog)," Moon's tribute to all the canine friends he's loved. Next comes "Atlas (Lift Up Your Heavy World)." Described as a mini rock opera, this particular selection has the Greek gods working menial jobs to pay the bills: Mercury drives for UPS, Zeus changes light bulbs at the stadium. It speaks of the greatness each person contains, but how we must work to achieve it, even if it means delivering packages or handling light bulbs all day. It and "Love on a Globe" are the most operatic and stagey of the selections, and the instrumentation and vocals seem to overpower somewhat. The final track, "Away We Go," is a humorous study of mortality and includes the line "These cars and clothes / Won't impress all the worms below."
Throughout Disappointment Moon gets stellar backup from area musicians Ray Rizzo, Danny Kiely, Eddy Morris, Maurice Hamilton, Kerry Coleman, Mike Morris, Peter Van Howe, Brian Cronin, and others including string and wind quartets.
As a writer and performer, Moon has produced an impressive (yet short), cohesive work of talent and promise. His songs in The Funeral of Mr. Disappointment defy cynicism. They instead point toward an undeniable hope.