'Tis The Season:
A selection of this year's Holiday Music CD's, Plus some Tips on Holiday Music Buying and Gift-Giving
The Christmas and Holiday season is a double-edged sword for many recording artists and for their fans as well. The cynic may opine about albums motivated by sheer profit (Barbra Streisand, for instance, singing carols about the birth of Christ), and yet who wouldn't enjoy hearing their favorite artists render some seasonal selections in their own distinctive tones. In a way, Christmas is the great equalizer, the selection of CD's now encompasses everything from classical, orchestral and operatic, to bluegrass, country and novelty, with even rock acts chiming in, usually to lampoon, rather than edify. Of course, ever since its inception, New Age music has been a big hit during the holidays, as legions of George Winston wannabe's churn out instantly forgettable fluff in their vain attempts to re-paganize the winter solstice. Winnowing out the wheat from the chaff in this category requires either listening posts, or a really trusted recommendation (or crystal! Take your pick!). Lastly, some of the mega-bookstores and other retailers have displays full of bargain CD's selling for under $5 that include both classics and elevator music. At those prices, you won't feel too burned if you get a clunker.
Before launching into the reviews, let me draw your attention to some alternative ideas where holiday music is concerned. Many Internet auction and classifieds companies, including ebay, list hundreds of LPs and CDs. This could help you come up with a really unusual (and surprising) gift for that special guitarist or singer on your list. What fretboard fanatic wouldn't enjoy a Chet Atkins Christmas album? Looking for a rare Dionne Warwick or Patsy Cline holiday recording for someone? Try searching the online auction houses. Maybe the Osmonds Christmas Album would do for a great gag or retro gift! There are so many options (I even saw a 1969 Buffalo Bills Holiday Halftime Christmas Album!) you will certainly get some ideas just by browsing. Best of all, the bids typically start under $5 for older recordings, which lets you spread even more cheer on a shoestring budget.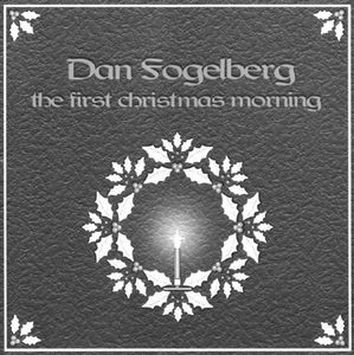 Dan Fogelberg - The First Christmas Morning
New and Ancient Carols of Faith, Meditative and Magical Instrumentals, from the Bard of the Pop Ballad
The First Christmas Morning (Chicago Records, Inc. #MSPCD-8001)
Dan Fogelberg
When rumors began surfacing in the Fogelberg chat rooms last winter that there was a Christmas Album in the works, fan response was predictably positive, the faithful hungry for Dan's first full album of new material since his reunion with Tim Weisberg for 1995's "No Resemblance Whatsoever." (The 1997 boxed set, "Portrait," featured four previously unreleased tracks, and only one new song, "Don't Lose Heart," specifically recorded for the project.) More sober voices cautioned against a "sell-out" Christmas collection, the spectre of incongruity conjuring images of Dan Fogelberg qua Perry Como, complete with sweater and pipe and smarmy retreads of holiday favorites. This reviewer, skeptical that Fogelberg would ever actually produce a Christmas album, secretly hoped for an effort à la Bruce Cockburn's Christmastime. Fogelberg seems to have felt the same way, for with "The First Christmas Morning," he definitely succeeds in his stated hope of "adding to the body of music that has been composed throughout the ages to glorify the Birth of Christ and the Spirit of Christmas." (And thankfully, he does it in jeans and a smoking jacket, with his trademark glass of red wine, no offense directed to Mr. Como!)
With a wink and a nod to the Ghosts of Christmas Albums Past, Fogelberg launches his work with the dreamy "Bell Fantasy/Hark The Herald Angels Sing," the cascading clamor and echoing choir transporting the listener back to the snow-draped London of Dickens' "A Christmas Carol," and even beyond. Before the nostalgic smile fades from your face, however, you want to rise from your seat to "join in the fun of the jigs and reels," as the album proper begins with the delightful "At Christmas Time," a rollicking Nineteenth Century-style number that conjures images of "Old Fezziweg" and company dancing merrily, the men and ladies singing in vintage repetitive couplets. One of seven original songs Fogelberg composed for the album (four of which are instrumentals), "At Christmas Time" pulls out all the stops, with guest instrumentalists Philip and Pam Boulding contributing lively and cheerful penny whistle and hammer dulcimer, while violinist Hugh Marsh (who also guilds Cockburn's "Christmastime") adds his distinctive flavor in response. Fogelberg's lyrics are simple and sincere and invite one to sing along, as do the rich refrains of the Sante Fe Desert Chorale, directed by Jack Manno.
Pausing to "toast the season," and craft a more contemplative mood, Fogelberg offers up the haunting yet sprightly "Winterskol," a guitar instrumental which showcases his prodigious fingerpicking talents. Sustaining the quiet feel, Fogelberg moves to the grand piano for the title track, a thoughtful recapitulation of the pilgrimmage to the manger, wrapped in a beautiful melody that is easily worthy of inclusion in the Christmas Carol Canon.
"This Endris Night" follows, the first of three ancient and nearly forgotten carols that Fogelberg has resurrected, his warm, rich vibrato breathing new life into the medieval lyrics. Philip Boulding reappears on harp, lifting the verses to the heavens. It should be noted that with all these gifted musicians on call, Fogelberg exercises admirable self-restraint as producer. Nothing ever intrudes, nothing ever detracts, but instead all the instruments and percussion contribute naturally, leaving plenty of room. At times like a concert, with Dan, his guitars and grand piano, a small chorale and a diverse ensemble of musicians and percussionists spread across the stage at Whitney Hall.
Picking up the pace again with the Renaissance-flavored guitar étude, "Feast Of Fools," Fogelberg next treats us to a rousing version of "I Saw Three Ships," casts as a traditional 18th century English dance, sounding so authentic as to render himself invisible. The staggered vocal harmonies, and the occasional shout from the musicians makes this sound like a Chieftains number, with Dan serving as guest vocalist.
Fogelberg again lulls the listener with the meditative "Snowfall." His liner notes on this piece modestly refer to Grieg, Tchaikovsky and Mozart "weaving their spells" on him.
Softly embarking on the third "lost carol," Fogelberg delivers one of his most moving performances ever recorded on "In The Bleak Midwinter," an early 20th century piece, music by Gustav Holst ("The Planets" symphony) and lyrics by English poetess Christina Rosetti.
After one last original medieval-style guitar piece, "Yule Dance," Fogelberg lifts his whispery falsetto the classic "What Child Is This?""We Three Kings," even with its beautiful piano intro, a chilling "arabian nights" violin solo by Marsh, and a grand orchestral production, fails to match the heights of "What Child Is This?" though the sin is one of omission. Fogelberg inexplicably leaves out the ominous foreboding of the Cross and the Tomb in the verses about the kings bearing frankincense and myrrh, keying instead only on the power of gold. "O Tannenbaum," which falls inbetween the two carols, serves as a dreamy interlude.
The finalé, "Christ, The King," is Fogelberg's last original contribution to the album. Crafted in an old-style Austrian feel, it is a warming waltz of a song, closing with a beautiful baroque trumpet and a lush choral refrain, the perfect coda to this trip back to the European/English Christmas traditions of yore. Like any great album, you never notice the details, and it is such a joy to listen to, that you never get the feeling that anyone is working very hard at it.
My sister and I always loved Fogelberg's symphonic "Nether Lands," in part because the orchestra sounded so much like the Christmas albums we listened to as children. But Fogelberg's first Christmas song was actually the huge hit, "Same Old Lang Syne." (Listen closely, and you'll hear Tchaikovsky's "1812 Overture" in the piano signature.) Now, nearly twenty years later, this bard of popular music, who has sold over 14 million albums, has released a festive, intimate and inspired Christmas collection, which moves easily from highlight to highlight, capturing the mood and the message of this holy season, and flavored throughout with his profound wealth of musical influences. "Lift your voice, join in the singing ...!"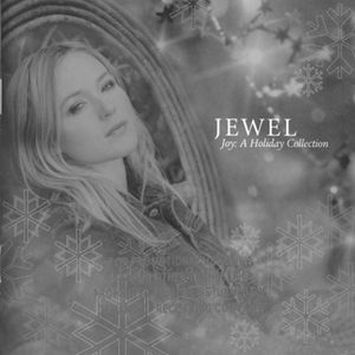 Jewell - Joy: A Holiday Collection
Joy: A Holiday Collection
Jewel
Even to the casual observer, Jewel is virtually ubiquitous: two hit albums, a collection of poetry (plus an audio book of the same), appearances on late night talk shows, concert tours, Lilith Fair, not to mention magazine covers. In fact, her appeal is deemed to be so broad that she is just as likely to be found gracing stodgy Reader's Digest, as well as terminally hip Rolling Stone. So when I read that Jewel was to release a Christmas recording, I was somewhat skeptical. After all, this level of public exposure and prolific output seems to be dictated by marketing concerns and orchestrated by management.
Well, whatever the prime mover behind this album, it is a triumph and a thing of beauty. Very traditional in selection, with only three new songs by Jewel (plus a Christmas version of "Hands"), "Joy" showcases one of the most gifted vocalists around. At the same time, this is no pedantic walk-through of holiday favorites. Jewel reveals even more of her stylistic range than she has done to date, crisscrossing pop music boundaries in an array of performances that, taken together, transcends all the genres she so effortlessly emulates.
Beginning with three classic carols, Jewel and producer Arif Mardin wrap the listener in their holiday blanket of sound. The orchestra and choir provide a seamless tapestry for Jewel's varied interpretations. From the genial folkie-ness of "Joy To The World," to the crystalline purity of tone present in "O Holy Night," to the Nashville leanings of "Silent Night," Jewel reveals great subtlety and sensitivity for the songs themselves.
If she leans towards Nashville in "Silent Night," Jewel dives head first into the country Mecca's realm in "Winter Wonderland," playfully yodeling her scat lines. Later, she and Nedra Carroll join for a similarly delightful a cappella rendition of "Rudolph The Red Nosed Reindeer." Balanced between these light-hearted ditties, we hear that girlish voice of hers we know so well on "O Little Town Of Bethlehem" and "Hark The Herald Angels Sing." But it is her astonishing performance of "Ave Maria" which will make your jaw hit the floor. Jewel's voice soars like some perfect instrument, the flipped "r's" and perfect control in the upper register setting her light years beyond her contemporary pop divas.
"Face of Love," one of Jewel's new compositions, is a thoughtful and prayerful testament of love and faith while "Go Tell It On The Mountain" rocks the rafters, with Jewel belting it out like Mahalia Jackson, before quieting it down for the remainder of this interesting medley. Another new song from Jewel, "Life Uncommon," and "From A Distance," by Julie Gold, are stitched together to present a spiritual call to arms.
As a girl, Jewel was raised in a log cabin in Alaska, and her inclusion of John Jacob Niles' transcription of the Appalachian classic "I Wonder As I Wander" is a natural fit.
"Gloria" is Jewel's third original contribution and is a stylistic recapitulation of "Ave Maria," with traditional Latin praises to God. This is the actual culmination of the album, casting it as one long statement of faith, with the Christmas version of "Hands" following as a spiritual dénouement, the closing lyrics both a poignant plea as well as a declaration of victory.
While the classical leanings and the professions of Christian faith may put off Jewel's hardcore fans, "Joy" is a beautiful Christmas recording by one of the great voices of our time. How she decides to employ that voice, only time will tell.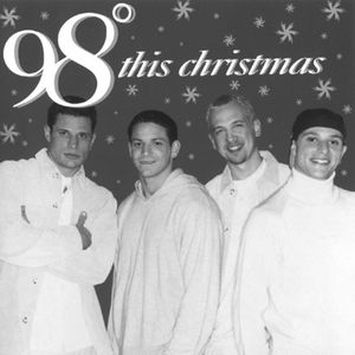 98° - This Christmas
This Christmas (Universal Records)

98 Degrees

By R. Hunt Sidway

(Penned in the meter of "'Twas The Night Before Christmas")

'Twas a month before Christmas and all through the town Teenage girls were listening To these masculine sounds. But my friends thought that I was a few marbles short when they found me reviewing a group of this sort.

"A 'boy band'?" they cried with their derisive chatter, so I opened the jewel case to see what was the matter. Four handsome young men graced the booklet so bright I knew in a moment this was marketed right!

Their smiles are so broad, their dimples so merry, but their lips are too red. (Like they've been eating cherries!) Next, I turned to the credits to glean what I could: These four boys are Christians, which they share as they should.

I had seen them on TV (a result of their fame) where the little girls scream out and call them by name: "Oh Justin!" - "Oh Jeff!""Dear Nick!" and "My Drew!" Their tears running freely like in 1962!

Well, finally the moment of truth had arrived, so I took out the CD, set the jewel case aside, and placing the disc in the boom-box in my room, I crossed all my fingers and cranked up the tunes!

And what to my wondering ears should appear but great songs with tight harmonies, and voices so clear that I knew this was one disc not consigned to the shelf, and I found myself smiling in spite of myself!

Songs a cappella (even "Ave Maria!") and lush orchestrations feed your holiday fever! "This Gift" is a love song just right for the season; Young couples will play it while they're huggin' and squeezin'!

It was time to move on to the next in the stack, but I knew that 'ere long I would be coming back. So, here's one hard-boiled reviewer who admits when he's right: Buy "This Christmas" this Christmas, and you'll play it all night! Two Holiday Collections:
Two Holiday Collections
Midnight Clear, An Eclectic Collection Of Christmas Classics (Forefront Records)
Various Artists
Santa's Clones (Pearl International Records)
Hal Willis
Forefront Records, a Contemporary Christian label, has hit upon a marketing device to promote some of their acts: mix in their label's own contemporary Christmas tunes with an assortment of classic recordings. So, interspersed between holiday faves by Ella Fitzgerald, Bing Crosby, Nat King Cole, Al Green, Lena Horne and others, are a variety of modern renditions, including some recent gems by Russ Taff and Bebe and Cece Winans.
But the songs we're meant to hear really stand out, and give this collection its "Eclectic" status. Eli renders "Silent Night" in an acoustic alternative shade of blue, the great vocal performance set against an easy backdrop of insistent strumming, owing much to REM. This quietly radical number's only musical allusion to the original carol's melody is a gentle synth line, which recapitulates the opening measure of the famous classic.
Rebecca St. James offers up an industrialized version of John Lennon's "Happy Christmas." Perhaps her sincere vocals and the heavy techno-pop production will drive home Lennon's message of a Christmas and New Year without any fear. Very catchy.
"What Child Is This," by Raze, presents a jazzy, electronic dance mix, with flamenco acoustic guitar leads. Eclectic even within itself, Raze delivers fierce, earnest vocal performances not really in keeping with the lyrical intent of the carol. A great recording, nonetheless, and I would be curious to hear more from this group.
Big Tent Revival pitches an original Christian Christmas tune, "What I Want For Christmas." (The answer is Jesus.) A big, rockabilly sound, a la the Brian Setzer Guitar Orchestra, and a fun, swing beat, make this one a show-stopper.
This is a great idea, promoting new artists in this manner, although artist bios and contact information would complete the package, without making it too heavy-handed a pitch.
Speaking of pitching songs, Hal Willis does it up right with his delightful CD of original Christmas songs, "Santa's Clones." All the songs but one are co-written by Willis and his wife Ginger ("Mrs. Santa Claus" is co-written by the Willis team and Irma Young), and his smooth, country baritone is very pleasing on the ears. This is classic Christmas kitsch: novelty songs for a generation that grew up with "Rudolph The Red-Nosed Reindeer" and "Frosty The Snowman." While none of Willis' songs stand out as instant classics, there are several that warrant attention, especially "Mrs Santa Claus" and "The Christmas Polka." Although this is a fun album, listening to it straight through is a bit draining. I would recommend putting it in the CD changer, and letting it "shuffle" through your 3, 5, or 10 holiday CD's.